Session Information
Session Type: Poster Session A
Session Time: 8:30AM-10:30AM
Background/Purpose: Rheumatoid factor (RF) is an autoantibody that binds to IgG Fc region (CH2 and CH3 domains) and is detectable in patients with rheumatoid arthritis (RA). We previously reported that IgG heavy chain (IgGH) was transported to the cell surface by HLA class II molecule via association with the peptide binding groove and that IgGH / HLA class II complex could be specifically recognized by RF. However, its mechanisms have not been fully understood. Here we tried to identify the binding sites of IgGH to HLA class II and recognition sites of IgGH by RF.
Methods: The heavy chain of IgG contains a variable region (VH) and 3 constant regions (CH). Each single domain (VH, CH1, CH2, and CH3) or 2~3 contiguous domains of human IgGH were sub-cloned and transfected with HLA-DR4 into HEK293T cells. The Flag-tagged IgGH domains presented by the HLA-DR molecules on the cell surface were detected by anti-Flag antibody using flow cytometry (FCM). Next, RF recognition to IgGH domains / HLA-DR complex was evaluated by FCM after RA patients' sera and anti-human IgM antibody staining. We also made constructs of IgGH single domains linked to Cw3 peptide which binds strongly to HLA-DR4 peptide binding groove. We co-transfected the HLA-DR4 and IgGH single domains with or without Cw3 peptide then compared the IgGH fragment expression and RF reactivity.
The RF positive sera were obtained from the patients diagnosed with RA based on the ACR / EULAR criteria for RA in 2010.
Results: The expression of fragments containing CH1 on the cell surface by HLA-DR4 were equal to or rather higher than the full IgGH's expression, while fragments without CH1 (CH2-CH3, VH, CH2 and CH3) were presented at a far lower level compared with full IgGH, especially the CH3 domain (Figure 1).
Next, among all the fragments, RF only recognized CH1-CH2-CH3 fragment besides full IgGH chain (Figure 2). On the other hand, Cw3 peptide-linked IgGH domain study revealed that RF recognized CH3 single domain linked to Cw3 peptide presented by HLA-DR4 but none of other Cw3-linked single domains were recognized (Figure 3). All of the sera from 43 RF-positive RA patients showed the same results.
Conclusion: Our data suggest that HLA-DR presents IgG heavy chain mainly by binding to CH1 domain, while RFs recognize the epitope on CH3 domain.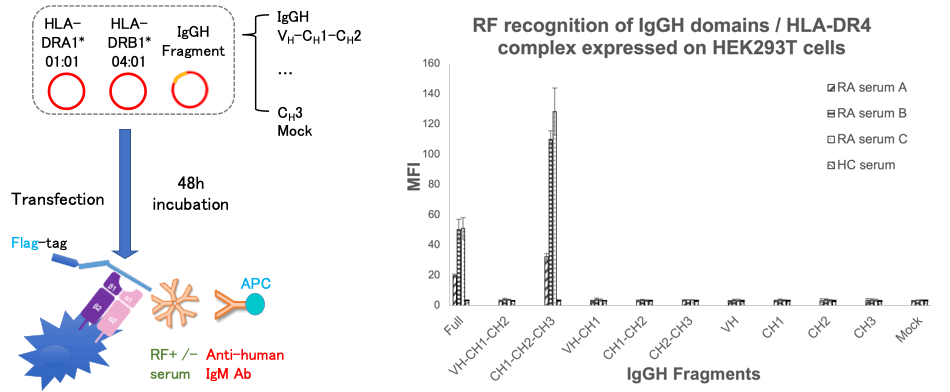 ---
Disclosures: S. Zhang, None; H. Tsuji, None; H. Jin, None; K. Kitagori, None; S. Akizuki, None; K. Murakami, None; R. Nakashima, None; H. Yoshifuji, None; M. Tanaka, None; H. Arase, None; K. Ohmura, None; A. Morinobu, None.
To cite this abstract in AMA style:
Zhang S, Tsuji H, Jin H, Kitagori K, Akizuki S, Murakami K, Nakashima R, Yoshifuji H, Tanaka M, Arase H, Ohmura K, Morinobu A. Rheumatoid Factor Recognizes Specific Domains of IgG Heavy Chain Complexed with HLA Class II Molecules [abstract].
Arthritis Rheumatol.
2021; 73 (suppl 10). https://acrabstracts.org/abstract/rheumatoid-factor-recognizes-specific-domains-of-igg-heavy-chain-complexed-with-hla-class-ii-molecules/. Accessed December 4, 2021.
« Back to ACR Convergence 2021
ACR Meeting Abstracts - https://acrabstracts.org/abstract/rheumatoid-factor-recognizes-specific-domains-of-igg-heavy-chain-complexed-with-hla-class-ii-molecules/