Session Information
Session Type: Abstract Session
Session Time: 9:15AM-9:30AM
Background/Purpose: Inflammatory arthritis (IA) is an autoimmune disease targeting multiple joints and characterized by joint destruction caused by osteoclasts (OC), leading to physical disability. However, the precise cellular origins of OC are poorly understood. Myeloid lineage cells including OC and macrophages can derive from either hematopoietic stem cells (HSC) or erythro-myeloid progenitors (EMP). Previous studies in vitro suggest that in IA, HSC-derived monocytes differentiate into OC and others showed that macrophages can fuse to form OC under the influence of inflammatory cytokines. We hypothesized that in IA, embryonically derived Erythro-Myeloid Progenitor macrophages and Hematopoietic Stem Cell-derived progenitors can independently contribute to the formation of OC in vivo. These cell lineage tracing systems will allow to discriminate among distinct OC populations by their cell surface phenotype and selectively target them for therapeutic purpose.
Methods: To test this hypothesis, we used bone frozen sections and immunofluorescence, as well as flow cytometry (FACS) from cell lineage tracing systems, to discriminate among these progenitors. We used Flt3Cre;Rosa26LSL-YFP mice to label HSC and their progeny and both Csf1rMer-iCre-Mer;Rosa26LSL-tdTomato and Cx3cr1CreERT2;Rosa26LSL-tdTomato mice, pulsed with 4-hydroxytamoxifen at E8.5 and E9.75 respectively, to label EMP-derived progenitors.
Results: Histology of ankle joints from healthy Flt3Cre;Rosa26LSL-YFP embryos at E16.5, newborn at P0 and 8 week-old mice showed that ~7 % of synovial F4/80+ or CD68+ cells were of HSC origin, suggesting that EMPs are the major source of synovial macrophages. We confirmed, using both Csf1rMer-iCre-Mer;Rosa26LSL-tdTomato and Cx3cr1CreERT2;Rosa26LSL-tdTomato mice, that ~40% of all F4/80+ synovial macrophages were TdTomato+, showing for the first time an EMP-origin. To test the HSC origin of OC in IA, adult Flt3Cre;Rosa26LSL-YFP mice were treated with K/BxN arthritogenic serum and ankle joints were harvested at day 10 (peak inflammation). Unexpectedly, we found that only 56% of OC were YFP-positive, indicating that a large proportion of synovial OC are not HSC-derived. Further, we identified CD68+TRAP+ cells localized to periosteal surfaces as candidate progenitors of synovial OC. Consistent with the dual origin of synovial OC, CD68+TRAP+ progenitors derive from both HSC (27%) and non-HSC (73%) lineages.
Conclusion: These data suggest that both HSC-derived and EMOP-derived osteoclast precursor cells independently contribute to OC formation in IA. These cell lineage tracing systems will help us to identify unique differences among OC of distinct origins. These differences will allow for differential targeting of OC via unique cell surface markers and for the development of new targets to inhibit OC formation and prevent bone and cartilage erosions in IA.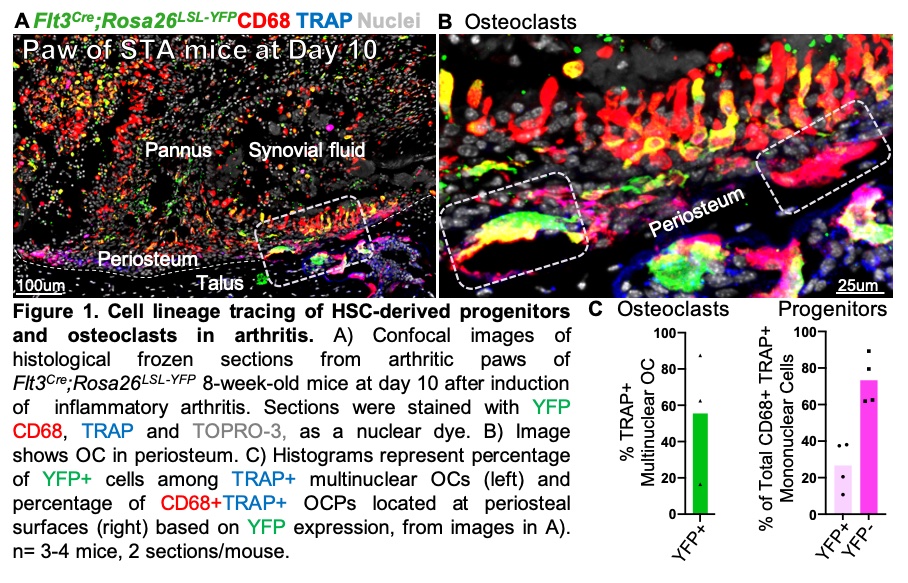 ---
Disclosures: H. Nelson, None; E. Gravallese, None; J. Charles, Ultragenyx, 1; C. Jacome-Galarza, None.
To cite this abstract in AMA style:
Nelson H, Gravallese E, Charles J, Jacome-Galarza C. Cellular Origin and Functions of Osteoclasts in Inflammatory Arthritis [abstract].
Arthritis Rheumatol.
2021; 73 (suppl 9). https://acrabstracts.org/abstract/cellular-origin-and-functions-of-osteoclasts-in-inflammatory-arthritis/. Accessed January 28, 2023.
« Back to ACR Convergence 2021
ACR Meeting Abstracts - https://acrabstracts.org/abstract/cellular-origin-and-functions-of-osteoclasts-in-inflammatory-arthritis/