Session Information
Session Type: Poster Session C
Session Time: 8:30AM-10:30AM
Background/Purpose: Juvenile idiopathic arthritis (JIA) was thought to be the most common inflammatory arthritis in children. However an aggressive, erosive arthritis of little-known immunologic mechanism occurs 20 times more frequently in children with Down's syndrome. This study was undertaken to characterize the distinct immune cell responses and synovial fibroblast invasiveness in children with Down's syndrome-associated arthritis (DA) in comparison to JIA.
Methods: Multiparametric flow cytometric analysis was used to examine peripheral blood T cell, B cell and monocyte populations. In addition, T cell cytokine responses and their metabolic profile in children with DA, JIA, Down's Syndrome (trisomy 21 [T21]), and in healthy controls were assessed. The function of DA primary synovial fibroblasts (FLS) was assessed in response to stimulation with pro-inflammatory mediators alone and in combination (TNF-α, IL-17a, IFN-γ, GM-CSF). The two major energy pathways glycolysis (ECAR) and oxidative phosphorylation (OCR) were quantified by the Seahorse XFe96 Analyser. Migration, adhesion, invasion and cytokine/chemokine secretion were quantified wound repair scratch assays, Transwell collagen invasion chambers, adhesion binding assays, flow cytometry and ELISAs.
Results: T cell frequencies were higher in DA compared to JIA and T21 in contrast to B cell frequencies which were decreased. T cell responses in DA were characterized by increased frequencies of CD4+ and CD8+ TNF-a, IFN-g and GM-CSF producing T cells. The frequency of T peripheral helper cells were elevated in children with DA compared to all other groups, paralleled by an increase in their metabolic profile evident by higher phosphorylation of mTOR pathway component, AKT. Comparison of DA and JIA FLS demonstrated that DA FLS display a more invasive/migratory capacity and are more metabolically active. Based on the increased cytokine profile from DA T cells, we next examined the effect T cell derived cytokines TNF-α, IL-17a, IFN-γ and GM-CSF alone and in combination on DA FLS function. TNF-α, IL-17a and IFN-γ elevated IL-6, RANTES and MCP-1, with no effect observed for GM-CSF. Furthermore, TNF-α, and IL-17a induced DA FLS migration and increased PBMC adhesion to DA FLS. Finally, IL-17a and IFN-γ potentiated the effects TNF-α had on IL-6 and MCP-1 secretion compared to stimulation alone.
Conclusion: DA is a more common and aggressive form of arthritis compared to JIA. It is characterized by increased T cell responses and a more invasive FLS phenotype compared to that of JIA, with T cell derived cytokines alone and in combination further inducing the DA FLS pathogenic mechanisms. This suggests a synergistic relationship between cytokines. These effects mirror the increased erosive disease observed clinically.
CD4+ and CD8+ T cells in DA expresses higher TNF-α, GM-CSF and IL_17a. CD8+ T cells from DA show increased IFN-γ expression while DA CD4+ PD_1- T cells have elevated pAKT compared to JIA and T21.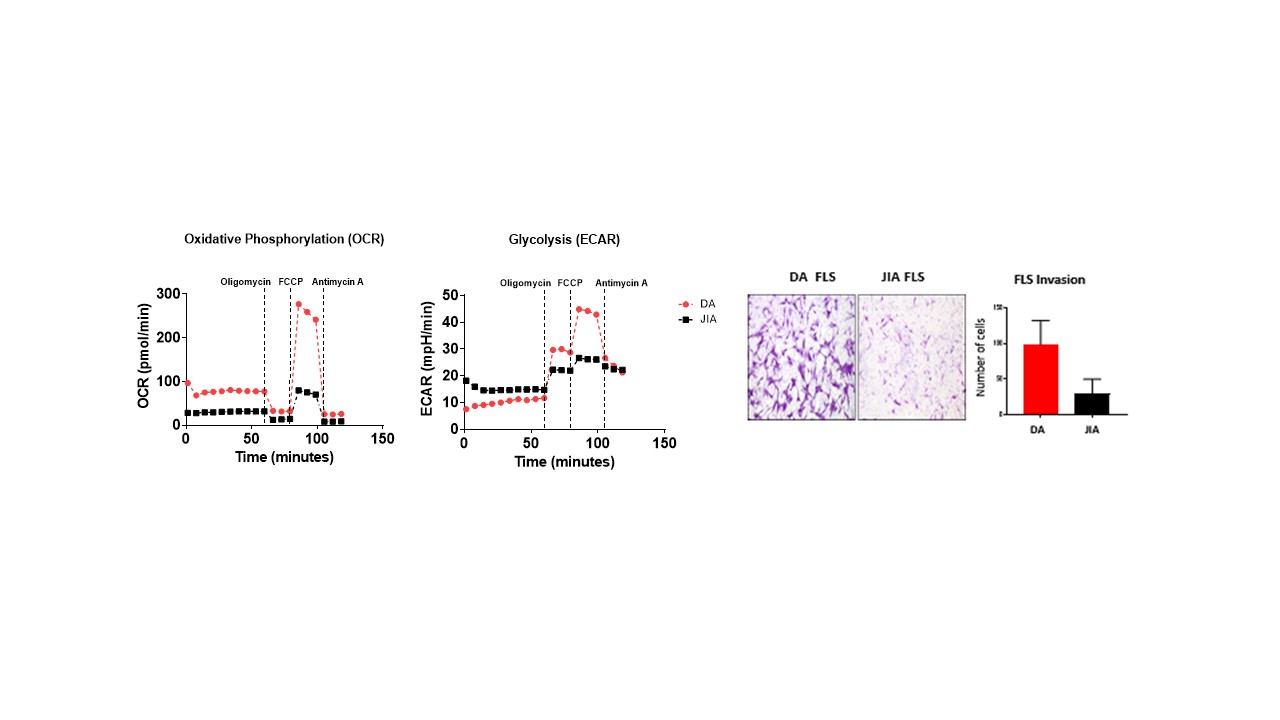 Higher metabolic profiles and higher invasive capacity in DA FLS compared to JIA FLS.
Cytokine synergy between TNF-α, IL_17a and IFN-γ induces proinflammatory mediators in DA FLS.
---
Disclosures: S. Foo, None; A. Floudas, None; A. O' Brien, None; S. Ansboro, None; R. Mullan, None; D. Veale, Abbvie, 1, 5, 6, BMS, 1, 5, Pfizer, 1, 5, 6, Janssen, 1, 5, 6, Eli Lilly, 1, 5, 6, UCB, 1, 5, 6, Novartis, 1, 5, 6, Galapagos/Gilead, 1, 6; E. MacDermott, None; D. Deely, None; C. Foley, None; O. Killeen, None; U. Fearon, Abbvie, 1, 5, 6, BMS, 1, Pfizer, 1, 5, Janssen, 5, Eli Lilly, 5, UCB, 5, GSK, 6.
To cite this abstract in AMA style:
Foo S, Floudas A, O' Brien A, Ansboro S, Mullan R, Veale D, MacDermott E, Deely D, Foley C, Killeen O, Fearon U. Altered T Cell Responses, and Synergistic Regulation of Synovial Fibroblasts Function in Children with Down's Syndrome-Associated Arthritis [abstract].
Arthritis Rheumatol.
2021; 73 (suppl 9). https://acrabstracts.org/abstract/altered-t-cell-responses-and-synergistic-regulation-of-synovial-fibroblasts-function-in-children-with-downs-syndrome-associated-arthritis/. Accessed January 30, 2023.
« Back to ACR Convergence 2021
ACR Meeting Abstracts - https://acrabstracts.org/abstract/altered-t-cell-responses-and-synergistic-regulation-of-synovial-fibroblasts-function-in-children-with-downs-syndrome-associated-arthritis/