Session Information
Session Type: Poster Session A
Session Time: 8:30AM-10:30AM
Background/Purpose: Limited cutaneous SSc (lcSSc) affects approximately 60-70% of SSc patients but drug development and therapeutic research has largely focused on the more severe diffuse SSc. As a result, lcSSc has been rather neglected with respect to development of relevant outcome measures. To identify relevant candidate items (outcome measures) to include in a future combined response index for clinical trial assessment of lcSSc patients (the CRISTAL index: Combined Response Index for Scleroderma Trials Assessing Limited SSc), this qualitative study aimed to identify the most salient domains affecting everyday life from the patients' perspective and to capture the overall symptom experience of lcSSc.
Methods: A participatory action research approach facilitated collaboration between patients and researchers in the identification of domains and candidate items that lcSSc patients consider most important (i.e., symptoms that are most bothersome and affect daily life). Focus groups with lcSSc were conducted using a predefined guide with 10 open-ended questions. The number of focus groups was determined by data saturation. Focus groups were recorded, transcribed verbatim, and de-identified. A hierarchical taxonomy of domains/outcomes and experience-related themes was developed using an iterative, deductive and inductive approach with two independent coders. Throughout the coding process, the codebook was revised and edited in a collaborative process that included a patient partner as co-investigator.
Results: Twenty-six patients with lcSSc (median age 56 yo (25-77yo); 42% with early disease< 5 years, 15.4% >20 years) from the University of Michigan were included in 4 focus groups lasting 2-hours each. One group included only men; two were only women; and one was with both sexes. Twenty-two domains were identified, comprising 93 symptoms and/or outcomes. Eight domains were reported in all four focus groups: fatigue, digital ulcers, gastro-intestinal involvement, Raynaud's phenomenon, pulmonary involvement, cardiac involvement, musculoskeletal manifestations and skin involvement (Table 1). The 14 remaining domains notably included calcinosis, sicca syndrome, sexual health and survival. In terms of symptom experience, 6 themes were identified: difficulty in conceptualizing the disease, experiencing the temporality of SSc-related symptoms, uncertainty, need for coping and better management, impact of the symptoms on functioning (comprising social, mental and physical functioning) and impact of the symptoms on emotional well-being. The connections between these themes are represented in a preliminary conceptual map (Figure 1).
Conclusion: This qualitative study based on a participatory action research approach allowed a comprehensive identification of key domains and related-outcomes in lcSSc and provide in depth analysis on symptoms experience in this neglected but frequent subset of the disease. These results paved the way for the selection of candidate items (outcome measures) to include in a future patient-centered, combined response index for clinical trial assessment of lcSSc.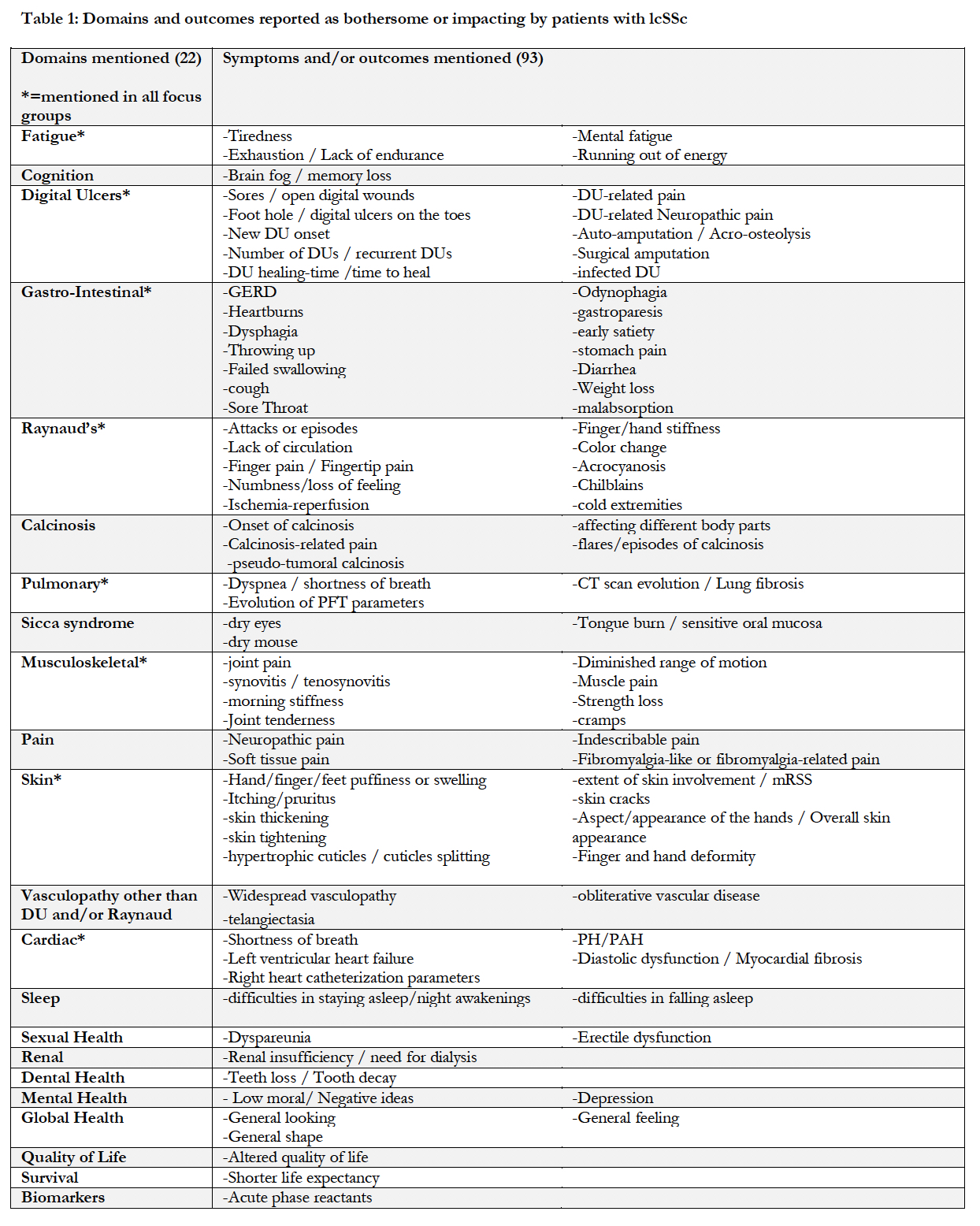 ---
Disclosures: A. Lescoat, None; S. Murphy, None; Y. Chen, None; N. Vann, None; D. Cella, None; D. Khanna, AbbVie, 2, Acceleron, 2, Actelion, 2, Amgen, 2, Bayer, 2, 5, Boehringer Ingelheim, 2, Bristol-Myers Squibb, 5, CiviBioPharma/Eicos Sciences, Inc, 12, Leadership/Equity position (Chief Medical Officer), Corbus, 2, CSL Behring, 2, Eicos Sciences, Inc, 11, Galapagos NV, 2, Genentech/Roche, 2, Gilead, 2, GlaxoSmithKline, 2, Horizon Therapeutics, 2, 5, Immune Tolerance Network, 5, Merck Sharp & Dohme, 2, Mitsubishi Tanabe Pharma, 2, National Institutes of Health, 5, Pfizer, 5, Sanofi-Aventis, 2, United Therapeutics, 2, Prometheus, 2, Theraly, 2, AstraZeneca, 2.
To cite this abstract in AMA style:
Lescoat A, Murphy S, Chen Y, Vann N, Cella D, Khanna D. What Is the Patient's Perspective on Symptoms Experience in Limited Cutaneous Systemic Sclerosis? [abstract].
Arthritis Rheumatol.
2021; 73 (suppl 9). https://acrabstracts.org/abstract/what-is-the-patients-perspective-on-symptoms-experience-in-limited-cutaneous-systemic-sclerosis/. Accessed January 27, 2023.
« Back to ACR Convergence 2021
ACR Meeting Abstracts - https://acrabstracts.org/abstract/what-is-the-patients-perspective-on-symptoms-experience-in-limited-cutaneous-systemic-sclerosis/