Session Information
Session Type: Abstract Session
Session Time: 10:30AM-11:30AM
Background/Purpose: Navajo Nation is the largest American Indian reservation, home to 250,000 tribal members living on 27,000 square miles. The prevalence of RA among the Navajo is 4-5%, compared to less than 1% of the overall American population, yet access to local rheumatologists is scarce, leaving primary care providers (PCPs) and RA patients without adequate specialist support. As part of an initiative to design and implement an RA educational intervention for Navajo Nation PCPs called the Rheumatology Access Expansion (RAE) Initiative, we conducted a qualitative study to understand PCPs' perspectives on the opportunities and barriers to accessing RA care.
Methods: Using purposive sampling, we conducted interviews with 15 PCPs across 6 Navajo clinics. We conducted a thematic analysis of the interviews, using deductive and inductive techniques, guided by the socioecological framework. The relationships of themes and levels within the socioecological framework were determined by a consensus process.
Results: Participants described a range of interconnected factors impacting access to RA care on Navajo Nation (Figure 1, Table 1). PCPs' motivation to support their patients was reported as an overarching facilitator for RA care, while the scarcity of local rheumatologists was reported as the primary challenge. At the individual level, both PCP and patient-related barriers were identified. PCPs reported limited knowledge and lack of confidence in managing RA without guidance from a rheumatologist. Patient-related factors included low health literacy, poverty, and inconsistent follow-up. At the interpersonal level, participants discussed patients' preference to receive care from their trusted, local PCP, rather than an unfamiliar specialist. At the organizational level, some PCPs described an existing rheumatology hotline as a potential support for PCPs, however they reported that it is understaffed and underutilized. Referral to rheumatology is possible, but the process is slow and burdensome for the patient. At the community level, extreme rurality and infrastructure factors (inconsistent phone service, transportation difficulties) make accessing care challenging, while historical trauma and paucity of culturally informed care create mistrust in the Western medical system. Structural factors such as access to certain RA medications, complex Indian Health Service regulations, and limited insurance coverage were described as additional barriers to RA care.
Conclusion: This study identified multiple barriers and opportunities to accessing RA care on Navajo Nation, from the PCPs' perspective. We found that PCPs practicing on Navajo Nation are highly motivated to provide evidence-based treatment to RA patients, however inadequate knowledge about RA management and poor access to specialty care are barriers. As many patients prefer to receive care from their local PCP, given both familiarity and physical proximity, developing an intervention to improve PCPs' ability to manage RA would have significant impact. We used the results of this study to design and implement the RAE Initiative to train PCPs in the diagnosis and management of RA, in order to improve RA outcomes and reduce health disparities on Navajo Nation.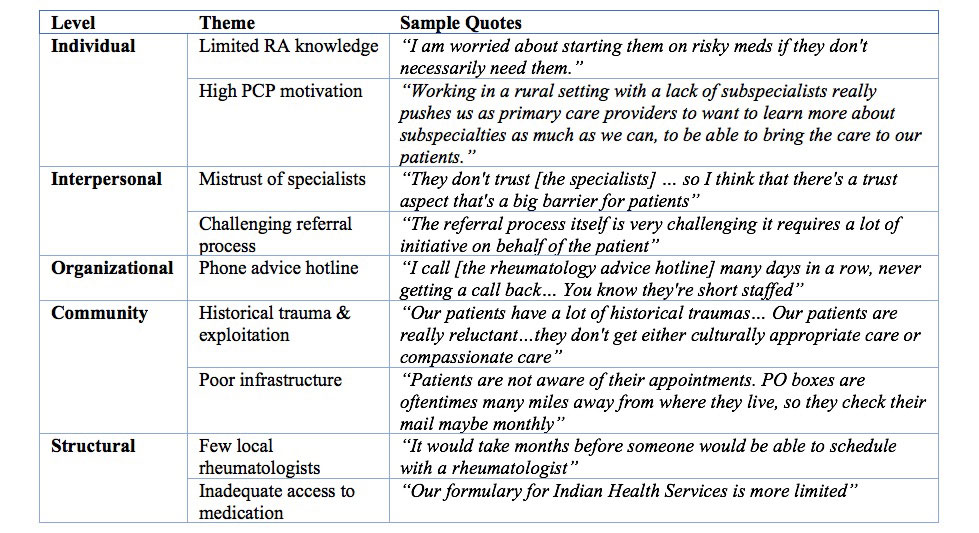 ---
Disclosures: J. Mandal, None; C. Nasrallah, None; T. Carroway, None; M. Margaretten, None; G. Grant, None; J. Yazdany, AstraZeneca, Gilead, Bristol-Myers Squibb(BMS), Aurinia, Astra Zeneca, Pfizer.
To cite this abstract in AMA style:
Mandal J, Nasrallah C, Carroway T, Margaretten M, Grant G, Yazdany J. Perceived Barriers and Opportunities to Accessing Rheumatoid Arthritis Care on Navajo Nation: The Primary Care Providers' Perspectives [abstract].
Arthritis Rheumatol.
2022; 74 (suppl 9). https://acrabstracts.org/abstract/perceived-barriers-and-opportunities-to-accessing-rheumatoid-arthritis-care-on-navajo-nation-the-primary-care-providers-perspectives/. Accessed .
« Back to ACR Convergence 2022
ACR Meeting Abstracts - https://acrabstracts.org/abstract/perceived-barriers-and-opportunities-to-accessing-rheumatoid-arthritis-care-on-navajo-nation-the-primary-care-providers-perspectives/