Session Information
Session Type: Poster Session (Tuesday)
Session Time: 9:00AM-11:00AM
Background/Purpose: Fibroblast-like synoviocytes (FLS) are key effector cells in the pathogenesis of rheumatoid arthritis (RA) through the increased cell migration, degradation of extracellular matrix, and cartilage destruction. Reactive oxygen species (ROS) also have been known to be involved in the initiation and progression of RA, such as secretion of immunoregulatory and pro-angiogenic factors. Despite the important interrelationship between RA FLS and ROS, the mechanism of interaction and signaling is not clear.
Methods: In this study, the differential expression of six NADPH Oxidase subunits was analyzed after stimulation with recombinant interleukin-17 (IL-17) and tumor necrosis factor-alpha (TNFa) in FLS from RA and osteoarthritis (OA) patients. In particular, NADPH Oxidase 4 (NOX4) was highly increased by cytokine stimulation in RA FLS. So, we investigated whether Nox4 has a critical role in the migration and invasion of synoviocytes in RA. This study was performed according to the recommendations of the Declaration of Helsinki and approved by the Institutional Review Board of Chungnam National University Hospital in Republic of Korea. Synovial tissues were obtained from 5 RA patients (female 4, male 1, average age 55.6 ± 11.8) and 5 OA patients (female 4, male 1, average age 64.8 ± 16.1) who received synovectomy or joint replacement. For detection of ROS, MitoSox (mitochondria specific probe) was used according to the manufacturer′s instructions. The cell migration assay was performed using transwell chamber (8 μm pore) and matrigel coating was added to transwell for the cell invasion assay. The migrated cells were stained with crystal violet and quantified.
Results: After the stimulation with recombinant IL-17 (10 ng/ml) and TNFa (10 ng/ml), the expression of Nox4 mRNA was higher by 8.73 folds in RA FLS compared to OA FLS. Following cytokine stimulation for 24 hours, the level of mitochondria-specific ROS was increased by 2 folds in RA FLS compared to OA. When the cells were treated with various concentrations of Nox4 inhibitor GLX351322 (1, 2.5, or 5 μM) for 1 hour, the level of ROS was significantly decreased in a dose dependent manner. On transwell migration assay, cytokines-stimulated RA FLS showed enhanced migratory ability by 3 folds compared to those without stimulation. Pretreatment with 5 μM of Nox4 inhibitor decreased the movement of RA FLS to the baseline level. The expression of pro-angiogenic factors, vascular endothelial growth factor (VEGF) and granulocyte macrophage colony stimulating factor (GM-CSF), was significantly reduced by Nox4 inhibition.
Conclusion: From these data, we suggest that Nox4 may modulate the migration and invasion of synoviocytes and contribute to progression of RA. Nox4 among NADPH Oxidase subunits can be an attractive therapeutic target of RA.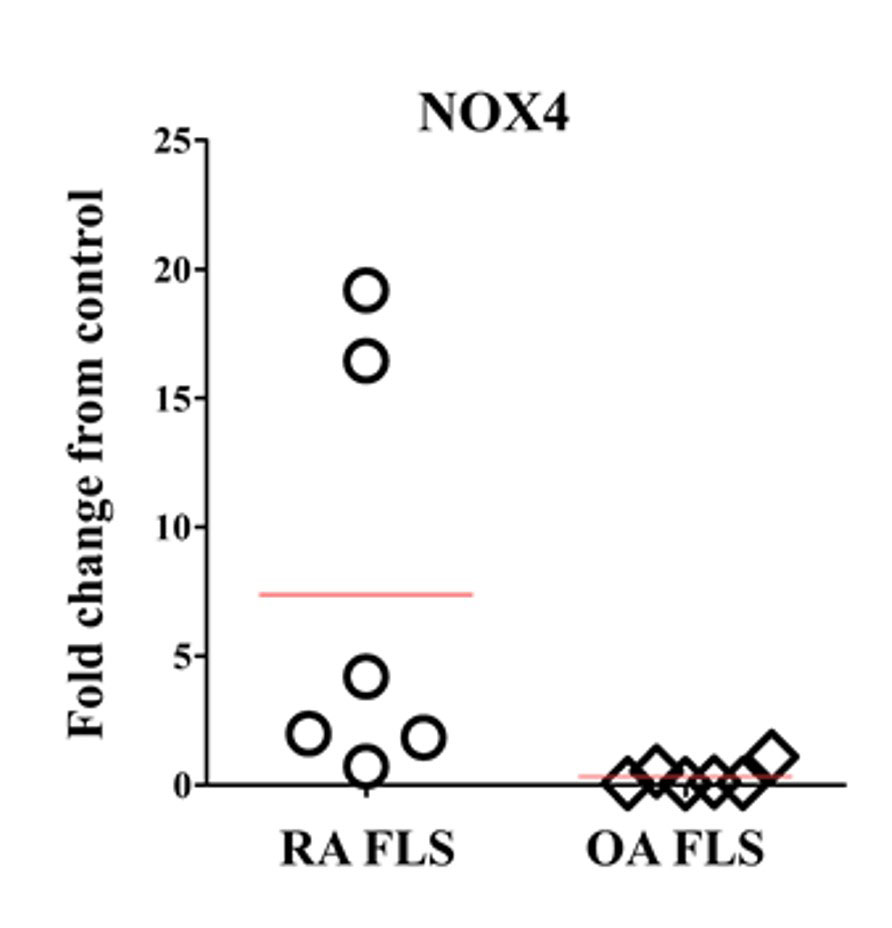 ---
Disclosure: H. Lee, None; S. Yoo, None; C. Park, None; J. Kim, None; I. Yoo, None; S. Kang, None.
To cite this abstract in AMA style:
Lee H, Yoo S, Park C, Kim J, Yoo I, Kang S. NADPH Oxidase 4 Regulates the Migration and Invasion of Synoviocytes in Rheumatoid Arthritis Through Pro-angiogenic Factor Secretion [abstract].
Arthritis Rheumatol.
2019; 71 (suppl 10). https://acrabstracts.org/abstract/nadph-oxidase-4-regulates-the-migration-and-invasion-of-synoviocytes-in-rheumatoid-arthritis-through-pro-angiogenic-factor-secretion/. Accessed April 13, 2021.
« Back to 2019 ACR/ARP Annual Meeting
ACR Meeting Abstracts - https://acrabstracts.org/abstract/nadph-oxidase-4-regulates-the-migration-and-invasion-of-synoviocytes-in-rheumatoid-arthritis-through-pro-angiogenic-factor-secretion/