Session Information
Session Type: Poster Session D
Session Time: 9:00AM-11:00AM
Background/Purpose: Morbidity and mortality increase when young adults with chronic disease transfer from pediatric to adult care.  Structured healthcare transition processes improve outcomes, yet are rarely successfully implemented by pediatric rheumatology practices.  Our goal was to standardize transition preparation and communication within a pediatric rheumatology care team to facilitate safe and timely transfer of patients to adult care.
Methods: This study was completed by a multi-disciplinary team of physicians, nurses and social worders within the Division of Rheumatology at a tertiary care pediatric hospital. Two of 4 key drivers were selected: 1) communication within the care team and 2) transition preparation (Figure 1).  Standardizing review of the practice's transition policy with patients and families, a core component of the Got Transition Six Core Elements of Health Care TransitionTM national guidelines, was selected as the initial secondary driver to improve. We included youth age 14 and older, with a clinical diagnosis of juvenile idiopathic arthritis, systemic lupus erythematosus, Sjogren's syndrome, mixed connective tissue disease, vasculitis, or juvenile dermatomyositis, and ³2 Rheumatology follow-up visits.  Consensus on revisions to a pre-existing transition policy was obtained through regular QI and staff meetings.  Baseline patient surveys to assess awareness of the transition policy and transfer timing were collected 1 week per month from November 2019 to January 2020.  In December 2019, nurses began to review printed transition policies with eligible patients during clinic visits and document review in the electronic health record (EHR) utilizing a standardized template (Plan-Do-Study-Act (PDSA) cycle 1).  In January 2020, pre-clinic team huddles were initiated to more consistently identify eligible patients (PDSA cycle 2).  In February 2020, audit and feedback with review of monthly performance with the nursing team was added to monthly QI meetings (PDSA cycle 3).
Results: Table 1 summarizes baseline characteristics and survey data for all 57 respondents.  Prior to implementation, 16% of patients reported prior transition policy receipt.  Of patients age 18 and older (n = 25), only 32% had received the transition policy and 68% had discussed transfer timing with their care team.  The proportion of eligible patients with EHR documentation of transition policy review was trending toward improvement at the time of project interruption in March 2020 due to COVID-19 (18% pre-implementation versus 42% post-implementation; Figure 2).  Only 1 week of patient surveys reflecting the impact of interventions on awareness and understanding of the transition policy were able to be obtained prior to temporary cessation of routine in-person visits.
Conclusion: A minority of youth report receiving a transition policy or discussing timing of transfer to adult care with their care team.  Workflow and EHR standardization, enhanced care team communication, and performance audit and feedback, may be effective strategies to implement transition processes.  Future work is needed to determine the effect of regular transition policy review on patient preparation and safe and timely transfer to adult care.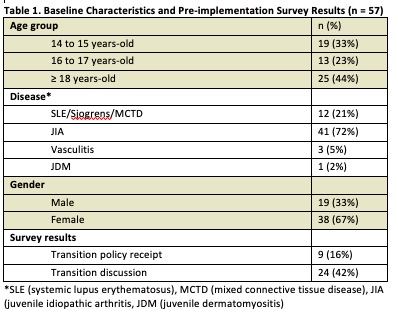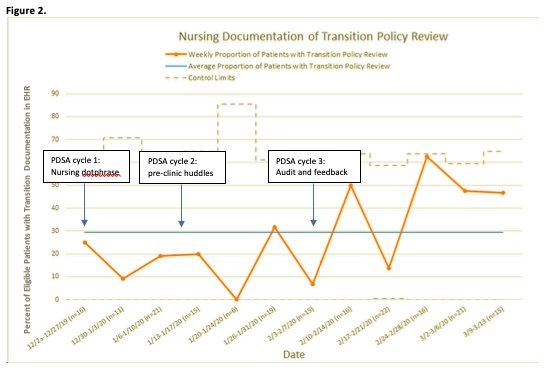 ---
Disclosure: R. Peterson, None; E. Liebling, None; B. Rutstein, None; J. Chase, None; A. Bilgic Dagci, None; M. Argraves, None; J. Burnham, None; L. Wiater, None; D. Bieniakowski, None; D. Dodson, None; J. Kennedy, None; C. Sears, None; J. Chang, None.
To cite this abstract in AMA style:
Peterson R, Liebling E, Rutstein B, Chase J, Bilgic Dagci A, Argraves M, Burnham J, Wiater L, Bieniakowski D, Dodson D, Kennedy J, Sears C, Chang J. Improving Transition Policy Dissemination and Care Team Communication in Pediatric Rheumatology Clinic Through Standardization of Workflow and Electronic Health Record Documentation [abstract].
Arthritis Rheumatol.
2020; 72 (suppl 10). https://acrabstracts.org/abstract/improving-transition-policy-dissemination-and-care-team-communication-in-pediatric-rheumatology-clinic-through-standardization-of-workflow-and-electronic-health-record-documentation/. Accessed June 24, 2021.
« Back to ACR Convergence 2020
ACR Meeting Abstracts - https://acrabstracts.org/abstract/improving-transition-policy-dissemination-and-care-team-communication-in-pediatric-rheumatology-clinic-through-standardization-of-workflow-and-electronic-health-record-documentation/