Session Information
Session Type: Poster Session D
Session Time: 8:30AM-10:30AM
Background/Purpose: The intense inflammatory cascade of acute gouty inflammation makes it difficult to differentiate clinically between acute gouty inflammation and sepsis, particularly since they can occur together. A SIRS-like presentation attributed to acute gouty inflammation has been described sporadically 1-6. In these cases, sepsis is usually considered first, and markers such as lactate and procalcitonin are used to confirm the diagnosis of sepsis. Gout is not even considered as a possibility. However, delayed diagnosis and treatment of gout when it is the cause of the presentation leads to unnecessary antibiotic use and prolonged hospitalization.
We describe a cohort of patients who presented with SIRS, elevated lactate (some markedly high) and/or elevated procalcitonin and even concerning NEWS2 (National Early Warning Scores) scores due to acute gout alone. While sepsis must always be ruled out, we describe those characteristics that may suggest that gout, rather than sepsis, is the presenting cause.
Methods: Retrospective chart review of patients with a gout related hospital encounter between 2014 and 2017 at Regions Hospital. Of 1,041 such episodes, 14 encounters had ≥2 SIRS criteria, elevated lactate/procalcitonin and were admitted for presumed sepsis. Demographics, clinical presentation, laboratory and imaging data are summarized in Table 1.
Results: There were 14 patient encounters including 11 patients with one episode and one with three separate similar presentations. All were male, mean age 58.6 years, mean time since gout diagnosis 11.2 years, 8 patients (66.6%) had tophi, and 10 patients (83.3%) had history of ≥5 gout flares. Mean lactic acid was elevated in 12/14 ranging from 2-12.2 mmol/L (normal 0.5-2.0 mmol/L), and procalcitonin was 0.23-2.79 ng/mL (< 0.24 ng/ml). Use of antibiotics beyond the first 24 hours of admission was seen in 7 presentations (58.3%). No infection was identified. While many patients were concurrently treated with antibiotics for presumed bacterial sepsis, the patient cohort showed rapid clinical improvement within 24-48 hours of starting appropriate gout therapy. Hospital courses are summarized in Table 1.
Conclusion: A SIRS-like presentation with elevated lactate and procalcitonin levels occurs in a subset of gout patients. A high index of suspicion for a gout flare is indicated if patients have a) history of gout of >10 years duration b) tophi c) > 5 gouty flares. Early recognition of gout as the cause of the marked inflammatory response can limit unnecessary antibiotic use and prolonged hospitalization. Hospitalists, emergency physicians and rheumatologists should be aware of this subset of gouty patients.
References
1. Nicholls DW, et al. N Z Med J. 1999 Nov 12;112(1099):434-5.
2. Shah D, et al. Am J Med. 2015 Jul;128(7):e11-2.
3. Gago R, et al. BMJ Case Rep. 2018 Jan 24;1-3.
4. Cheung M, et al. JICS. 2012 Jan;13(1):57-8.
5. Peng L, et al. Unresolving Sepsis: When in Doubt, Consider Gout. Presented at OHSU.
6. Schafer VS, et al. JSM Arthritis. 2017 Aug;2(2):1024.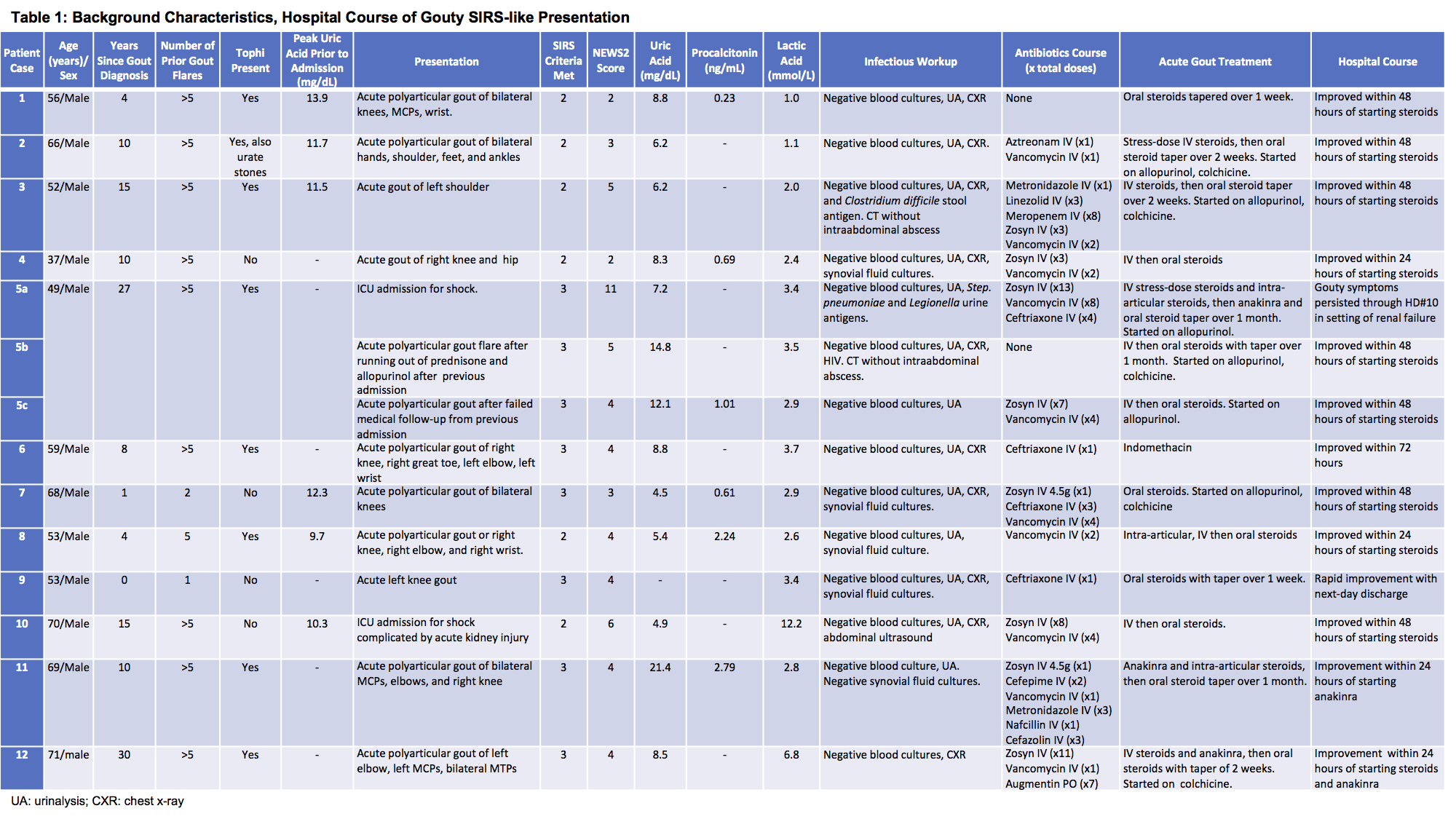 ---
Disclosures: C. Podgorski, None; P. Skarda, None; E. Gertner, None.
To cite this abstract in AMA style:
Podgorski C, Skarda P, Gertner E. Elevated Lactate, Procalcitonin Levels and SIRS (Systemic Inflammatory Response Syndrome) in a Subset of Patients with Gout [abstract].
Arthritis Rheumatol.
2021; 73 (suppl 9). https://acrabstracts.org/abstract/elevated-lactate-procalcitonin-levels-and-sirs-systemic-inflammatory-response-syndrome-in-a-subset-of-patients-with-gout/. Accessed February 2, 2023.
« Back to ACR Convergence 2021
ACR Meeting Abstracts - https://acrabstracts.org/abstract/elevated-lactate-procalcitonin-levels-and-sirs-systemic-inflammatory-response-syndrome-in-a-subset-of-patients-with-gout/