Session Information
Session Type: Poster Session D
Session Time: 1:00PM-3:00PM
Background/Purpose: Immune-mediated necrotizing myopathy (IMNM) is a severe form of myositis characterized by muscle weakness and elevated creatine kinase levels in serum. The most frequent autoantibody (aAb) in IMNM patients is directed against hydroxymethylglutaryl-Coenzyme A reductase (HMGCR). Anti-HMGCR aAb are pathogenic and induce disease after adoptive transfer to mice by two separate mechanisms: 1) myolysis following complement activation; and 2) impairment of muscle fiber regeneration. Efgartigimod is an IgG1 Fc fragment targeting the neonatal Fc receptor (FcRn). We evaluated the therapeutic effects of IgG clearance by efgartigimod in a humanized murine model of IMNM.
Methods: Groups of Rag2 deficient (Rag2-/-) mice received daily intraperitoneal injections of IgG-depleted human serum as a source of human complement. Disease was induced by injections of 2 mg IgG purified from an anti-HMGCR aAb+ IMNM patient or from a healthy donor as control (day 0, 4 ±day 8, 12, 16). Rag2-/- mice were treated with efgartigimod in a curative setting (day 8, 11, 15) after disease was induced by IgG injections. Muscle force was assessed by grip test or measurement of gastrocnemius strength upon sciatic nerve electrostimulation (anesthetized animals). Levels of total IgG or anti-HMGCR+ IgG aAb were monitored in mouse serum by ELISA and ALBIA, respectively. Histological analysis of muscle tissue sections was performed after staining with hematoxylin/eosin or fluorochrome-labeled antibodies.
Results: In a therapeutic setting, administration of efgartigimod fully restored grip strength and muscle strength in mice treated with pathogenic anti-HMGCR+ IgG (p < 0.05). Total IgG and specific anti-HMGCR+ IgG aAb became undetectable in serum since day 18, i.e. 9 days after efgartigimod administration. Histological analyses demonstrated that efgartigimod reduces IgG deposits, prevents further necrosis and allows for muscle fiber regeneration.
Conclusion: Efgartigimod dramatically reduces circulating IgG levels and rapidly eliminates pathogenic anti-HMGCR+ in a humanized mouse model of IMNM, preventing further necrosis and allowing muscle fiber regeneration, resulting in regain of muscle performance. These results support investigating the therapeutic efficacy of efgartigimod through a clinical trial in IMNM patients.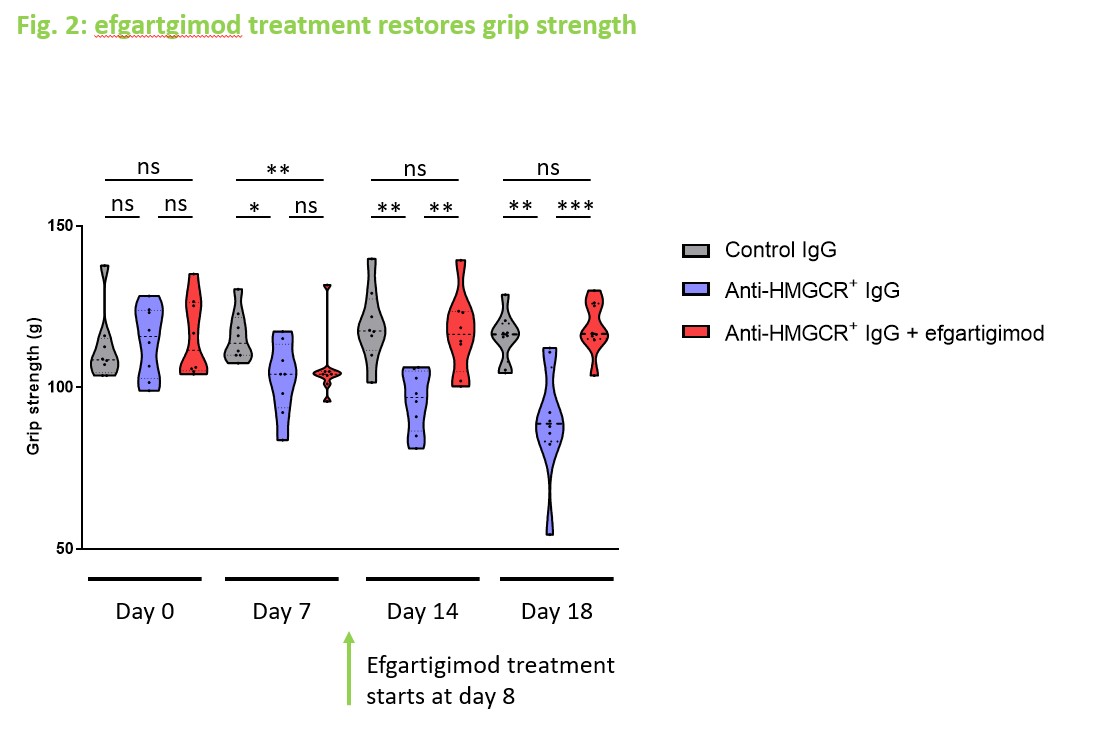 ---
Disclosures: S. Julien, None; E. Briand, None; B. van der Woning, argenx; L. de ceuninck, argenx; R. zoubari, None; o. benveniste, Sanofi, AFM; l. drouot, None; o. boyer, Argenx, Bristol-Myers Squibb(BMS), CSL Behring, Egle Tx, UCB.
To cite this abstract in AMA style:
Julien S, Briand E, van der Woning B, de ceuninck L, zoubari R, benveniste o, drouot l, boyer o. Efgartigimod Prevents Necrosis and Allows for Muscle Fiber Regeneration in a Humanized Mouse Model of Immune-mediated Necrotizing Myopathy (IMNM) [abstract].
Arthritis Rheumatol.
2022; 74 (suppl 9). https://acrabstracts.org/abstract/efgartigimod-prevents-necrosis-and-allows-for-muscle-fiber-regeneration-in-a-humanized-mouse-model-of-immune-mediated-necrotizing-myopathy-imnm/. Accessed February 5, 2023.
« Back to ACR Convergence 2022
ACR Meeting Abstracts - https://acrabstracts.org/abstract/efgartigimod-prevents-necrosis-and-allows-for-muscle-fiber-regeneration-in-a-humanized-mouse-model-of-immune-mediated-necrotizing-myopathy-imnm/