Session Information
Session Type: Poster Session D
Session Time: 9:00AM-11:00AM
Background/Purpose: A core CMS policy goal is to improve patient experience by encouraging patient-centered care and shared decision making (SDM).  However, SDM techniques are underutilized in rheumatology practice1.  We created two continuing medical education (CME) activities that present ACR guidelines, treat-to-target (T2T) concepts, and SDM as vehicles to increase the equity of the provision of healthcare2 for rheumatoid arthritis (RA).
Methods: A live workshop (LW) and an online course (OC) were designed to explain ACR RA guidelines, treat-to-target concepts as well as to demonstrate and practice using SDM with the goal of aligning treatment with patient goals.  In interviews with four rheumatologists, we identified three 'swimming lanes' in the RA patient experience of choosing DMARDs.   This led to the development of Option Table Patient Decision Aids (PtDAs) presenting three common choice sets for a patient considering starting their 1st, 2nd or 3rd DMARD.  PtDAs provide specific probabilities about outcomes to structure clinical discussion with patients and their deliberation after the visit. See figure 1.
Nearly half of the 90-minute workshop for rheumatology providers was focused on teaching SDM. Learners listened to a skill-oriented explanation of SDM as a multi-step interviewing procedure based on observable domains3. They then viewed a demonstration of SDM by a faculty and a patient-actor.  A PtDA was used to support the clinical encounter by providing facts about options and structuring comparison of attributes of the DMARDs in the choice set being considered.  Finally, learners practiced a new SDM encounter supported by a PtDA in pairs followed by debriefing.
A 75-minute online activity was developed based on the recorded workshop and disseminated on myCME.com to a broad audience of rheumatology providers and other clinicians.
Results: There were 54 participants in the LW and 1337 in the OC.  After the interventions, 92% and 93% believed they could effectively engage in T2T-SDM, 78% and 93% believed the PtDA enhanced their learning of SDM.  Comparing pre-post knowledge assessment, both groups (LW 56 to 82% and OC 57 to 99%) increased their ability to recognize patient statements consistent with being engaged in SDM. 59% of LW and 43% of OC intended to make changes in their practice as a result of participation
Conclusion: Both LW and OC reinforced positive attitudes towards learning about T2T and SDM.  Modeling and active practice of SDM using a PtDA influenced beliefs, knowledge, and intentions to change practice related to SDM.
References: 
1. Martin RW et al. Patient Beliefs and Preference to Initiate a Proposed Medication in Rheumatoid Arthritis. Arthritis Rheumatol 2017;69 (suppl 10).
2.  Wennberg JE Tracking Medicine: A Researcher's Quest to Understand Health Care. Oxford University Press, USA. 2010 1st edition. pp209-264.
3.  Elwyn G, et al. Shared decision making: developing the OPTION scale for measuring patient involvement. BMJ Quality & Safety 2003;12:93-99.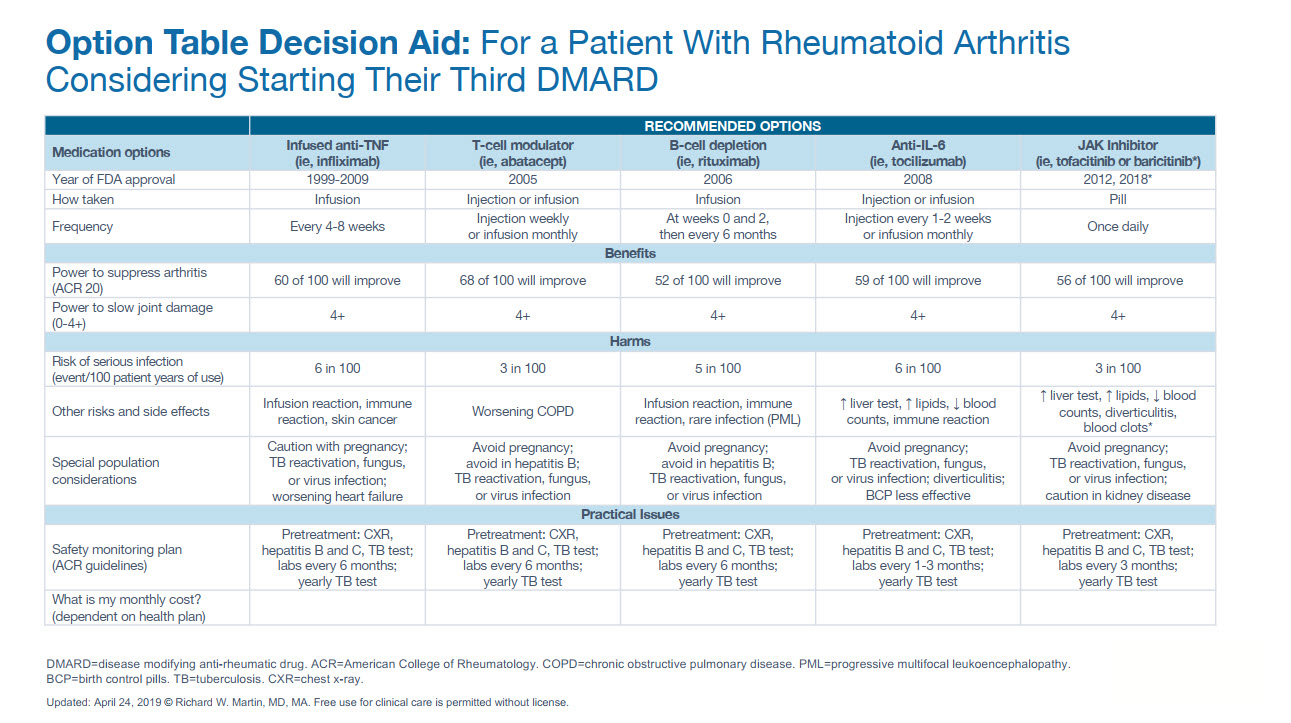 Option Table Decision Aid: For a Patient With Rheumatoid Arthritis Considering Starting Their Third DMARD
---
Disclosure: R. Martin, Abbvie, 9, Amgen, 9, Eli Lilly, 9; M. Shershneva, Eli Lilly, 2; L. Zurkovsky, Teva, 1.
To cite this abstract in AMA style:
Martin R, Shershneva M, Zurkovsky L. Development and Delivery of Continuing Education Interventions Promoting Shared Decision Making in Rheumatoid Arthritis [abstract].
Arthritis Rheumatol.
2020; 72 (suppl 10). https://acrabstracts.org/abstract/development-and-delivery-of-continuing-education-interventions-promoting-shared-decision-making-in-rheumatoid-arthritis/. Accessed March 28, 2023.
« Back to ACR Convergence 2020
ACR Meeting Abstracts - https://acrabstracts.org/abstract/development-and-delivery-of-continuing-education-interventions-promoting-shared-decision-making-in-rheumatoid-arthritis/