Session Information
Session Type: Poster Session B
Session Time: 8:30AM-10:30AM
Background/Purpose: Autoantibodies targeting a muscle-specific autoantigen, four-and-a-half-LIM-domain 1 (FHL1), have been previously identified in patients with idiopathic inflammatory myopathies (IIM) (1).
The aim of this study was to determine the prevalence and associations of anti-FHL1 antibody in South Australian patients with histologically-confirmed IIM and autoimmune disease control group (systemic sclerosis (SSc)).
Methods: Sera from patients with IIM (n=267) from the South Australian Myositis Database (SAMD), and SSc (n=174) from the Australian Scleroderma Cohort Study (ASCS) followed at the Royal Adelaide Hospital, and healthy controls (HC, n=100) were analyzed for anti-FHL1 autoantibodies by Enzyme-Linked ImmunoSorbent Assay (ELISA) and transformed to Arbitrary Units (AU). Clinical, serological, and histological details were retrieved from the SAMD and the ASCS.
Results: Autoantibodies to FHL1 were more frequent in patients with IIM (37/267, 13.8%) compared with SSc (12/174, 7%) (p< 0.02) and HC (2/100, 2%) (p< 0.001) (Figure 1). There were no other myositis-specific autoantibodies (MSA) present in 28/37 (75%) anti-FHL1+ patients (Figure 2). When analyzing the IIM subgroups, the presence of anti-FHL1 autoantibodies was more frequently found in the subgroups polymyositis (PM, 11/37) and Inclusion Body Myositis (IBM, 9/37) (Figure 3). In anti- FHL1+ patients that were seronegative for other MSA (n=28), we found a higher frequency of vessel inflammation and marked fiber atrophy in muscle biopsies, less myalgia, lower CK median levels, and lower cellularity in the biopsy compared to anti-FHL1– patients. Objective weakness and marked fiber atrophy y in muscle biopsies was more frequent in anti-FHL1+ compared to anti-FHL1- IBM patients. In the SSc patients, the presence of anti-FHL1 autoantibodies was more frequent in limited compared to diffuse SSc, but did not have more frequent clinical diagnosis of myositis or atrophy in the muscle biopsy compared to anti-FHL1– patients.
Conclusion: The presence of anti-FHL1 autoantibodies was confirmed in a cohort of histologically-defined adult IIM of mixed ethnicity, and most anti-FHL1 positive cases were negative for known MSAs. We confirmed a clinical phenotype dominated by skeletal muscle involvement in patients with anti-FHL1 autoantibodies. We also found the presence of anti-FHL1 in SSc, and this finding warrants investigation in further SSc cohorts.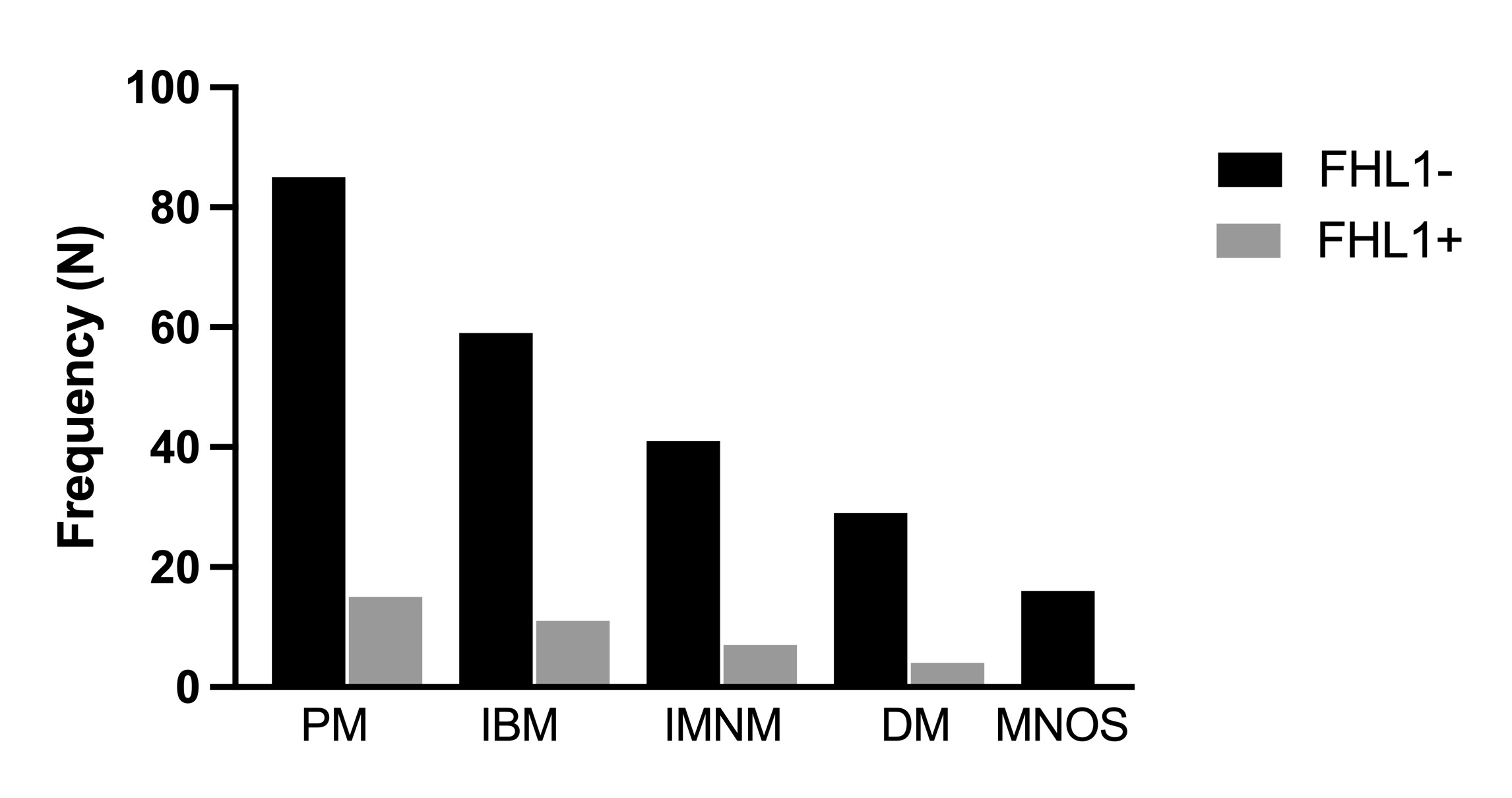 ---
Disclosures: A. Galindo-Feria, None; B. Horuluoglu, None; J. Day, None; C. Cerqueira, None; E. Wigren, None; S. Gräslund, None; S. Proudman, Boehringer-Ingelheim, 1, Janssen, 1, Gossamer, 1, Janssen, 5; I. Lundberg, Corbus Pharmaceutical,, 2, EMD Serono Research & Development Institute, 2, Argenx, 2, Bristol Myers Squibb, 2, Janssen, 2, Kezaar, 2, Octapharma, 1, Orphazyme, 1, Roche, 11, Novartis, 11; V. Limaye, None.
To cite this abstract in AMA style:
Galindo-Feria A, Horuluoglu B, Day J, Cerqueira C, Wigren E, Gräslund S, Proudman S, Lundberg I, Limaye V. Detection of Autoantibodies Against Muscle-Specific Four-and-a-Half-LIM Domain 1 (FHL1) in Inflammatory Myopathies: Results from a Single-Center Cohort [abstract].
Arthritis Rheumatol.
2021; 73 (suppl 9). https://acrabstracts.org/abstract/detection-of-autoantibodies-against-muscle-specific-four-and-a-half-lim-domain-1-fhl1-in-inflammatory-myopathies-results-from-a-single-center-cohort/. Accessed January 30, 2023.
« Back to ACR Convergence 2021
ACR Meeting Abstracts - https://acrabstracts.org/abstract/detection-of-autoantibodies-against-muscle-specific-four-and-a-half-lim-domain-1-fhl1-in-inflammatory-myopathies-results-from-a-single-center-cohort/