Session Information
Session Type: Abstract Session
Session Time: 8:00AM-9:00AM
Background/Purpose: Mounting evidence suggests partial defects in cytotoxicity-related genes may promote hyperinflammation in Macrophage Activation Syndrome (MAS) patients, who uniformly have highly-elevated IL-18. In mice, neither excess IL-18 (18tg mice) nor perforin-deficiency individually cause immunopathology without inflammatory challenge. However,18tg mice lacking perforin (18tg;Prf1-/-) develop spontaneous lethal hyperinflammation, while subclinical MAS was found in 18tg;Prf1+/- mice. Recent studies in both HLH and MAS patients demonstrate CD8 T-cell activation profiles in peripheral blood. We sought to understand how these two susceptibility factors, IL-18 and cytotoxic impairment, synergize or converge on CD8 T cells to drive spontaneous hyperinflammation.
Methods: We bred and examined transgenic mice bearing single susceptibility and dual susceptibility factors to hyperinflammation (perforin deficiency and excess mature IL-18) by "clinical" measures, cytokine levels, flow cytometry, bulk RNA- and TCR-sequencing, and in functional studies.
Results: Flow cytometry analysis of dual susceptibility mice showed an expanded CD8 T-cells bearing high levels of the IL-18 receptor and multiple markers associated with exhaustion (PD-1, Lag-3, CD39), yet overproduce IFNg. Such "hyperinflammatory CD8 T-cells" are present in the reticuloendothelial organs (spleen, bone marrow, and liver) but not lymph nodes, peripheral blood, or thymus. Transcriptional analysis in splenic CD8 T-cells from dual susceptibility mice demonstrated that hyperactivated CD8 T cells reflect a pattern of activation distinct from acute effector, effector-memory, tissue-resident memory, or exhaustion when compared to well ascribed publicly available datasets. This analysis also revealed a strong signature for recent antigen activation. Bulk CD8 TCR sequencing showed dramatic oligoclonal hyper-expansion of TCR sequences from dual susceptibility mice as compared to controls with no significant clonal overlap between biologic replicate samples. Attempts to circumvent CD8 T-cell activation, using inducible deletion of Il18r1 only on CD8 T-cells, or by promoting allelic exclusion by fixing the T-cell receptor of DS mice, shows that hyperactivated CD8 T-cells can circumvent these efforts to hinder their ability to expand. In vitro, TCR stimulus is necessary for IL-18 to elicit its effects on yet does not inhibit activation- induced cell death.
Conclusion: IL-18 and cytotoxicity drive progressive and pathologic activation, post thymically, of a stochastic, oligoclonal CD8 T-cell population that underlies life-threatening immunopathology in HLH and MAS. Expansion of hyperactivated Cd8 T cells in reticuloendothelial organs curiously aligns with sites noted for high levels of hemophagocytosis. These data together suggest a requirement for TCR stimulation reminiscent of the infectious triggers common to HLH and MAS, demonstrate these cells remarkable resilience, and identify potentially-targetable nodes of T-cell activation.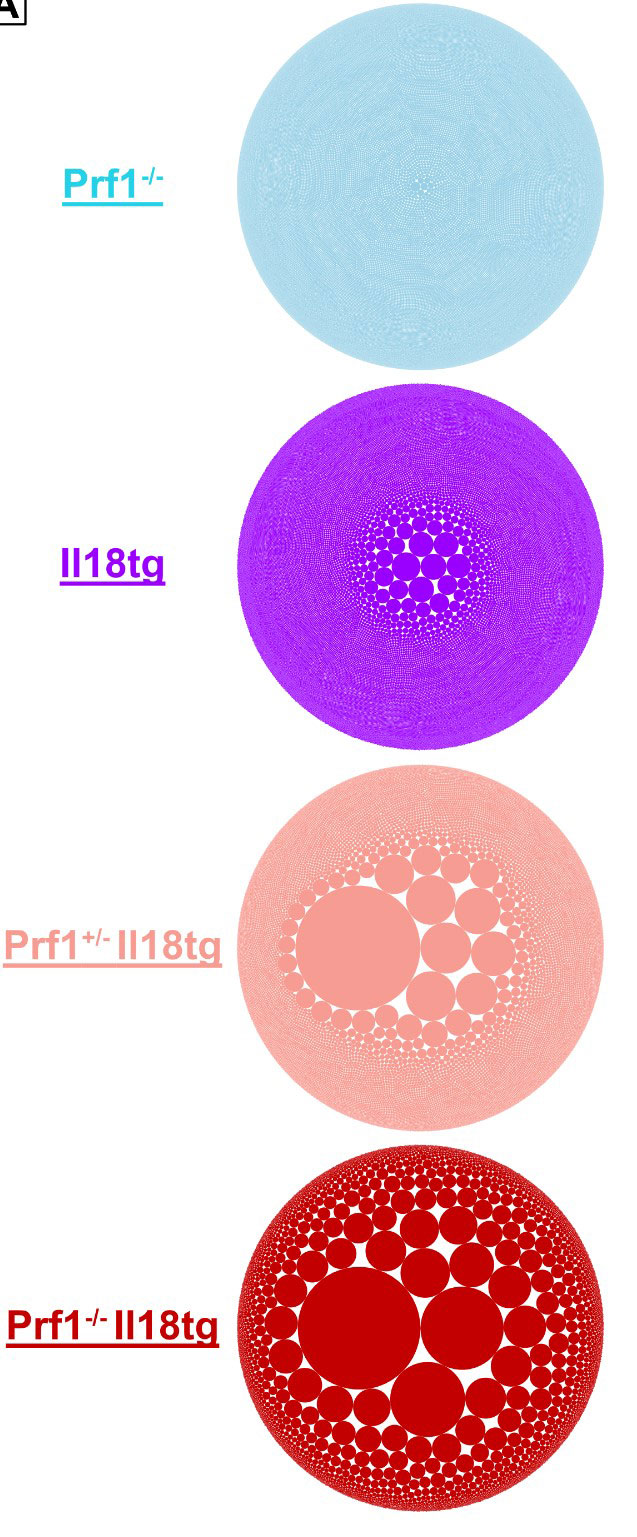 ---
Disclosures: E. Landy, None; S. Canna, Sobi, Ab2bio, Novartis, Immvention Therapeutics, sobi, Simcha Therapeutics; P. Tsoukas, None; V. Dang, None; J. Varghese, None.
To cite this abstract in AMA style:
Landy E, Canna S, Tsoukas P, Dang V, Varghese J. Cytokine Storm Susceptibility Factors IL-18 and Cytotoxic Impairment Converge on Pathologic CD8 T-cell Hyperactivation [abstract].
Arthritis Rheumatol.
2022; 74 (suppl 9). https://acrabstracts.org/abstract/cytokine-storm-susceptibility-factors-il-18-and-cytotoxic-impairment-converge-on-pathologic-cd8-t-cell-hyperactivation/. Accessed March 23, 2023.
« Back to ACR Convergence 2022
ACR Meeting Abstracts - https://acrabstracts.org/abstract/cytokine-storm-susceptibility-factors-il-18-and-cytotoxic-impairment-converge-on-pathologic-cd8-t-cell-hyperactivation/