Session Information
Session Type: Poster Session C
Session Time: 9:00AM-11:00AM
Background/Purpose: In 2018 we designed a Rheumatology Transition clinic to care for adolescent patients with autoimmune disease. We incorporate Health Care Transition curriculum (HCT) into our clinic to improve Transfer outcomes as patients move from a pediatric to adult healthcare model. As part of this HCT, we ask our participants to complete a Transition Readiness Assessment (TRA) that mirrors the same assessment available from the GotTransition website. This assessment quantifies a patient's preparedness to become independent in managing their own health care. This abstract presents preliminary data from the TRA, contrasting responses over time in individual patients and parents, and the responses from the patients versus their parents or legal guardians.
Methods: Participants are asked to complete the TRA. The TRA is requested at two time points. First, when patients are first evaluated. Second, just before their first clinical visit with an adult Rheumatologist in an adult Rheumatology clinic.
Responses from the patients at the two time points were evaluated and compared using appropriate statistical analyses. To assess the significance of changes in responses over time, a t-test was conducted to compare the patients' first and second answers. The mean (SD) was calculated to summarize the age at diagnosis, age at enrollment, and the number of days from the first survey to the second survey. Additionally, the median (interquartile range, IQR) and range were used to summarize the distribution of these variables. Categorical variables such as sex, gender identity, race, and ethnicity were summarized using N (%) to indicate the number and percentage of patients within each category.
Results: As of May 2023, we had 129 patient and 95 parent participants in the first TRA; and 27 patient and 15 parent participants in the second TRA (Table 1: Patient demographics). In all but two variables, patients and parents report improvement in Transition readiness. Patients report better Transition readiness, than do parents, when they are first enrolled into the registry. Where there is a statistically significant disparity between patients and parents in their assessment, it is patients who report better Transition readiness at registry enrollment. However, where there is a statistically significant disparity in their assessment over time, it is parents who are more likely to report a longitudinal improvement in their child's Transition readiness over time (Figure 1: TRA responses over time).
Conclusion: These findings alone do not prove a causative effect between the HCT curriculum in our Transition clinic and improved Transition readiness over time. However, this improvement in Transition readiness over time is encouraging. Potential confounders might include an independent progression in maturity and independence with age that might also improve Transition readiness. In our future research, we will work to understand patient-specific variables that influence improved Transition readiness, and if there is a correlation with Transition readiness and Transfer and medical outcomes.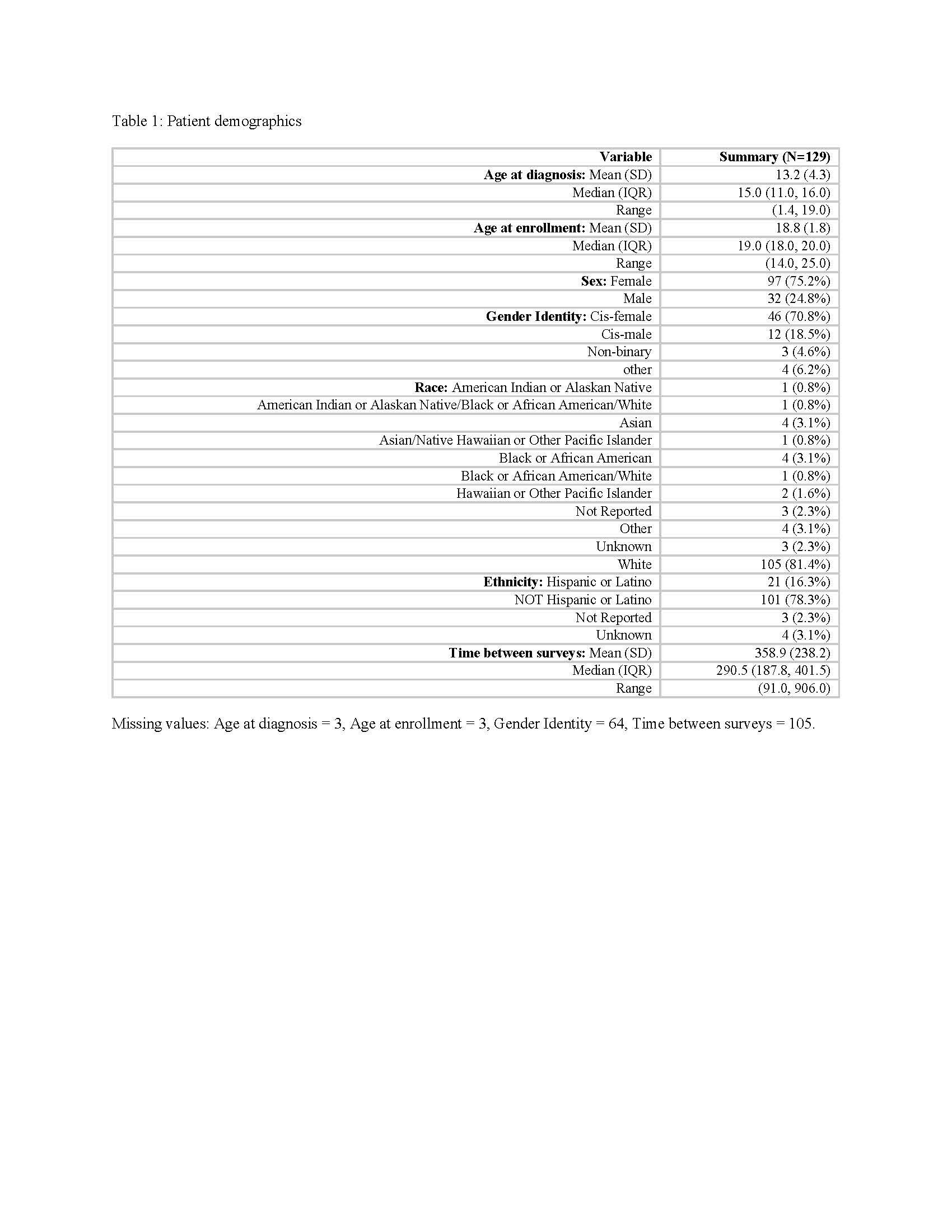 « Back to ACR Convergence 2023
ACR Meeting Abstracts - https://acrabstracts.org/abstract/transition-readiness-over-time-in-a-rheumatology-transition-clinic/