Session Information
Session Type: Poster Session B
Session Time: 9:00AM-11:00AM
Background/Purpose: Pegloticase is a mammalian recombinant uricase coupled to monomethoxy polyethylene glycol that is approved in the US for treatment of patients with chronic refractory gout and causes profound reductions in serum urate. However, treatment with pegloticase is limited by the induction of anti-drug antibodies and loss of responsiveness in nearly half of treated patients.
The goal of this study was to determine whether co-therapy with azathioprine (AZA) would increase the frequency of chronic refractory gout patients who had persistent urate lowering from pegloticase therapy.
Methods: This open label multicenter study enrolled subjects with chronic gout who failed to lower serum urate to < 6 mg/dL despite medically indicated doses of urate lowering therapy (NCT02598596). Patients were screened for adequate levels of the AZA metabolizing enzyme thiopurine methyl transferase and then started on daily oral AZA 1.25 mg/kg for 1 week and then 2.5 mg/kg for the remainder of the trial. Blood levels of AZA metabolites 6-thioguanine and 6-methylmercaptopurine were measured biweekly. After receiving 2 weeks of AZA, patients were started on pegloticase (8 mg IV) and were treated biweekly for 24 weeks. The primary endpoint was the persistent lowering of serum urate to < 6 mg/dL at the last three consecutive study visits. Patients who had an increase in serum urate to >6 mg/dL while on therapy did not receive additional pegloticase. All patients received infusion prophylaxis with hydrocortisone as well as gout flare prophylaxis.
Results: To date, 12 patients have been enrolled. All patients were male, 75% white and 25% African American. Mean age was 62.4 ± 14.7 years, the mean BMI was 31.1 ± 4.5 and the mean duration of gout was 13.8 ± 9.2 years. At baseline, all patients had visible tophi; 58.3% suffered from gout flares; 81.8% had hypertension; 45.5% had dyslipidemia and 9.0% had coronary artery disease.  Of the 12 patients, 6 have completed the full course of treatment with persistent urate lowering and 2 remain on treatment also with persistent urate lowering (figure). 2 patients lost the urate lowering effect, both after 2 doses of pegloticase, and did not receive additional therapy. 1 patient experienced an infusion reaction during the first dose (1 infusion reaction in 90 infusions [1.1%] in the entire trial to date) and 1 subject had subjective symptoms of AZA intolerance with no laboratory abnormalities; these subjects discontinued the study and were not evaluable for the endpoint. No adverse events related to AZA were reported and gout flares were noted in 6 subjects (mean 1.5 flares/patient with flares).
Conclusion: AZA can be used safely in subjects with chronic refractory gout and appears to increase the frequency of subjects experiencing long term lowering of serum urate.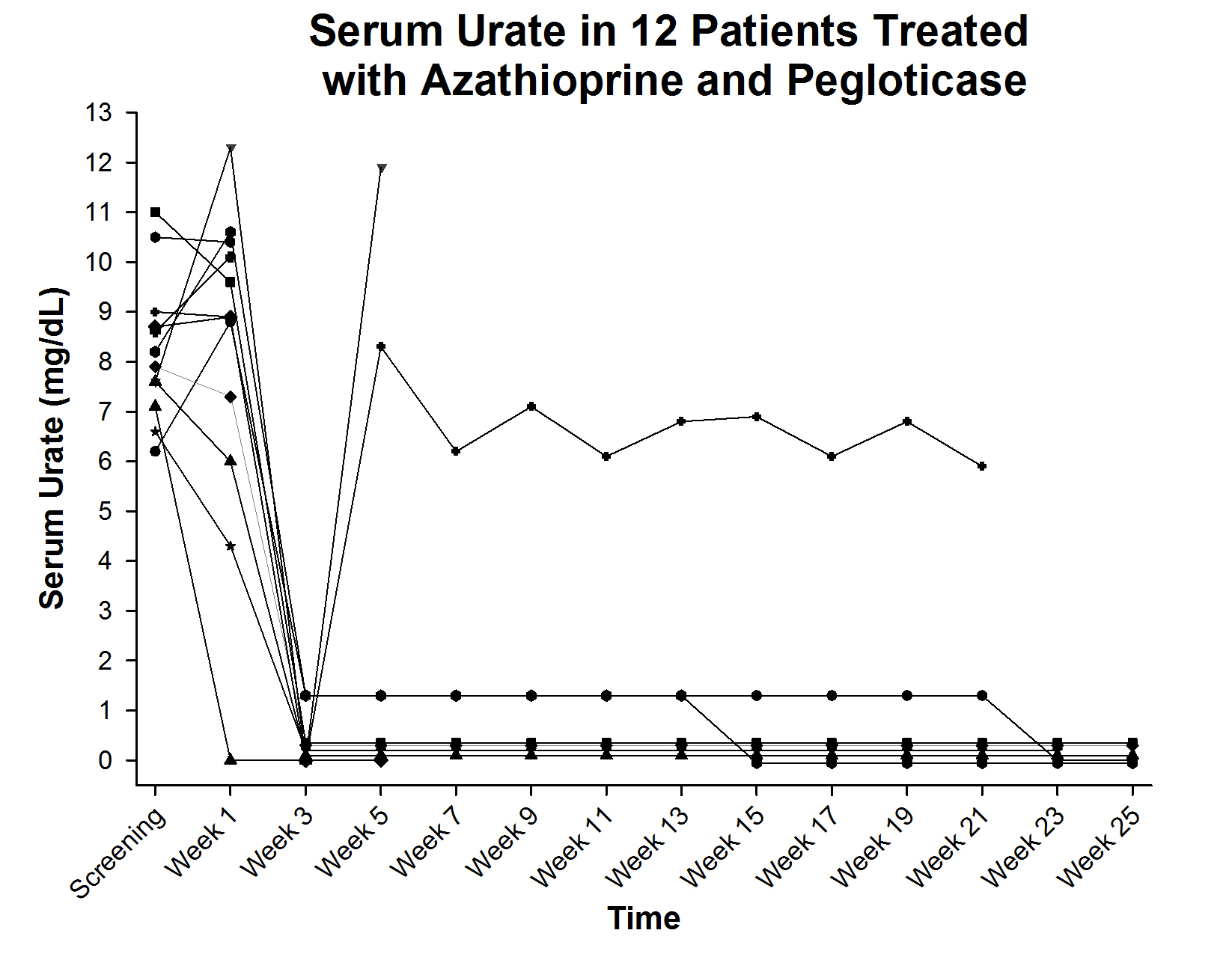 ---
Disclosure: H. Baraf, AbbVie, 2, 8, Horizon, 2, 8, Gilead Sciences, Inc., 2, 8, Pfizer, 2, 8, Janssen, 2, 8, Merck, 2, 8; H. Rainey, None; P. Lipsky, Horizon Therapeutics, 3; P. Lipsky, Janssen Research & Development, LLC, 1.
To cite this abstract in AMA style:
Baraf H, Rainey H, Lipsky P, Lipsky P. The Impact of Azathioprine on the Frequency of Persistent Responsiveness to Pegloticase in Patients with Chronic Refractory Gout [abstract].
Arthritis Rheumatol.
2020; 72 (suppl 10). https://acrabstracts.org/abstract/the-impact-of-azathioprine-on-the-frequency-of-persistent-responsiveness-to-pegloticase-in-patients-with-chronic-refractory-gout/. Accessed January 28, 2022.
« Back to ACR Convergence 2020
ACR Meeting Abstracts - https://acrabstracts.org/abstract/the-impact-of-azathioprine-on-the-frequency-of-persistent-responsiveness-to-pegloticase-in-patients-with-chronic-refractory-gout/