Session Information
Session Type: Poster Session C
Session Time: 9:00AM-11:00AM
Background/Purpose: Hand osteoarthritis (HOA) data is often obtained from large knee OA cohorts. Targeted HOA cohorts in Europe have shed light on this disease, but the etiologies and pathophysiology remain less defined than other sites of OA. Some studies suggest a metabolic role of adiposity in OA (beyond mechanical load), as evidenced by prevalent HOA in obese patients, while other reports link hormonal status to HOA pain. Our dedicated cohort of HOA patients aims to study factors that contribute to its prevalence and severity.
Methods: From 2016 to 2020, we enrolled patients with interphalangeal (IP) OA, regardless of 1st carpometacarpal (CMC) involvement. Patients with rheumatoid arthritis, psoriatic arthritis or lupus were excluded. Demographic and relevant history data were collected. Participants completed adapted versions of the Michigan Hand Outcomes (MHQ) and QuickDASH Outcome questionnaires to assess pain, stiffness, and function. The semi-quantitative scores were aggregated and normalized to a 0-100 scale. Hand x-rays, if available, were scored in binary fashion for joint narrowing, osteophytes, and central erosions in all 20 joints (18 IPs, 2 1st CMCs). Blood and urine were banked for future assays.
Results: We screened 337 patients and found 170 to be eligible and willing to enroll. The present cohort is 80.0% Caucasian and 78.8% female with an average age of 66.3±9.5 years (range 42-90) and BMI of 26.2±5.0 kg/m² (range 16.4-42.1). Bilateral hand x-rays, available for 149 patients, involved 10.5±5.1 joints with OA on average, with 102 (68.4%) having concurrent IP and CMC OA. Radiographs revealed central erosive changes in ≥1 joint in 36.5% of patients, with this subset also reporting a higher number of affected joints (12.5 vs. 9.1, p=< 0.001). Patients with BMI > 30 kg/m2 had significantly more hand pain (p=0.022) and stiffness (p=0.047) by the adapted MHQ, and more disability (p=0.025) by the QuickDASH, compared to those with BMI < 25 despite similar ages and joint burden by x-ray (Table 1). Patients reporting OA in additional sites also reported more hand pain (p=0.018) and more disability (p=0.003), though this signal could be confounded by this subgroup's advanced age (67.7 vs. 62.3 years, p=0.01). Women reported significantly more pain (p=0.035), disability (p=0.004), and a higher average number of joints affected (p=0.02) than men with similar ages and BMI. A small subgroup of likely perimenopausal women (ages 48-54) reported more pain and disability than their older counterparts, despite a lower mean BMI and fewer hand joints affected by OA. (Figure. 1). Our analyses did not reveal any association between hand symptoms and tobacco use, comorbidities, or prior hand trauma.   
Conclusion: We have established the only registry and biorepository in North America focused on hand OA, which could enhance progress made by existing cohorts. HOA pain and disability independently associated with adiposity, and was more severe in women. We postulate that hormonal influences during the perimenopausal state may increase HOA symptoms during those years.  As we run assays on stored biospecimens, we anticipate the HONEY cohort will further our understanding of HOA etiologies and pathophysiology while facilitating future clinical trials.
Table 1. Covariates affecting hand osteoarthritis symptoms.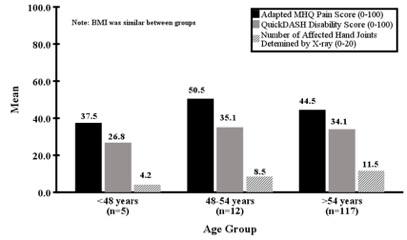 Figure 1. Women ages 48-54 demonstrated more severe hand OA pain and disability.
---
Disclosure: F. Bomfim, None; S. Chen, None; S. Zak, None; T. Jazrawi, None; V. Qie, None; B. Plotz, None; J. Samuels, None.
To cite this abstract in AMA style:
Bomfim F, Chen S, Zak S, Jazrawi T, Qie V, Plotz B, Samuels J. The Hand Osteoarthritis Registry of New York University: Impacts of Gender and Obesity [abstract].
Arthritis Rheumatol.
2020; 72 (suppl 10). https://acrabstracts.org/abstract/the-hand-osteoarthritis-registry-of-new-york-university-impacts-of-gender-and-obesity/. Accessed January 27, 2023.
« Back to ACR Convergence 2020
ACR Meeting Abstracts - https://acrabstracts.org/abstract/the-hand-osteoarthritis-registry-of-new-york-university-impacts-of-gender-and-obesity/