Session Information
Session Type: Poster Session (Sunday)
Session Time: 9:00AM-11:00AM
Background/Purpose: The signaling lymphocytic activation molecule (SLAM) family is encompassed by nine distinct receptors that are hematopoietic restricted. Among these, SLAMF6 is highly expressed in autoimmune T cells and genetic variants have been reported in both rheumatoid arthritis and systemic lupus erythematous. Moreover, previous studies as well as our own data, have suggested that anti-SLAMF6 antibodies can have a therapeutic effect in autoimmunity. However, little is known about the role of SLAMF6, specifically in T cell responses. To utilize SLAMF6 interventional approaches, a better understanding of the biology of this receptor in T cell is required. The goal of this work is to uncover SLAMF6 downstream signaling and function in the context of neutralizing antibodies (Abs). We hypothesis that the SLAMF6 is a co-stimulatory receptor in T cells and that blocking its function should disrupt T cell receptor (TCR) signaling, specifically in activated autoimmune T cells.
Methods: Primary human T cells were collected from healthy volunteers and from patients with rheumatoid arthritis. Cells were treated with anti-CD3 Abs ± anti-SLAMF6 Abs or anti-CD3 abs ± anti-SLAMF6 monobodies. Cytokine release was measured by ELISA and proliferation was recorded by CFSE dilution assay. SLAMF6 gene was deleted in Jurkat T cells using shRNAs and CRISPR-Cas9, prior to a set of rescue experiments with different versions of mutated SLAMF6 gene. These cells were analyzed by western blot and flow cytometry to illustrate signaling downstream of SLAM6. Confocal microscopy imaging was performed to determine the spatial location of SLAMF6 in the immunological synapse during contact with an antigen presenting cell.
Results: Our experimental data shows that SLAMF6 was obligatory for TCR downstream signaling. Remarkably, SLAMF6 ectodomain was required for its function, yet not for its conscription to the immunological (IS) synapse. Flow-cytometry analysis established that tyrosine 308 of the tail of SLAMF6 was crucial for its ability to augment T cell function (Image 1). Imagining studies revealed that SLAMF6 clustering, with the TCR resulted in a dramatic rise in downstream signaling (Image 2). Mechanistically, we showed that SLAMF6 improved T cell function by increasing T cell adhesivity through activation of the small GTPase Rap1.
Conclusion: We have shown that SLAMF6 ligation via antibodies can deliver a vital co-stimulatory signal to increase TCR activation. This behavior includes increasing cytokine secretion, proliferation,ERK, ZAP70 and AKT phosphorylation and cellular adhesion through Rap1 activation. Our findings propose that during TCR engagement SLAMF6 is transported to the IS independent of its ectodomain where it is engaged by another SLAMF6 molecule through the ectodomain to undergo proper function as a stimulatory co-receptor. SLAMF6 is then deliver a co-stimulatory signal dependent on tyrosine 308 into the T cell. By elucidating the mechanism by which SLAMF6 operates in the TCR pathway, we have provided a model for designing interventional approaches for the treatment of autoimmune diseases where SLAMF6 plays a functional role.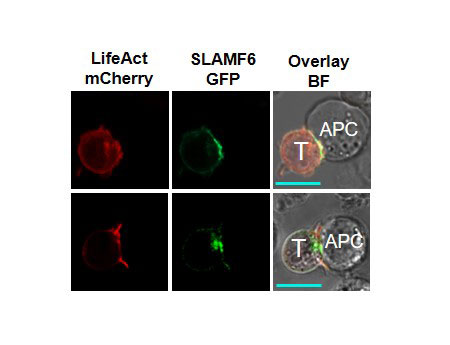 ---
Disclosure: M. Dragovich, None; A. Mor, None.
To cite this abstract in AMA style:
Dragovich M, Mor A. SLAMF6 Clustering Is Required to Augment Autoimmune T Cell Activation [abstract].
Arthritis Rheumatol.
2019; 71 (suppl 10). https://acrabstracts.org/abstract/slamf6-clustering-is-required-to-augment-autoimmune-t-cell-activation/. Accessed November 26, 2022.
« Back to 2019 ACR/ARP Annual Meeting
ACR Meeting Abstracts - https://acrabstracts.org/abstract/slamf6-clustering-is-required-to-augment-autoimmune-t-cell-activation/