Session Information
Session Type: ACR Poster Session C
Session Time: 9:00AM-11:00AM
Title: Segmented Filamentous Bacteria Colonization Exacerbate Lupus Nephritis in NZM2410 Mice and Causes an Expansion of Intestinal Group 3 Innate Lymphoid Cells
Background/Purpose: Innate Lymphoid Cells (ILC3s) represent a newly described innate immune cell with parallel function and phenotype to Th17 cells. ILC3s primarily populate mucosal tissue such as the small intestine and tonsils. ILC3s secrete distinct cytokines such as IL-17, IL-22, and TNF that are thought to play an important role in autoimmunity. Moreover, gut-residing commensals such as Segmented Filamentous Bacteria (SFB) can significantly augment ILC3s and Th17 cells. Furthermore, SFB enhances Th17 cell presence and ILC3 secretion of IL-22 in the intestinal lamina propria of exposed mice. Because these cytokines have been shown to be important in Systemic Lupus Erythematosus (SLE), we examined the effects of SFB on NZM2410 disease phenotype.
Methods: We examined the presence of ILC3s in the gut of NZM2410 mice with and without intestinal colonization with SFB. Mice were colonized with fecal homogenates containing SFB or no SFB using oral gavage. Serum was collected from mice once per month and Blood Urea Nitrogen was calculated. Upon meeting removal criteria, the kidneys of these mice were processed for immunohistochemistry. Small intestine was digested and then processed for ILC3s and Th17 cells.
Results: Because of their rarity and lack of source material, SLE mucosal ILC3s are inherently challenging to study in humans. We examined, IlC3 in the mucosa of NZM2410 and utilized SFB to observe any effect that the microbiota may have on mucosal ILC3s in the setting of this mouse model of lupus. We observed that mucosal Th17 and ILC3s were expanded in the small intestine and that kidney damage was exacerbated in SFB exposed mice as compared to unexposed mice.
Conclusion: These findings support the hypothesis that the microbiota are able to negatively impact lupus clinical course, potentially through activation of ILC3s and Th17 cells and these mechanisms are the subject of ongoing investigations. Moreover, we are examining ILC3-like cells in the peripheral blood of NZM2410 mice and in patients with SLE.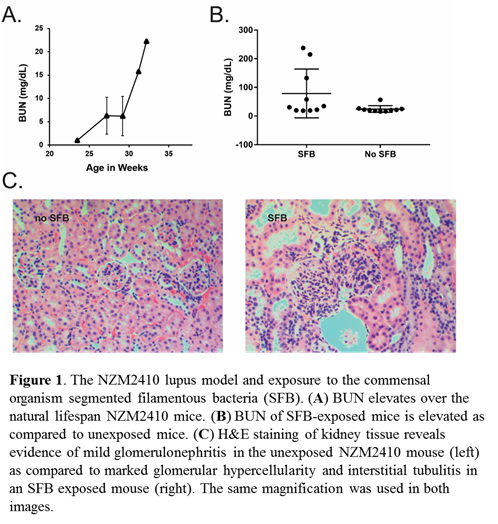 ---
Disclosure: G. R. Valiente, None; J. Hampton, None; T. Wada, None; P. Blough, None; W. Willis, None; N. A. Young, None; L. C. Wu, None; W. Jarjour, None.
To cite this abstract in AMA style:
Valiente GR, Hampton J, Wada T, Blough P, Willis W, Young NA, Wu LC, Jarjour W. Segmented Filamentous Bacteria Colonization Exacerbate Lupus Nephritis in NZM2410 Mice and Causes an Expansion of Intestinal Group 3 Innate Lymphoid Cells [abstract].
Arthritis Rheumatol.
2017; 69 (suppl 10). https://acrabstracts.org/abstract/segmented-filamentous-bacteria-colonization-exacerbate-lupus-nephritis-in-nzm2410-mice-and-causes-an-expansion-of-intestinal-group-3-innate-lymphoid-cells/. Accessed January 22, 2022.
« Back to 2017 ACR/ARHP Annual Meeting
ACR Meeting Abstracts - https://acrabstracts.org/abstract/segmented-filamentous-bacteria-colonization-exacerbate-lupus-nephritis-in-nzm2410-mice-and-causes-an-expansion-of-intestinal-group-3-innate-lymphoid-cells/