Session Information
Session Type: Poster Session C
Session Time: 9:00AM-11:00AM
Background/Purpose: Over the last two decades, it has become increasingly clear that resolution of acute inflammation is not a passive process, but requires active modulation. This is tightly regulated by families of novel potent bioactive lipid mediators (LM), which have been termed "specialized pro-resolving mediators" (SPMs), but little is known concerning their role in chronic inflammation, such as in rheumatoid arthritis (RA). This study was conducted to investigate whether LM are involved in the pathogenesis of RA.
Methods: We performed LM profiling on inflamed arthritic paws in a mouse model of RA by using lipid chromatography (LC) /mass spectrometry (MS) /MS-based LM metabololipidomics. CD4+ T cells from splenocytes of SKG mice were cultured on anti-CD3/ CD28 mAbs precoated plate with IL-6/TGF-β, anti-IFNγ/IL-4 and SPMs were added daily from day 0. On day 3, cells were analyzed by flow cytometry. CD4+ T cells were incubated with CFSE and RvD5 was added daily. On day 3, cell proliferation was analyzed by flow cytometry. Mouse bone marrow cells were cultured with M-CSF and RANKL and RvD5 was added daily. Tartrate-resistant acid phosphatase (TRAP)-positive multinucleated cells were defined as osteoclasts and counted under a microscope. Osteoclast differentiation markers were analyzed by quantitative RT-PCR.
Results: We found that RvE3, RvD1, RvD3, RvD5 and Maresin2 were significantly elevated in the arthritic paws. Of the elevated SPMs, levels of RvD5 correlated significantly with arthritis disease activity (Figure 1). We also found that RvD5 inhibited the differentiation of Rorγt+ Th17 cells and increased the population of Foxp3+ regulatory T (Treg) cells. In addition, RvD5 inhibited CD4+ T cell proliferation. Furthermore, RvD5 attenuated osteoclast differentiation and interfered osteoclastogenesis at the molecular level (Figure 2).
Conclusion: RvD5 is increased in the paws of arthritic mice, suppresses Th17 cell differentiation and CD4+ T cell proliferation, facilitates Treg cell differentiation, and suppresses osteoclastogenesis.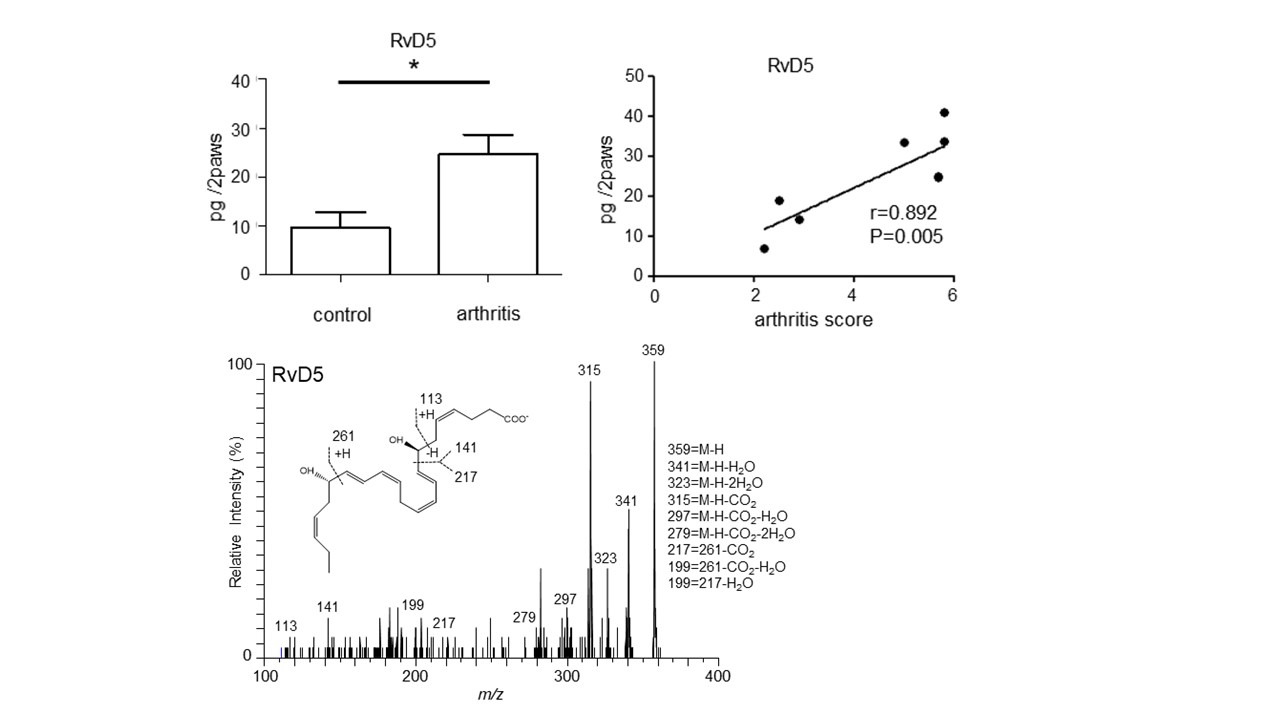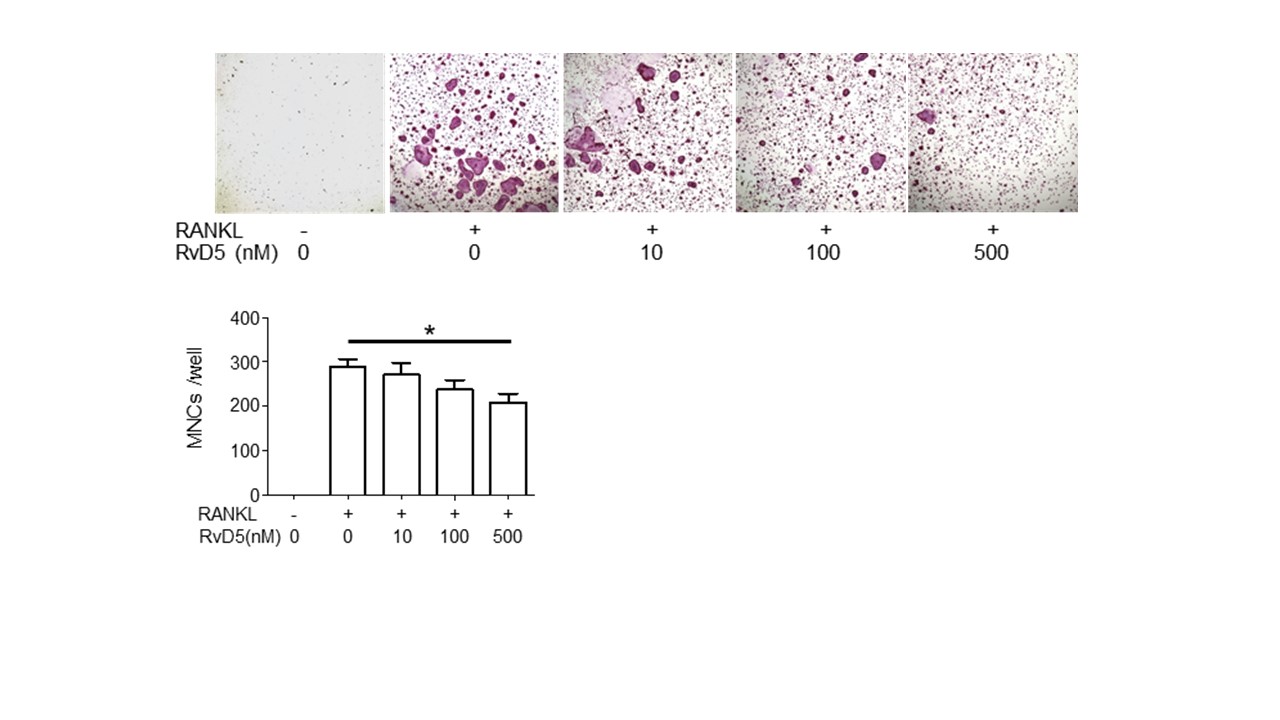 ---
Disclosure: H. Yamada, None; J. Saegusa, None; S. Sendo, None; Y. Ueda, None; T. Okano, None; Y. Fujikawa, None; Y. Yamamoto, None; T. Nagamoto, None; Y. Ichise, None; I. Naka, None; K. Akashi, None; A. Onishi, None; M. Shinohara, None; A. Morinobu, None.
To cite this abstract in AMA style:
Yamada H, Saegusa J, Sendo S, Ueda Y, Okano T, Fujikawa Y, Yamamoto Y, Nagamoto T, Ichise Y, Naka I, Akashi K, Onishi A, Shinohara M, Morinobu A. Resolvin D5 Modulates Th17/Treg Cell Differentiation and Suppresses Osteoclastogenesis [abstract].
Arthritis Rheumatol.
2020; 72 (suppl 10). https://acrabstracts.org/abstract/resolvin-d5-modulates-th17-treg-cell-differentiation-and-suppresses-osteoclastogenesis/. Accessed December 2, 2022.
« Back to ACR Convergence 2020
ACR Meeting Abstracts - https://acrabstracts.org/abstract/resolvin-d5-modulates-th17-treg-cell-differentiation-and-suppresses-osteoclastogenesis/