Session Information
Session Type: Abstract Session
Session Time: 5:00PM-5:50PM
Background/Purpose: Rheumatoid arthritis (RA) is associated with several lung diseases. Various airborne exposures have been implicated as RA disease risk factors including cigarette smoke and exposures related to pollution, farming, and construction among others. These exposures have also been linked to inflammatory lung disease in RA. A mouse model combining the agriculture organic dust extract-induced airway inflammatory model with collagen induced arthritis (CIA) led to increases in arthritis, autoimmunity, and pro-fibrotic inflammatory lung consequences. Agriculture exposures are complex with lipopolysaccharide (LPS) representing a major component; LPS exposure is commonly found in other pollutant settings. It has been established that systemic LPS potentiates RA joint disease, but it is not known whether repetitive inhalation exposure to a biologically relevant airborne concentration of LPS modulates the RA-lung inflammatory axis.
Methods: DBA1/J male mice (n=5/group) were assigned to either: sham (saline injection/ saline inhalation), CIA (CIA/ saline inhalation), LPS (saline injection/ LPS 100 ng inhalation), or CIA+LPS for 5 weeks. Hind paws were observed weekly and given an arthritis inflammatory score of 0-4 based upon swelling and redness of the hind paws. Bronchoalveolar lavage fluid (BALF) and lung tissues were collected for cell enumeration, flow cytometry and ELISA.
Results: The arthritis inflammatory scores (mean±SEM) for CIA (1.0±0), LPS (1.1±0.24) and CIA+LPS (0.9±0.13) were significantly increased compared to sham (0.2±0.12) (Figure 1). Table 1 depicts lung experimental outcomes. There was profound potentiation in BALF total lung cells (p< 0.0001) including neutrophils, macrophages, and lymphocytes in CIA+LPS versus other exposure groups. There was increased lung activated macrophages (CD11chiCD11bhi), neutrophils (Ly6C+Ly6G+), monocytes (CD11c–CD11bhi) and recruited monocyte/macrophages (CD11cintCD11b+) with CIA+LPS exposure. The pro-inflammatory cytokine TNF-α (p< 0.001) and neutrophil chemokine (CXCL2) (p< 0.0001) were increased in LPS alone, but not LPS+CIA. In contrast, levels of fibronectin and the alarmin IL-33 were increased in the lung homogenates of CIA+LPS versus all other exposure groups. In addition, BALF complement (C5a) and fibronectin were increased in LPS and CIA+LPS and potentiated with combined treatments. As compared to sham, lung IL-33 was increased in LPS alone (p< 0.01) and lung fibronectin was increased in CIA alone (p< 0.05).
Conclusion: Repetitive LPS inhalation in the setting of arthritis induction induced striking lung inflammatory consequences. This was marked by reduction in classic pro-inflammatory mediators and augmentation of wound repair fibronectin, alarmin IL-33, and C5a with increased recruitment of activated macrophages, recruited/transitional monocyte-macrophages, and monocytes to potentially signify the transition toward pro-fibrotic consequences. These findings would suggest that patients with RA may be more susceptible to developing interstitial lung disease following occupational and environmental exposures enriched in LPS and that interventions to reduce airborne biohazard exposures could be important.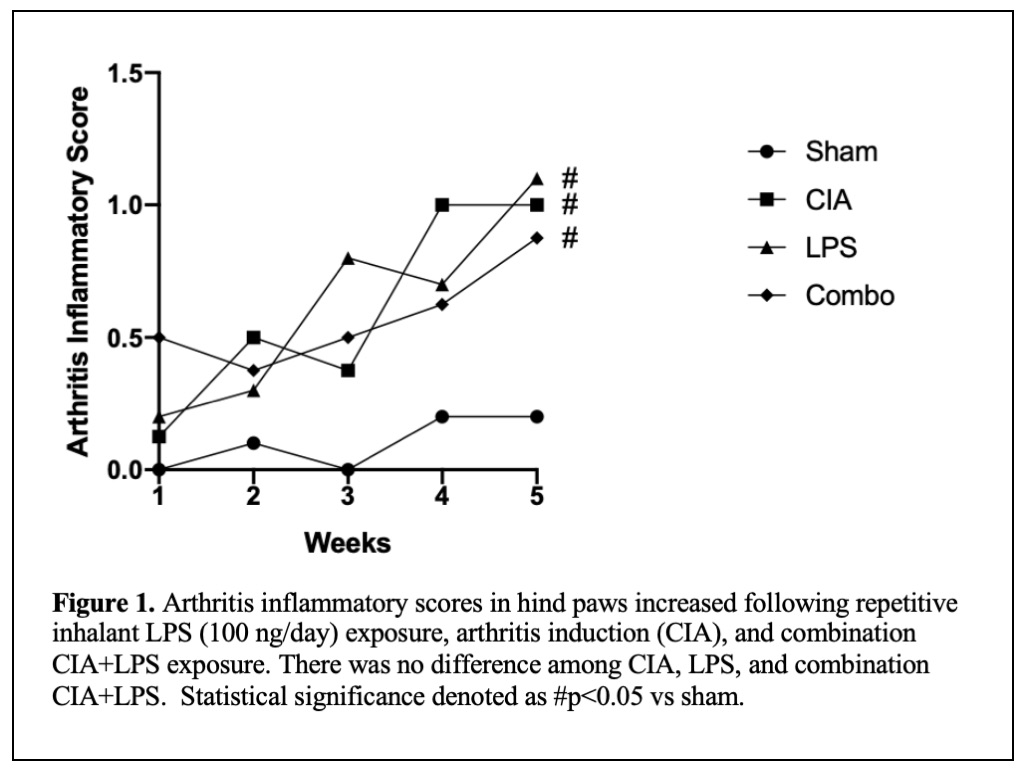 ---
Disclosure: M. Wolfe, None; T. Mikuls, Horizon Therapeutics, 2; G. Thiele, None; A. Nelson, None; M. Duryee, None; R. Gaurav, None; B. England, None; D. Romberger, None; J. Poole, None.
To cite this abstract in AMA style:
Wolfe M, Mikuls T, Thiele G, Nelson A, Duryee M, Gaurav R, England B, Romberger D, Poole J. Repetitive Inhalant Lipopolysaccharide Exposure in the Setting of Arthritis Induction Potentiates Pro-Fibrotic Inflammatory Lung Disease in Mice [abstract].
Arthritis Rheumatol.
2020; 72 (suppl 10). https://acrabstracts.org/abstract/repetitive-inhalant-lipopolysaccharide-exposure-in-the-setting-of-arthritis-induction-potentiates-pro-fibrotic-inflammatory-lung-disease-in-mice/. Accessed October 4, 2022.
« Back to ACR Convergence 2020
ACR Meeting Abstracts - https://acrabstracts.org/abstract/repetitive-inhalant-lipopolysaccharide-exposure-in-the-setting-of-arthritis-induction-potentiates-pro-fibrotic-inflammatory-lung-disease-in-mice/