Session Information
Session Type: Poster Session C
Session Time: 9:00AM-11:00AM
Background/Purpose: Studies addressing the epidemiology of ANCA-associated vasculitides (AAV) in different countries reported various prevalence rates and suggested that incidence may have increased over the past 30 years. Environmental factors may play an important role in the development of AAV. Exposure to silica, one of the strongest environmental substances causing overall autoimmunity, has particularly been associated with a higher risk of developing AAV. In the present work, we report the prevalence of granulomatosis with polyangiitis (GPA), microscopic polyangiitis (MPA) and renal limited vasculitis (RLV) in Alsace, a French Northeast region, and demonstrated a geospatial association between these diseases and quarries leading to crystalline silica exposure.
Methods: We performed a capture–recapture analysis using three separate sources : 1) hospital records from departments of medical specialties that were likely to diagnose AAV, 2) ANCA positivity in publicly-funded reference immunology laboratories, and 3) the database from the French National Health Insurance System. A case was included if the patient was alive and resided in Alsace on January 1, 2016, and fulfilled either the ACR classification criteria for GPA, either the Chapel Hill Consensus Conference CHCC 2012 revised definition of systemic vasculitides for both GPA and MPA. The European Medicines Agency (EMA) algorithm was used to distinguish GPA and MPA. RLV was defined as pauci-immune glomerulonephritis without evidence for extrarenal disease. Capture-recapture was used to estimate the number of cases missed by any of the sources and therefore the total number of cases. The spatial association between the number of cases and the number of quarries in each administrative entity (French "communes") was assessed using geographical weighted regression.
Results: 910 potential eligible cases were identified. After exclusion of duplicates and non-matching demographic or medical criteria cases, 185 patients were included from the three sources (Figure 1). 120 were classified as GPA, 35 as MPA, 30 as RLV (Table 1). Capture-recapture estimated the number of cases missed by any source to 6.4 (95%CI 3.6-11.5), and the 2016 estimated prevalence in Alsace was 65.5 cases per million inhabitants (95%CI 47.3-93.0) for GPA, 19.1 (95%CI 11.3-34.3) for MPA, and 16.8 (95%CI 8.7-35.2) for RLV. This GPA prevalence was two times higher than that estimated in a North-eastern suburb of Paris in 2003. Geographical weighted regression models demonstrated a significant spatial association between presence of quarries and GPA cases (p = 0.039) but not MPA or RLV (Figure 2).
Conclusion: In a French region with a high density of extraction sites, the high prevalence of GPA and the spatial association between quarries and GPA supports the role of specific environmental etiologic factors. Further studies evaluating type and duration exposure should investigate the link between silica and AAV development.
Values are expressed as number (percentage) or median (range). BVAS, Birmingham Vasculitis Activity Score; ENT, ear nose throat; FFS, Five Factor Score; MPO, myeloperoxidase; PR3, proteinase 3.
Figure 1: Flow chart of AAV cases identifications. AAV, ANCA-associated vasculitis; GPA, granulomatosis with polyangeitiis; MPA, micropolyangeitiis; NHID, National Health Insurance database; RLV, renal-limited vasculitis.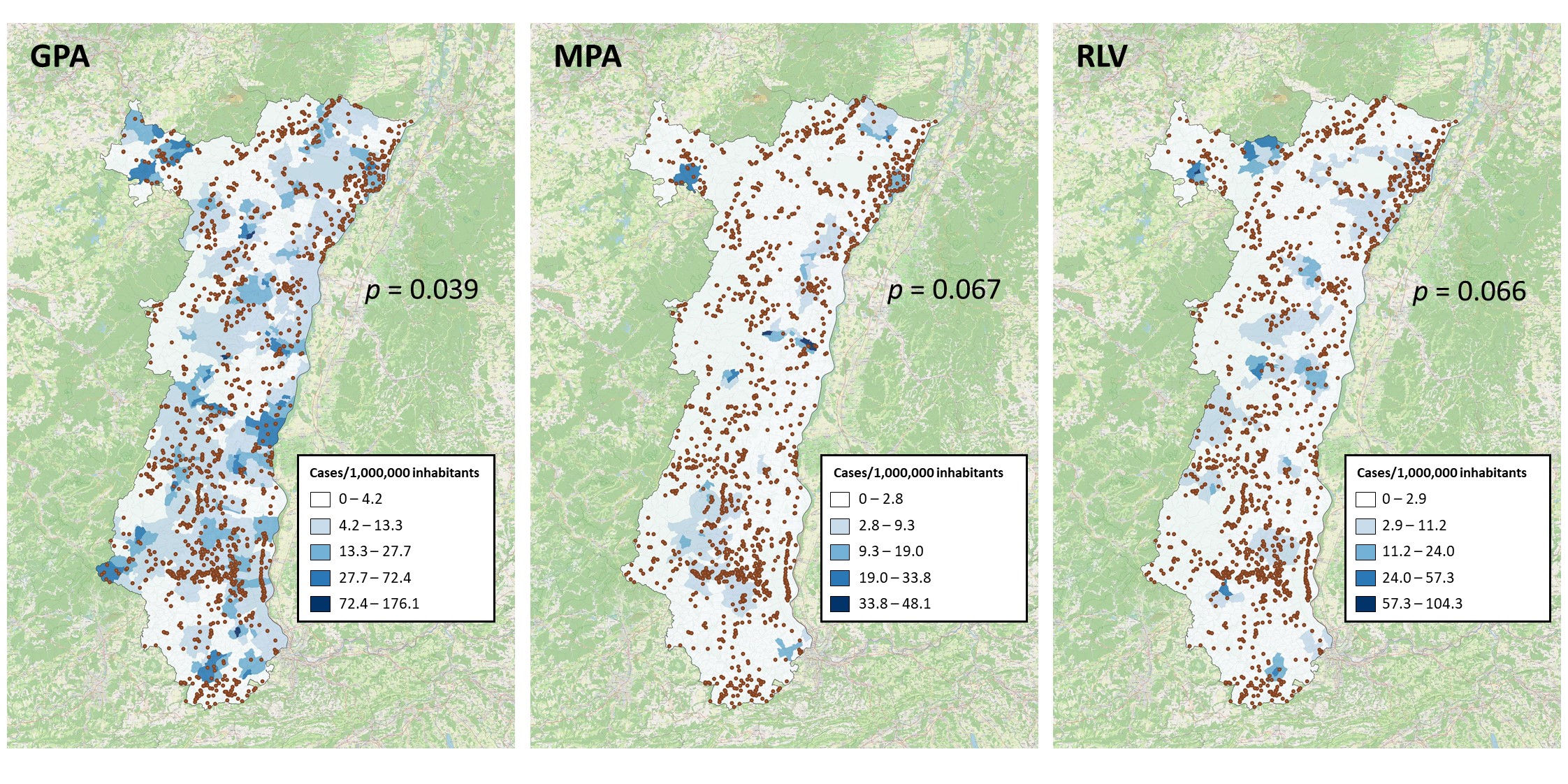 Figure 2 : Spatial association between GPA cases and quarries in Alsace, France. Spatial association between the normalized prevalence of GPA, MPA and RLV (shown as the prevalence per 1,000,000 inhabitants with spatial Bayesian smoothing using Jenks natural breaks) and localization of quarries in Alsace, France.
---
Disclosure: S. Giorgiutti, None; Y. Dieudonné, None; O. Hinschberger, None; B. Nespola, None; J. Campagne, None; H. Rakotoarivelo, None; T. Hannedouche, None; B. Moulin, None; G. Blaison, None; J. Weber, None; M. Dalmas, None; F. De Blay, None; D. Lipsker, None; F. Chantrel, None; J. Gottenberg, Bristol-Myers Squibb, 2, 8, Pfizer, 2, 5, UCB, 5, 8, Eli Lilly, 2, 8, AbbVie, 2, 8, Roche, 2, 8, Sanofi-Genzyme, 5, 8; Y. Dimitrov, None; O. Imhoff, None; P. Gavand, None; E. Andres, None; C. Debry, None; Y. Hansmann, None; A. Klein, None; C. Lohmann, None; F. Mathiaux, None; A. Guffroy, SHIRE TAKEDA, 5; V. Poindron, None; T. Martin, None; A. Korganow, None; L. Arnaud, None.
To cite this abstract in AMA style:
Giorgiutti S, Dieudonné Y, Hinschberger O, Nespola B, Campagne J, Rakotoarivelo H, Hannedouche T, Moulin B, Blaison G, Weber J, Dalmas M, De Blay F, Lipsker D, Chantrel F, Gottenberg J, Dimitrov Y, Imhoff O, Gavand P, Andres E, Debry C, Hansmann Y, Klein A, Lohmann C, Mathiaux F, Guffroy A, Poindron V, Martin T, Korganow A, Arnaud L. Prevalence of ANCA-associated Vasculitis and Spatial Association with Quarries in a French Northeast Region: A Capture-recapture and Geospatial Analysis [abstract].
Arthritis Rheumatol.
2020; 72 (suppl 10). https://acrabstracts.org/abstract/prevalence-of-anca-associated-vasculitis-and-spatial-association-with-quarries-in-a-french-northeast-region-a-capture-recapture-and-geospatial-analysis/. Accessed September 30, 2022.
« Back to ACR Convergence 2020
ACR Meeting Abstracts - https://acrabstracts.org/abstract/prevalence-of-anca-associated-vasculitis-and-spatial-association-with-quarries-in-a-french-northeast-region-a-capture-recapture-and-geospatial-analysis/