Session Information
Session Type: Abstract Submissions (ACR)
Background/Purpose
Improvement of skin fibrosis over time is part of the "natural history" of patients with diffuse cutaneous systemic sclerosis (dcSSc). However, in the individual patient, the pattern of change in skin fibrosis varies widely. The extent of skin fibrosis measured by the modified Rodnan skin score (mRSS) is the major outcome measure in clinical trials (CT) in dcSSc. Understanding the factors behind the improvement of skin fibrosis in dcSSc is important to avoid unnecessary use of therapy and medical resources. Moreover, it could improve cohort selection in CT using skin fibrosis as a major outcome.   Methods A longitudinal analysis including 704 patients with dcSSc from the EUSTAR registry was performed. The inclusion criteria were diagnosis of dcSSc, fulfillment of ACR criteria, mRSS≥7 at baseline and available data for mRSS at 12±2 months follow-up. First entry into the database was defined as baseline. Skin improvement was defined as a decrease in mRSS of >5 points AND ≥25 % within 1 year. Variables with p<0.2 in univariate analysis were selected for multivariate analysis through a nominal group technique. To compensate for missing data, a multiple imputation followed by a pooled logistic regression was run. Based on a likelihood ratio test, the full model was compared to a reduced model. The model with the best fit was evaluated in the available data set.   Results A total of 155/704 patients showed skin improvement. On univariate analysis, cardiac involvement, immunosuppression and ESR<25 mm/h were associated with skin improvement. High baseline mRSS was the strongest parameter (p<0.001; Figure 1), with the best sensitivity and specificity for prediction of skin regression at a cut-off of 17.5 points (area under the curve 0.708). In addition, a high skin fibrosis progression rate at baseline was also strongly associated with regression of skin fibrosis at 12-months follow-up. A multivariate pooled logistic regression with 13 variables was run. The likelihood ratio test was in favor of a reduced model: baseline mRSS (Estimate 0.087, p<0.001) and ESR>25mm/h (Estimate -0.526, p 0.030). When tested on the available data set, this latter model showed good performance in predicting regression of mRSS (area under the curve 0.726, 95%CI 0.64-0.80).   Figure 1. Baseline mRSS in patients with and without skin regression: there is a clear trend towards the predominance of regression (black bars) over no regression (grey bars) in patients with high mRSS.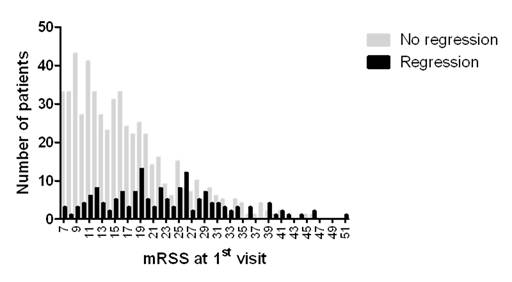 Conclusion
These results show that, opposite to current practice, patients with already advanced skin fibrosis are more likely to regress under standard of care in the next 12 months than patients with milder skin fibrosis. Thus, focus for treatment intervention and recruitment in CT aiming at skin fibrosis should shift from these patients with high baseline mRSS to at risk patients characterized by low to moderate skin fibrosis and high ESR at baseline.

 
---
Disclosure:
R. Dobrota,
Pfizer Inc,
2;
B. Maurer,
None;
N. Graf,
None;
C. Mihai,
None;
O. Kowal-Bielecka,
Abbvie, Actelion, Pfizer,
5,
Abbvie, Actelion, Pfizer,
8;
Y. Allanore,
Bayer Pharma, Actelion, Pfizer, Sanofi-Aventis, CSL Behring, Roche,
5,
Bayer Pharma, Actelion, Pfizer, Sanofi-Aventis, CSL Behring, Roche,
2;
O. Distler on behalf of the EUSTAR investigators and co-authors,
Actelion, Pfizer, Ergonex, BMS, Bayer, United BioSource Corporation, Roche/Genentech, medac, Biovitrium, Boehringer Ingelheim Pharma, Novartis, 4D Science, Active Biotec, Sinoxa, Sanofi-Aventis, Serodapharm, GSK, Epipharm,
5,
Actelion, Pfizer, Ergonex, Sanofi-Aventis,
2.
« Back to 2014 ACR/ARHP Annual Meeting
ACR Meeting Abstracts - https://acrabstracts.org/abstract/prediction-of-improvement-in-skin-fibrosis-in-diffuse-cutaneous-systemic-sclerosis/