Session Information
Session Type: Poster Session A
Session Time: 1:00PM-3:00PM
Background/Purpose: In modern Rheumatoid Arthritis (RA) care remote consults (via phone or video call) are increasing. Whereas the Disease Activity Scores (DAS) requires a patient visit, Patient Reported Outcome Measures (PROM) like the Rheumatoid Arthritis Impact of Disease questionnaire (RAID), might serve as a remote triage tool for type of consult. However, for this, the discriminative ability of RAID in relation to DAS needs to be evaluated.
Methods: In this cross-sectional analysis, data of chronic RA patients (diagnosed by a rheumatologist, >6 months) of a large trainee hospital in Rotterdam, the Netherlands were used. Patients completed the RAID within a time-window of up to 7 days before the DAS28CRP in the period from December 2017 to December 2021. Patients were divided based on their DAS28CRP scores (lowDAS< 3.2≥highDAS), subsequently an ROC-curve and AUC were obtained and cut-off scores for the RAID were determined in two ways; maximum Youden-index and absence of false negatives (FN).
Results: Divided over lowDAS (76.8%) and highDAS (23.2%), n=328 patients had respectively a median (p25-p75) RAID score of 2.88 (1.16-5.00) and 5.93 (4.90-7.04). With an AUC=0.815 (95%CI=0.767-0.864), the maximum Youden-index (0.508) reflected RAID=4.79 and FN=4.9%. FN=0% was obtained at a maximum score of RAID=0.97. The cut-off score of RAID=2 (from literature) resulted in FN=27.7%.
Conclusion: In this cross-sectional study the RAID performed well in relation to the DAS. Based on the assumption that lowDAS patients are qualified for remote consults and taking into account the %FN, we advise to offer remote consults to patients scoring RAID< 4.79.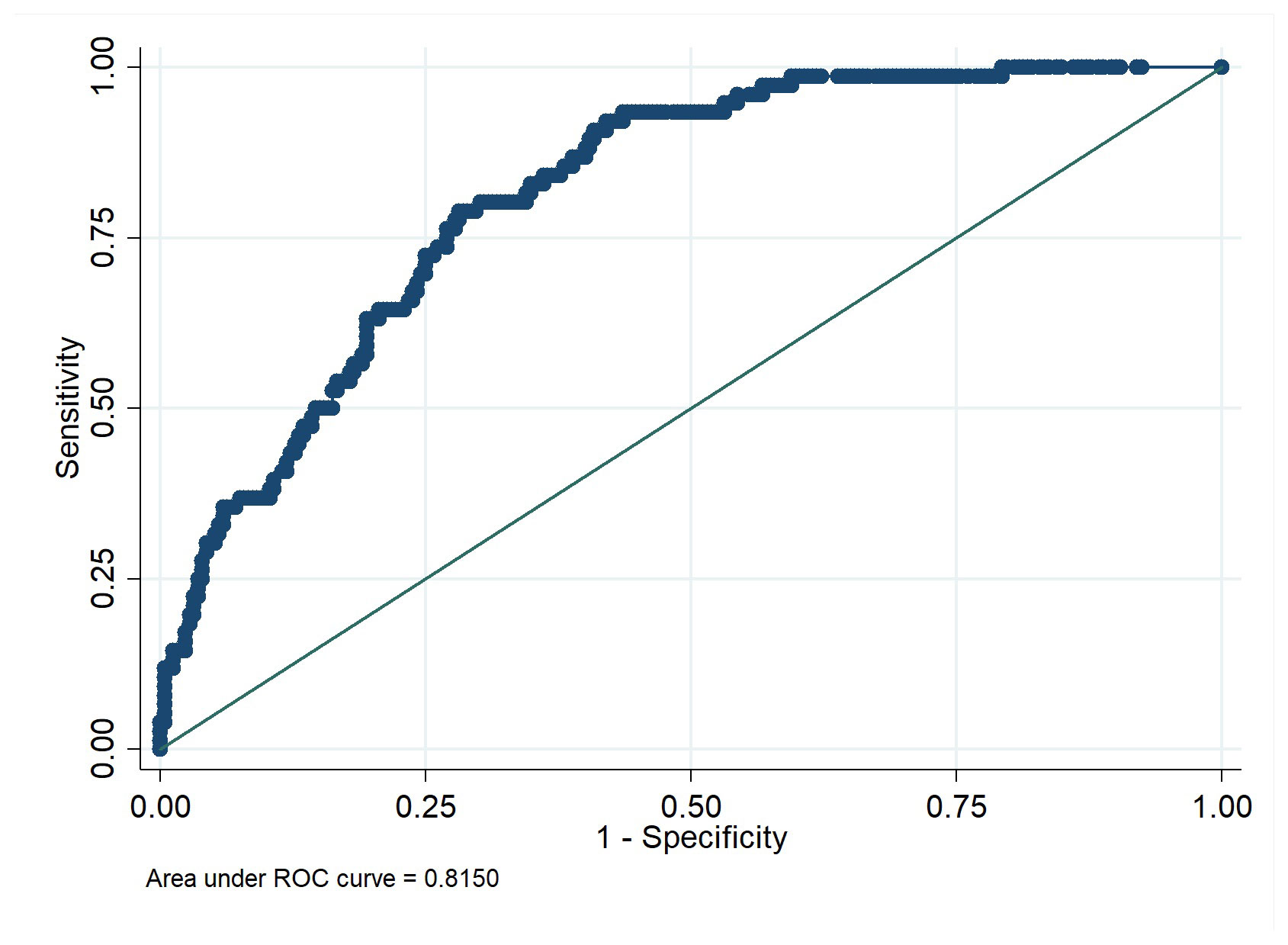 ---
Disclosures: M. van den Dikkenberg, None; M. Kuijper, None; M. Kok, None; D. Lopes Barreto, None; A. Weel, None.
To cite this abstract in AMA style:
van den Dikkenberg M, Kuijper M, Kok M, Lopes Barreto D, Weel A. Practical Cut-off Points for Using the Rheumatoid Arthritis Impact of Disease (RAID) Questionnaire in Remote Consult Triage [abstract].
Arthritis Rheumatol.
2022; 74 (suppl 9). https://acrabstracts.org/abstract/practical-cut-off-points-for-using-the-rheumatoid-arthritis-impact-of-disease-raid-questionnaire-in-remote-consult-triage/. Accessed .
« Back to ACR Convergence 2022
ACR Meeting Abstracts - https://acrabstracts.org/abstract/practical-cut-off-points-for-using-the-rheumatoid-arthritis-impact-of-disease-raid-questionnaire-in-remote-consult-triage/