Session Information
Session Type: Poster Session D
Session Time: 1:00PM-3:00PM
Background/Purpose: To assess major salivary gland involvement by ultrasonography and elastography in patients with Sjögren's syndrome , compare it with controls and correlate the severity of ultrasonographic and elastographic involvement of major salivary gland with disease activity and quality of life.
Methods: In 35 pSS patients, disease activity was assessed by the European League Against Rheumatism (EULAR) Sjogren's Syndrome Disease Activity Index (ESSDAI) and the EULAR Sjogren's Syndrome Patient Reported Index (ESSPRI). The Salivary gland were assessed using the Hocevar and OMERACT score and Real time Elastography was performed for the salivary glands and were scored semiquantitatively.
Results: 35 patients of primary Sjögren's Syndrome and 55 controls were included in the study. The patients were younger with a mean age (37.37±11.9). Mean USG scores were significantly higher (p < 0.001) in cases than controls including the Hocevar (13.94 ± 15.61 vs 0.80 ± 1.82), OMERACT (3.06 ± 3.59 vs 0.45 ± 0.978) and Elastography score (6.37 ± 2.850 vs 0.35 ± 0.584).
ESSDAI correlated with Hocevar Score (rho–0.801, p- < 0.001), OMERACT (rho – 0.793, p – < 0.001) and (rho – 0.538, p – < 0.001). ESSPRI correlated with Hocevar Score (rho-0.737, p -< 0.001), OMERACT score (rho – 0.702, p – < 0.001) and Elastography (rho – 0.388, p – < 0.001). The mean Hocevar Score was higher in patients with high disease activity (36.26 ± 8.05) compared to moderate disease activity (16.83 ± 15.59) and Low disease activity (4.62 ± 6.76). All the scores differentiated well between high and activity efficiently (p< 0.001), however for the OMERACT(p- 0.113) and Elastography score(p- 0.085) the difference between moderate and low disease activity was not Statistically significant. A multivariate linear regression analysis with Age, Gender, Duration of disease and disease activity parameter ESSDAI, ESSPRI was found to be significantly associated with USG scores. Logistic regression suggested A Hocevar score ≥ 17, OMERACT score≥ 2 and Elastography score ≥ 6 could predict a moderate or high disease activity significantly with an odds ratio of 49.3, 36 and 15 respectivly. Elastography score≥ 6 could predict a disease duration greater than 5 years significantly with an odds ratio of 8.5.
Conclusion: Both ultrasonographic and elastographic scores were higher in cases than controls. The Hocevar score had a very strong correlation with disease activity, patient reported outcomes and was able to differentiate between high, moderate, and low disease activity. The Elastography scores correlated with disease activity and duration of disease but were not as strong as the Ultrasound scores did. The OMERACT and elastography did not perform as well as Hocevar score did. There was a near-complete correlation of USG scores with Unilateral, Parotid and submandibular scores. The USG scores had a significant association with ESSDAI and ESSPRI in multivariable linear regression while Elastography had a significant association with ESSDAI and disease duration. A high USG score (Hocevar≥17 and an OMERACT score≥2) had a high likelihood of suggesting a high disease activity (ESSDAI≥5). Similarly, a high Elastography score (≥6) had a high likelihood of high disease activity and long disease duration.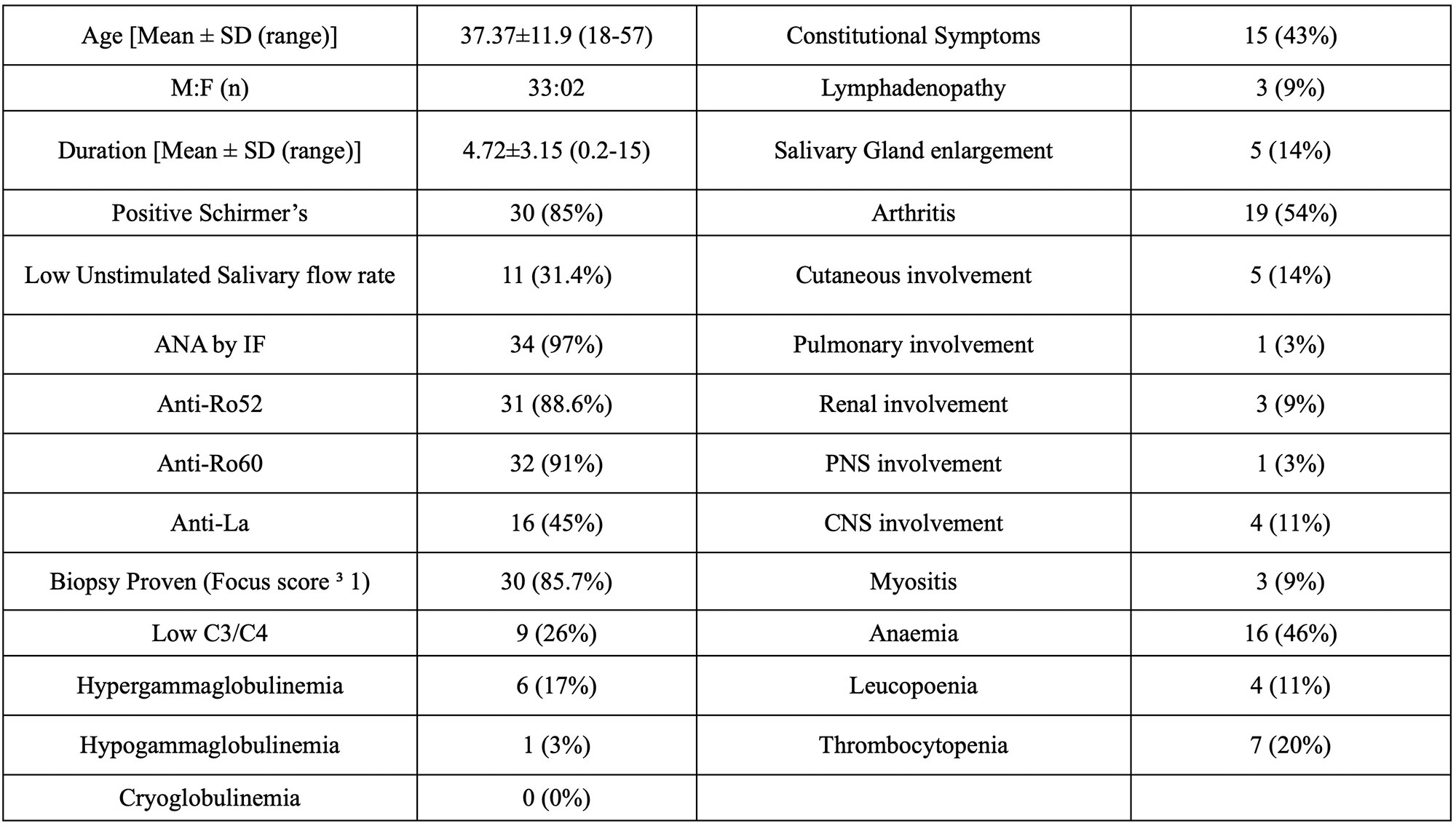 ---
Disclosures: K. Chandwar, None; J. Dixit, None; K. Kishor, None; D. KUMAR, None; D. EKBOTE, None; P. KUMAR, None; U. Dhakad, None.
To cite this abstract in AMA style:
Chandwar K, Dixit J, Kishor K, KUMAR D, EKBOTE D, KUMAR P, Dhakad U. Major Salivary Gland Ultrasound and Elastography for Assessment of Disease Activity in Patients of Primary Sjögren's Syndrome [abstract].
Arthritis Rheumatol.
2022; 74 (suppl 9). https://acrabstracts.org/abstract/major-salivary-gland-ultrasound-and-elastography-for-assessment-of-disease-activity-in-patients-of-primary-sjogrens-syndrome/. Accessed May 28, 2023.
« Back to ACR Convergence 2022
ACR Meeting Abstracts - https://acrabstracts.org/abstract/major-salivary-gland-ultrasound-and-elastography-for-assessment-of-disease-activity-in-patients-of-primary-sjogrens-syndrome/