Session Information
Session Type: Poster Session A
Session Time: 8:30AM-10:30AM
Background/Purpose: Rheumatoid Arthritis (RA) is a chronic inflammatory disease characterized by synovial inflammation leading to bone destruction. Bone erosion in RA results from excessive resorption of bone by osteoclasts and inadequate formation of bone by osteoblasts. Osteoclasts are specialized multinucleated cells that are derived from cells of monocyte-macrophage lineage. The pro-inflammatory cytokines exert their influence on the biology of osteoclast and thereby enhances the joint destruction in RA. Recently, our group and others have observed increased levels of interleukin-9 (IL-9) in the synovial fluid of patients with RA. Therefore, we investigated the impact of IL-9 on in vitro osteoclastogenesis in RA.
Methods: The study was conducted in active RA patients, diagnosed based on American College of Rheumatology (ACR), 1987 criteria. Peripheral blood (PB) was collected in heparinized vial. For TRAP assay, Mononuclear cells were stimulated with 50 ng/ml recombinant(r) human sRANKL, 50 ng/ml M-CSF and 100ng/ml of rIL-9 for 21 days. Cells were then fixed and stained using Acid Phosphatase, Leukocyte Kit. Tartrate resistant acid phosphatase (TRAP)-positive cells with three or more nuclei were scored as osteoclasts. Quantitative RT-PCR of osteoclast specific gene was performed after 3 days of stimulation as indicated using the QuantStudio® 5 Real-Time PCR System. Whole transcriptome analysis was performed using Illumina HiSeq X10 sequencing platform. Bone samples were obtained under sterile conditions from patients undergoing orthopedic surgery for non-pathological fractures and immediately placed in phosphate buffer saline (PBS) containing antibiotics. Samples were broken into tiny pieces and cultured in complete αMEM medium. Bone explant cultures were performed in six well plates with one piece of bone in a final volume of 6 ml, and in the presence or absence of 100ng/ml IL-9.
Results: We observed that rIL-9 stimulation along with M-CSF/sRANKL significantly enhanced the expression of nuclear factor of activated T-cells, cytoplasmic 1 (NFATc1), acid phosphatase 5, tartrate-resistant (ACP5) and cathepsin K (CTSK) as compared to M-CSF/sRANKL stimulation. Furthermore, we observed significant increase in the number of osteoclasts with rIL-9 stimulation along with M-CSF/sRANKL. Next, we performed transcriptome analysis between IL-9/M-CSF/sRANKL treated samples and M-CSF/sRANKL treated samples. Transcriptome analysis revealed differential gene expression with rIL-9 stimulation along with M-CSF/sRANKL as compared to stimulation with M-CSF/sRANKL. Using trabecular bone explant, we checked the effect of rIL-9 on matrix metalloproteinases (MMPs), which are critical regulators of extracellular matrix (ECM) proteolysis. We observed that IL-9 modulates the expression of collagenases MMP1 and MMP13, which plays critical role in bone and cartilage degradation.
Conclusion: Our observations indicate towards the IL-9 mediated structural damage in the RA by the enhancing the differentiation of osteoclasts and modulating the expression of MMPs. Thus, blocking IL 9 pathway might be an attractive immunotherapeutic target for RA.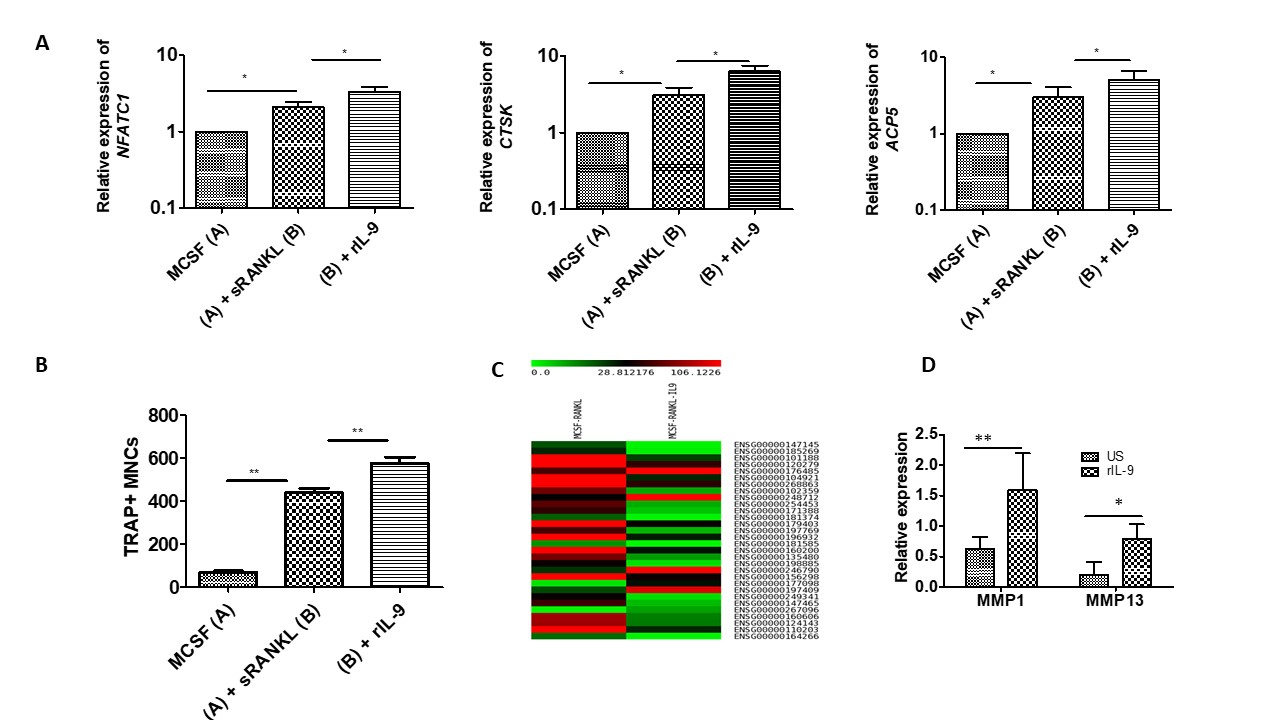 ---
Disclosures: S. Kar, None; D. Mitra, None; V. D, None; S. Chakraborty, None.
To cite this abstract in AMA style:
Kar S, Mitra D, D V, Chakraborty S. Interleukin-9 Enhances the Osteoclastogenesis in Rheumatoid Arthritis [abstract].
Arthritis Rheumatol.
2021; 73 (suppl 10). https://acrabstracts.org/abstract/interleukin-9-enhances-the-osteoclastogenesis-in-rheumatoid-arthritis/. Accessed December 8, 2021.
« Back to ACR Convergence 2021
ACR Meeting Abstracts - https://acrabstracts.org/abstract/interleukin-9-enhances-the-osteoclastogenesis-in-rheumatoid-arthritis/