Session Information
Session Type: Poster Session C
Session Time: 8:30AM-10:30AM
Background/Purpose: To determine inter-relationships between blood-based collagen formation and degradation biomarkers and multiple joint osteoarthritis (MJOA) phenotypes in a community-based cohort.
Methods: Data were from Johnston County OA Project participants with baseline (BL, T1/T1*) and follow-up (FU, T2) data, initially selected based on available knee radiographs scored for Kellgren-Lawrence Grade (KLG), and subsequently analyzed for radiographic MJOA outcomes including MJOA-1 (≥1 IP node and ≥2 other sites), MJOA-3 (≥5 joint sites), and MJOA-8 (≥3 joint sites, doi: 10.1016/j.semarthrit.2018.10.001).
Serum biomarkers measured included: neo-epitopes of MMP mediated type I, II, and III collagen degradation (C1M, C2M, and C3M, respectively); neo-epitope of MMP-1 and -8 mediated degradation of C-reactive protein (CRPM); N-terminal pro-peptide of C3 (PRO-C3); c-terminal of released C5 domain C6 α3 chain (PRO-C6); and c-terminus of collagen type X release of C10 from cartilage (Col10neo). These represent putative markers of: fibrosis (PRO-C3, -C6); inflammation (C1M, C3M, CRPM); and cartilage degeneration (C2M, Col10neo). Biomarker values were transformed (Box-Cox) and standardized for scale. Multilevel principal component analysis (mPCA) was performed using 7 biomarkers, age, and BMI at BL and FU. Cluster analysis based on PCA-transformed data was used to search for and descriptively analyze MJOA phenotypes.
Results: Results for 225 men are reported; relationships between biomarkers and MJOA were not observed in women (n=503). At BL, C1M, C3M and CRPM clustered together, as did PRO-C3, PRO-C6 and C2M (Fig 1); Col10neo was distinct. MPCA identified 3 clusters (Fig 2). Cluster 1 had the highest frequencies of MJOA-1, -3, and -8. Cluster 2 had a very low frequency of MJOA-3 and lower frequencies of both MJOA-1 and -8 compared with Cluster 1 (Table 1 and Fig 2). Clusters 2 and 3 demonstrated similar frequencies of MJOA-1. Cluster 3 had intermediate frequencies of MJOA-3 and -8 compared with Clusters 1 and 2.
Men in Cluster 1 were older with a lower BMI compared with the other clusters. This cluster was characterized by higher BL C1M which decreased at FU, higher PRO-C3 at BL and FU, and an increase in Col10neo from BL to FU (i.e., higher but declining inflammation, higher fibrosis, and increasing cartilage degeneration). Men in Cluster 2 were the youngest with intermediate BMI. This cluster had the lowest BL C1M and PRO-C3, which increased at FU; this cluster had the highest C1M at FU (i.e., increasing inflammation). Men in Cluster 3 were of an intermediate age with a much higher BMI. This group had a low BL CRPM and Col10neo, which increased at FU; they also had the highest FU PRO-C6 levels (i.e., low inflammation, increasing cartilage breakdown, and high fibrosis).
Conclusion: This exploratory analysis utilized combinations of collagen and MMP-mediated degradation biomarkers at 2 time points, identifying clusters in men but not women, characterized by different frequencies of MJOA involvement at FU. This work highlights the importance of sex in OA and may provide novel insights into specific biomarkers and their change in different phenotypes of MJOA.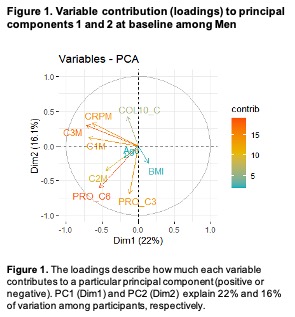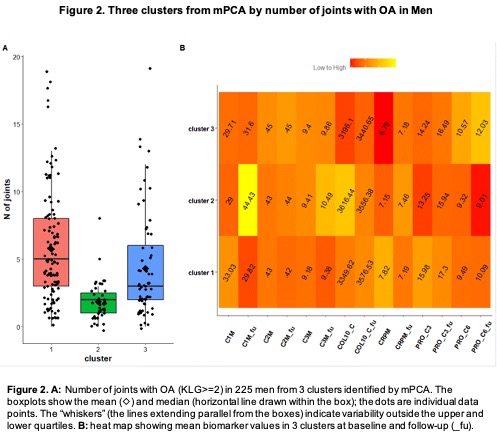 ---
Disclosures: A. Nelson, Lilly, 1; L. Arbeeva, None; D. Lascelles, None; J. Renner, None; Y. Golightly, None; M. Karsdal, Nordic Biosciences, 3, 11; A. Bay-Jensen, Nordic Biosciences, 3, 11; R. Loeser, None.
To cite this abstract in AMA style:
Nelson A, Arbeeva L, Lascelles D, Renner J, Golightly Y, Karsdal M, Bay-Jensen A, Loeser R. Inter-relationships Between Multiple Joint Osteoarthritis and Collagen Biomarkers in Men: The Johnston County Osteoarthritis Project [abstract].
Arthritis Rheumatol.
2021; 73 (suppl 9). https://acrabstracts.org/abstract/inter-relationships-between-multiple-joint-osteoarthritis-and-collagen-biomarkers-in-men-the-johnston-county-osteoarthritis-project/. Accessed January 30, 2023.
« Back to ACR Convergence 2021
ACR Meeting Abstracts - https://acrabstracts.org/abstract/inter-relationships-between-multiple-joint-osteoarthritis-and-collagen-biomarkers-in-men-the-johnston-county-osteoarthritis-project/