Session Information
Session Type: ACR Poster Session A
Session Time: 9:00AM-11:00AM
Background/Purpose: Recent studies in the TNF-Tg mouse model of rheumatoid arthritis (RA) demonstrated a critical role of lymphatic vessel (LV) function in joint homeostasis and arthritis progression, as loss of LV contractions promotes synovitis and erosions due to decrease drainage of joint inflammation. The joint draining lymph nodes (LN) were also found to be a biomarker of arthritic progression, as they expand in volume during the onset of arthritis. It is also known that macrophages and lymphatic endothelial cells express inducible nitric oxide synthase (iNOS), which disrupts LV contractions and transport of immune cells to the draining LNs. Lastly, pharmacological inhibition of iNOS transiently recovers LV contractions in TNF-Tg mice, and maintains flow in the LVs and LNs, which correlates with reduced synovitis and bone damage in inflamed joints. Therefore, we hypothesized that global genetic ablation of iNOS prevents expansion of draining LN, maintains LV contractions, and ameliorates synovitis in TNF-Tg mice.
Methods: Male and female iNOS-/- x TNF-Tg mice and control littermates (iNOS-/-, TNF-Tg, and WT; n=4-12 per group) were examine for LN volume, LV contraction frequency and synovitis. Since stark sexual dimorphism exists in TNF-Tg mice, female LN volume and LV contraction frequency were measured at 2, 3 and 4 months of age via 3D ultrasound; while male LN volume was determined at 3, 4, 5 and 6 months. Knees were harvested for histology after the last ultrasound.
Results: No differences were seen in LN volume at the earliest time points in both sexes between TNF-Tg and iNOS-/- x TNF-Tg (Figure A, Female 2mo: 1.6±0.4 vs 1.4±0.5 mm3; B, Male 3mo: 2.5±0.6 vs 1.2±0.6 mm3), however these were all significantly increase from their sex-aged matched WT and iNOS-/- counterparts (WT and iNOS pooled data, Female 2mo: 0.6±0.2 mm3, p<0.05; Male 3mo: 0.6±0.2 mm3, p<0.05). Importantly, both female and male iNOS-/- x TNF-Tg LNs were significantly decreased at 4 and 5 months of age compared to their TNF-Tg littermates, respectively (Female 4mo: 6.3±1.9 vs 1.9±0.9, p<0.05; Male 5mo: 5.3±2.4 vs 1.6±0.8 mm3, p<0.05). LV contraction frequency was also increased at these timepoints for iNOS-/- x TNF-Tg compared to TNF-Tg (Figure C, Female 4mo: 3.2±1.4 vs 2.5±1 contractions/min, p<0.05; D, Male 5mo: 0.6±0.7 vs 0.1±0.1 contractions/min, p<0.05). Lastly, female iNOS-/- x TNF-Tg contain significantly fewer cells within their synovium compared to TNF-Tg counterparts (1.3×104±5.2×103 vs 2.6×104±5.2×103).
Conclusion: These data indicate an iNOS independent phase of LN expansion precedes an iNOS dependent phase, and that pharmacological inhibition of iNOS may ameliorate RA progression by preventing the full expansion of the LN while increasing LV function, which would increase inflammatory cells egress from the synovium.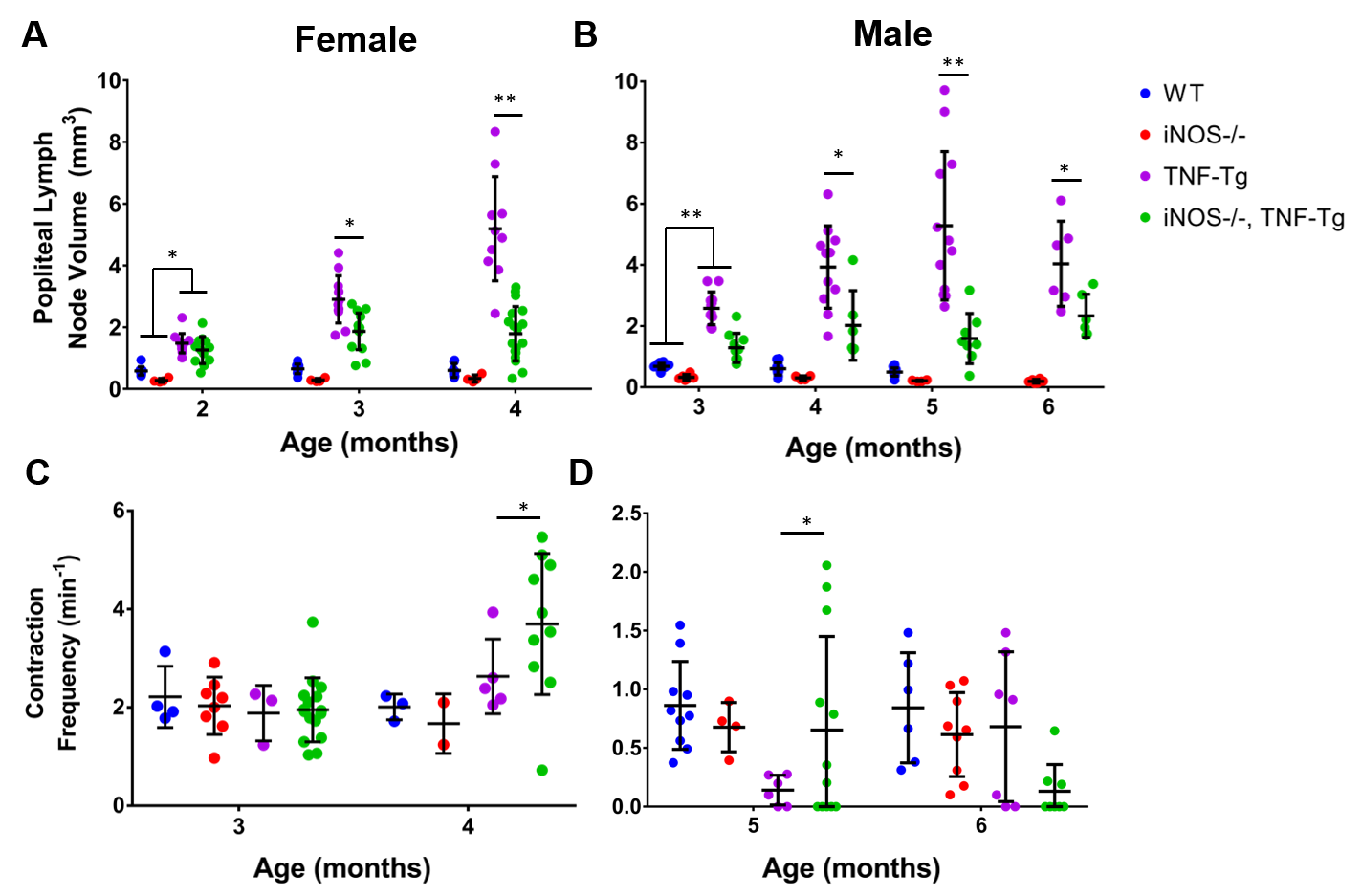 ---
Disclosure: R. Bell, None; E. Wu, None; L. Xing, None; C. T. Ritchlin, AbbVie, Amgen, UCB, 2,AbbVie, Amgen, Eli Lilly, Janssen, Novartis, Pfizer Inc, 5; E. Schwarz, None.
To cite this abstract in AMA style:
Bell R, Wu E, Xing L, Ritchlin CT, Schwarz E. Genetic Ablation of Inducible Nitric Oxide Synthase in TNF Transgenic Mice with Inflammatory-Erosive Arthritis Prevents Lymph Node Expansion and Decreases Synovial Infiltrates [abstract].
Arthritis Rheumatol.
2018; 70 (suppl 9). https://acrabstracts.org/abstract/genetic-ablation-of-inducible-nitric-oxide-synthase-in-tnf-transgenic-mice-with-inflammatory-erosive-arthritis-prevents-lymph-node-expansion-and-decreases-synovial-infiltrates/. Accessed January 31, 2023.
« Back to 2018 ACR/ARHP Annual Meeting
ACR Meeting Abstracts - https://acrabstracts.org/abstract/genetic-ablation-of-inducible-nitric-oxide-synthase-in-tnf-transgenic-mice-with-inflammatory-erosive-arthritis-prevents-lymph-node-expansion-and-decreases-synovial-infiltrates/