Session Information
Session Type: Poster Session D
Session Time: 1:00PM-3:00PM
Background/Purpose: Autoimmune congenital heart block (CHB+) affects the fetus of mothers with anti-Ro antibodies. Anti-Ro (Ro+) antibodies (Abs) are usually present in maternal sera when the fetus or newborn develops CHB, but only 2% of Ro+ pregnancies result in CHB, making it difficult to select pregnancies for screening or therapy.
We hypothesized that maternal Abs can be characterized based on fetal heart conduction system protein targets and may better predict CHB+ pregnancies.
Methods: We screened maternal serum Abs using protein targets isolated from 20-wk. normal fetal myocardium, and separately using proteins from stem cell-derived ventricular-like cardiomyocytes (VLCMs). Tissues/cells were solubilized, and used as a source of proteins to create 2-dimensional (2D) gels for Ab discovery.
Results: Sera from 3 Ro+ CHB+ pregnancies drawn at term (Figure 1: D, E, F) identified up to 30 Ab targets to fetal myocardium, compared to 3 Ro+ pregnancies without CHB (CHB-, Figure 1: A, B, C), where only Abs to Ro and La were present. Sera drawn sequentially later throughout seven affected pregnancies (Figure 1: 1 to 7) identified fewer VLCM protein targets of Abs in early pregnancy (16 to 18 weeks), compared to later in pregnancy (19.7+ weeks). Serum from three Ro+ CHB- pregnancies (Figure 1: 8 to 10), as well as from three normal non-pregnant females (Figure 1: 11 to 13) did not demonstrate any Abs to VLCM proteins.
Mass spectrometry guided selection of 13 protein candidates, for which Abs were confirmed in CHB against seven commercial proteins (Figure 2: A1, A2 and B, p=0.0018 by serum, p=0.0045 by patient, Fisher Exact Test), of which 4 predicted CHB before its occurrence (Figure 2: A1, A2), including anti-ATP1A1. Validation studies to date in 10 additional Ro+ sera with heart block outcomes (compared to Ro+ pregnancies with normal outcomes) demonstrate that Abs to ATP1A1 are identified as early as 7 wks. gestation and are always present in CHB pregnancies (among an expanding set of antibodies through pregnancy) and are absent in Ro+ pregnancies with normal outcomes. (Figure 3) In contrast, sera from three Ro+ pregnancies without CHB (Figure 2: C), as well as from three normal non-pregnant females (Figure 2:D) did not demonstrate any Abs. The difference between discovery cohort pregnancies that later developed CHB and either control group was statistically significant (p=0.0286, Fisher Exact Test). Abs to ATP1A1 were identified in 10/10 CHB pregnancies versus 0/10 normal pregnancies in the validation cohort. (p < 0.01)
Conclusion: We discovered Abs against fetal protein targets that were predictive for CHB and confirmed these in an independent validation cohort. Further studies in early pregnancy and preconception should be performed to determine how early prediction is possible.
Better targeting of at-risk pregnancies for CHB might avoid many fetal cardiac assessments in these mothers, and guide preventive therapy.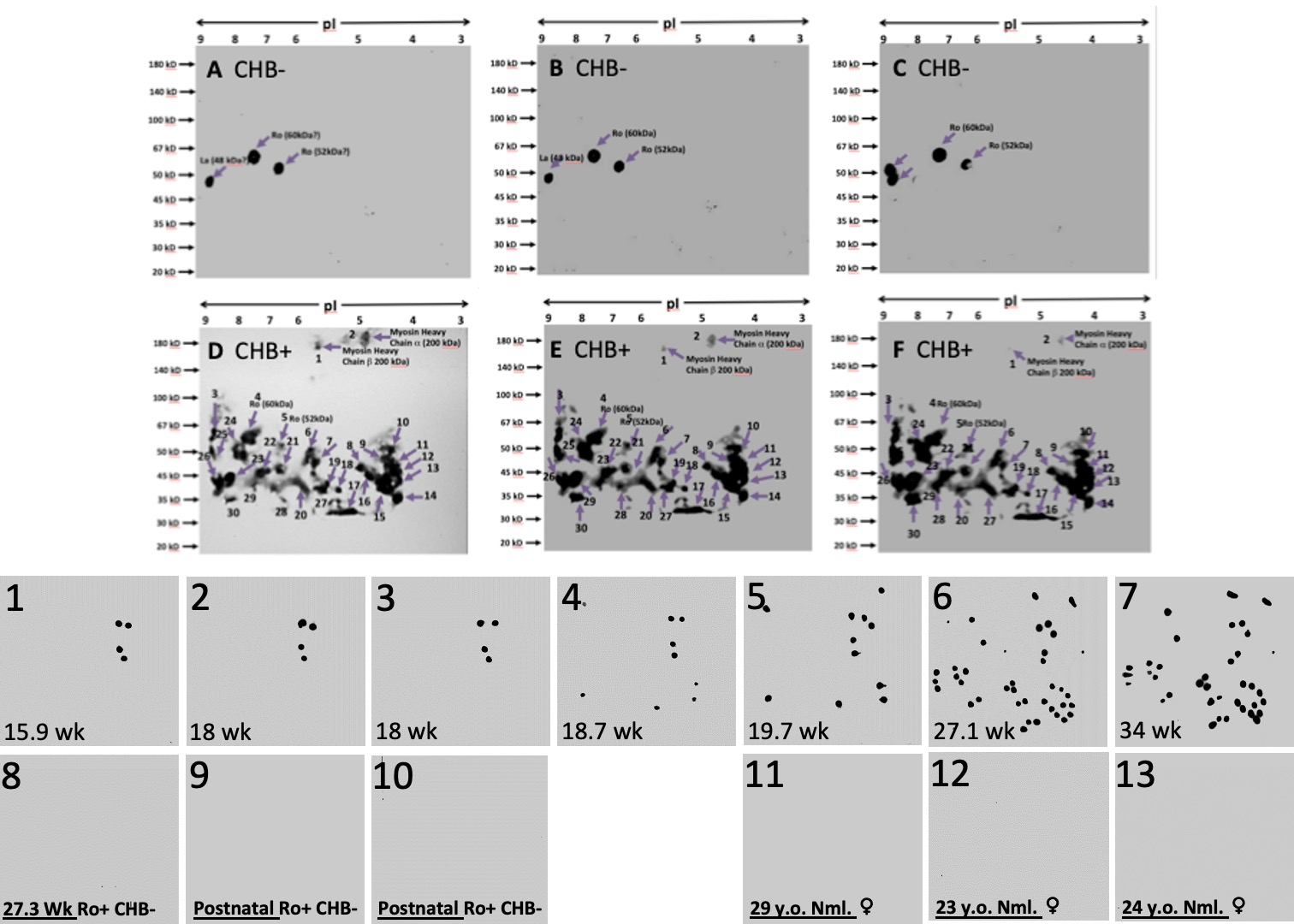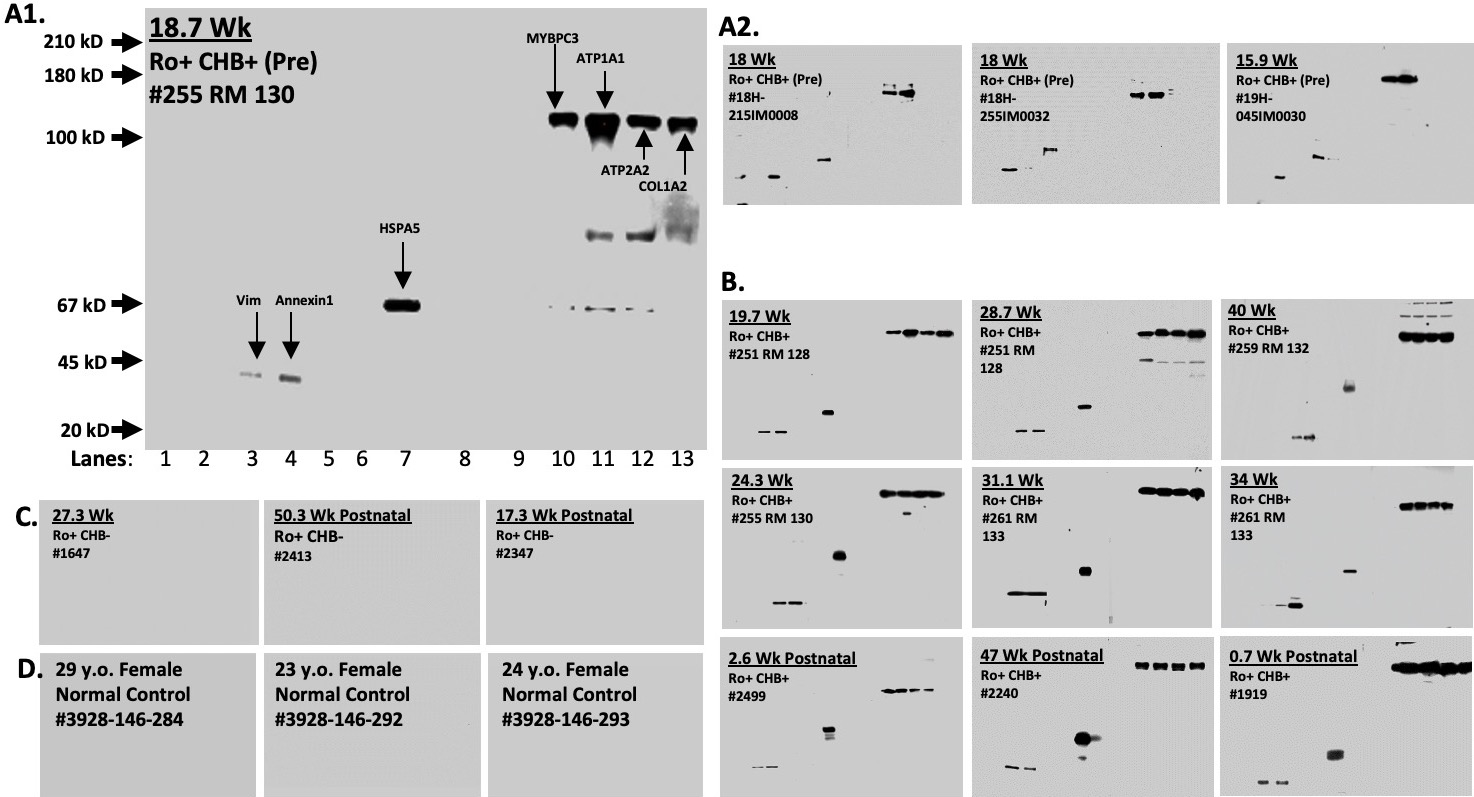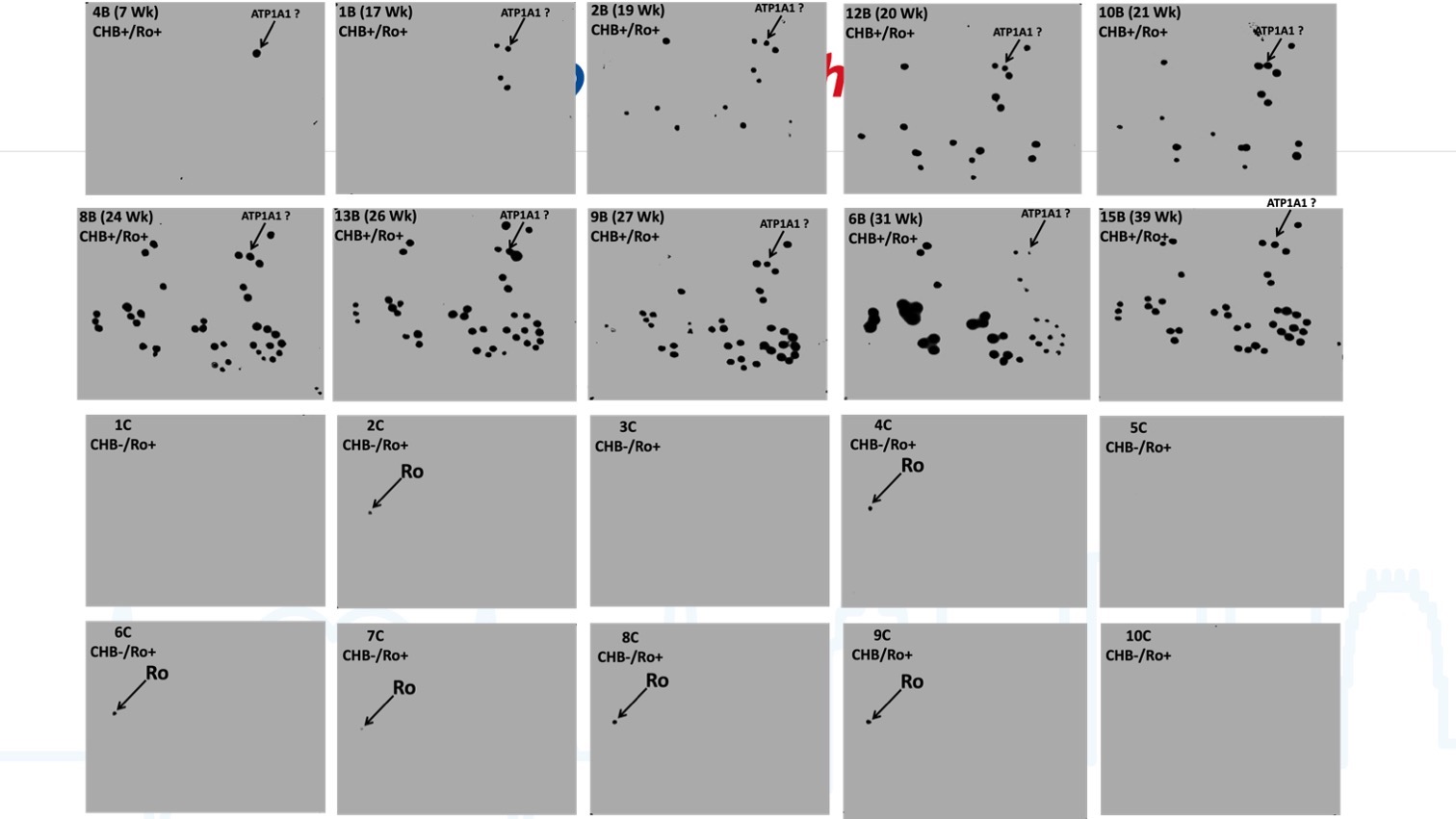 ---
Disclosures: S. Benjamin, None; L. Vi, None; D. Chatterjee, None; E. Jaeggi, None; M. Wahren-Herlenius, Merck KGaA, Janssen Pharmaceutical NV; A. Ruffatti, None; L. Hiraki, Janssen; M. Lohbihler, None; L. Sepiashvili, None; C. Laskin, None; M. Fatah, None; D. Dominguez, None; L. Ng, None; A. Gramolini, None; V. Christoffels, None; S. Protze, None; R. Hamilton, None.
To cite this abstract in AMA style:
Benjamin S, Vi L, Chatterjee D, Jaeggi E, Wahren-Herlenius M, Ruffatti A, Hiraki L, Lohbihler M, Sepiashvili L, Laskin C, Fatah M, Dominguez D, Ng L, Gramolini A, Christoffels V, Protze S, Hamilton R. Fetal Cardiac Targets Identify the Autoantibodies Associated with Congenital Heart Block [abstract].
Arthritis Rheumatol.
2022; 74 (suppl 9). https://acrabstracts.org/abstract/fetal-cardiac-targets-identify-the-autoantibodies-associated-with-congenital-heart-block/. Accessed June 6, 2023.
« Back to ACR Convergence 2022
ACR Meeting Abstracts - https://acrabstracts.org/abstract/fetal-cardiac-targets-identify-the-autoantibodies-associated-with-congenital-heart-block/