Session Information
The 2020 Pediatric Rheumatology Symposium, originally scheduled for April 29 – May 2, was postponed due to COVID-19; therefore, abstracts were not presented as scheduled.
Session Type: ACR Abstract Session
Session Time: 4:15PM-5:15PM
Background/Purpose: Photosensitivity resulting in inflammatory skin lesions is a hallmark of cutaneous lupus.  Lesions can be disfiguring and have a negative impact on quality of life.  Understanding photosensitivity is critical to developing better treatment. Our lab showed ADAM17, a metalloprotease found on Langerhans cells (LCs), is activated by UVR and is critical for limiting UVR-induced keratinocyte apoptosis and skin inflammation through cleavage and activation of epidermal growth factor receptor (EGFR) ligands.  Two photosensitive SLE models showed reduced LC ADAM17 expression with evidence for dysfunction in human SLE, suggesting that photosensitivity is at least in part due to dysfunctional LCs.  A prominent IFN signature has been documented in the blood and skin of SLE patients and could be an upstream mediator of ADAM17.  We thus hypothesized that Type I IFN downregulates LC ADAM 17 activity resulting in photosensitive rash in SLE.  To test this hypothesis, we examined gene expression patterns in non-lesional skin of human and murine lupus and are also examining the gene expression signature in ADAM17-deficient LCs.
Methods: Transcriptomics of non-lesional skin from discoid lupus (DLE) and healthy controls and of MRL and MRL/lpr mice were compared.  Human data was gathered from unpublished data from Krueger et al (2014) using microarray in DLE lesions compared to psoriasis and healthy skin.  We performed RNA seq on non-lesional skin of MRL and MRL/lpr mice.  Data were analyzed in R using edgeR. Gene set analyses were performed with QuSAGE and plots were generated using a custom Shiny platform developed by the HSS Genomics Center.   To examine whether LCs show an IFN-I regulated gene signature, we are currently sorting LCs from both UVR-exposed and non-exposed WT and Adam 17 fl/fl Langerin Cre mice for RNA seq.  Pending IRB approval, using the method of suction blistering to sample immune cells in the skin, our plan is to gather LCs from the skin of SLE patients to determine LC ADAM17 activity and whether this correlates with interferon signature via RNA seq.
Results: IFN-I regulated genes were among the most differentially regulated genes in non-lesional skin in both human and the MRL/lpr lupus mouse model.  Many interferon regulated genes were found to be highly expressed in both (Fig 1A, D).  Pathway analysis further showed that IFN-I-regulated genes were among the most differentially regulated pathways in disease vs control skin for both humans and mice (Fig 1B, E).   Preliminary results from the analysis of ADAM17fl/fl Langerin Cre mice are expected in the next several months.
Conclusion: Microarray results suggest an elevated IFN signature in non-lesional skin of DLE patients with a similar IFN signature found in MRL/lpr mice via RNA seq. We anticipate we will detect a reduction in ADAM17 activity in non-lesional skin of SLE patients and find a correlation with IFN signature, supporting a role for IFN-I in dysregulating ADAM17 in SLE photosensitivity.  These findings could help to understand why type I IFN targeted therapies are having success in SLE skin disease and may lead to targeting ADAM17 for lupus. We hope to determine whether the gene signature associated with ADAM17 deficiency can be seen in other inflammatory skin conditions, such as JDM.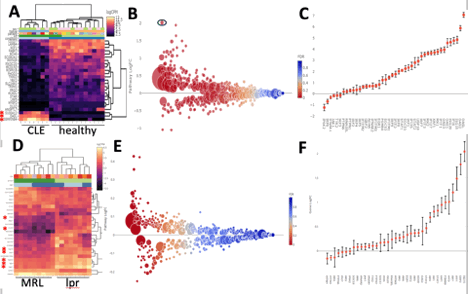 Figure 1. IFN_I signature is found in non_lesional human SLE skin and in MRL/lpr mice. A_C. Microarray of non_lesional human cutaneous lupus and healthy skin. A. Heat map of top 25 DEGs. B. Differentially expressed pathways. Circled symbol is IFN_I pathway. C. IFN_I pathway gene expression. D_F. RNAseq of non_lesional MRL/+ and MRL/lpr skin. D. Heat map of top 25 DEGs. E. Differentially expressed pathways. Circled symbol is IFN_I pathway. F. IFN_I pathway gene expression.
---
Disclosure: K. Veiga, None; N. Schwartz, None; W. Shipman, None; M. Sandoval, None; T. Li, None; Y. Chinenov, None; D. Oliver, None; A. Jabbari, None; J. Krueger, None; S. Taber, None; N. Anandasabapathy, None; T. Lu, None.
To cite this abstract in AMA style:
Veiga K, Schwartz N, Shipman W, Sandoval M, Li T, Chinenov Y, Oliver D, Jabbari A, Krueger J, Taber S, Anandasabapathy N, Lu T. Examining the Role of IFN-I and Langerhans Cell ADAM17 in Lupus Photosensitivity [abstract].
Arthritis Rheumatol.
2020; 72 (suppl 4). https://acrabstracts.org/abstract/examining-the-role-of-ifn-i-and-langerhans-cell-adam17-in-lupus-photosensitivity/. Accessed October 6, 2022.
« Back to 2020 Pediatric Rheumatology Symposium
ACR Meeting Abstracts - https://acrabstracts.org/abstract/examining-the-role-of-ifn-i-and-langerhans-cell-adam17-in-lupus-photosensitivity/