Session Information
Session Type: Poster Session D
Session Time: 8:30AM-10:30AM
Background/Purpose: Immune checkpoint inhibitors (ICIs) are a type of immunotherapy used for cancer management. ICI toxicities can challenge the ability to safely continue ICI therapy despite its notable clinical benefit. Immune-related inflammatory arthritis (ICI-IA) has been described in literature, but herewith we introduce and characterize post-ICI activated osteoarthritis (ICI-aOA), wherein there is exacerbation of a degenerative arthropathy after ICI initiation.
Methods: We conducted a multi-center, retrospective, observational study of patients with cancer treated with ICIs who experienced worsening of their osteoarthritis after ICI start. The ICI-aOA diagnosis was established by the treating rheumatologist and graded using the CTCAE (Common Terminology Criteria for Adverse Events) V6.0 rubric. RECIST (Response evaluation criteria in solid tumors) V.1.1 (v.4.03) guidelines determined tumor response. Chi-squared testing was used for tests of association and multivariate analysis was conducted using logistic regression analysis.
Results: Of the total 36 patients with ICI-aOA, mean age at time of rheumatology presentation was 66 years (51-81yrs). Most patients had metastatic melanoma (10/36, 28%) and had received a PD1/PDL1 inhibitor monotherapy (31/36, 86%) with 5/36 (14%) combination therapy. Large joint involvement (hip/knee) was noted in 53% (19/36), small joint (CMC, DIP, PIP) 25% (9/36), and spine 14% (5/36). Two-thirds (24/36) suffered multiple joint involvement. Three of 36 (8%) had CTCAE grade≥3, 14 (39%) grade 2 and 19 (53%) grade 1 manifestations. Symptom onset ranged from 6 days to 34 months with median of 5 months after ICI initiation; five patients suffered ICI-aOA after ICI cessation (3, 15, 19, 32, 67 weeks after ICI cessation). Most common form of therapy was local corticosteroid injections only (16/36, 44%) followed by NSAIDs only (7/36, 20%) or physical therapy only. Twenty patients (56%) experienced other irAEs, with rheumatic and dermatologic being the most common. All three patients with high-grade ICI-aOA also had another irAE diagnosis at some point after ICI initiation.
Conclusion: We present the first investigation of osteoarthritis exacerbation after cancer immunotherapy. Majority of ICI-aOA cases were low grade and manageable with local therapy or NSAIDs. This demonstrates the importance of early referral to a rheumatologist to facilitate the distinction between ICI-IA from ICI-aOA, the latter of which can be managed with local therapy that will not compromise ICI efficacy.
Figure 1: Median onset of ICI-aOA symptoms was 5 months with a wide range from about 6 days to 34 months. Five patients suffered ICI-aOA after ICI cessation (3, 15, 19, 32, 67 weeks after ICI cessation). ICI: Immune-checkpoint inhibitor; aOA: Activated osteoarthritis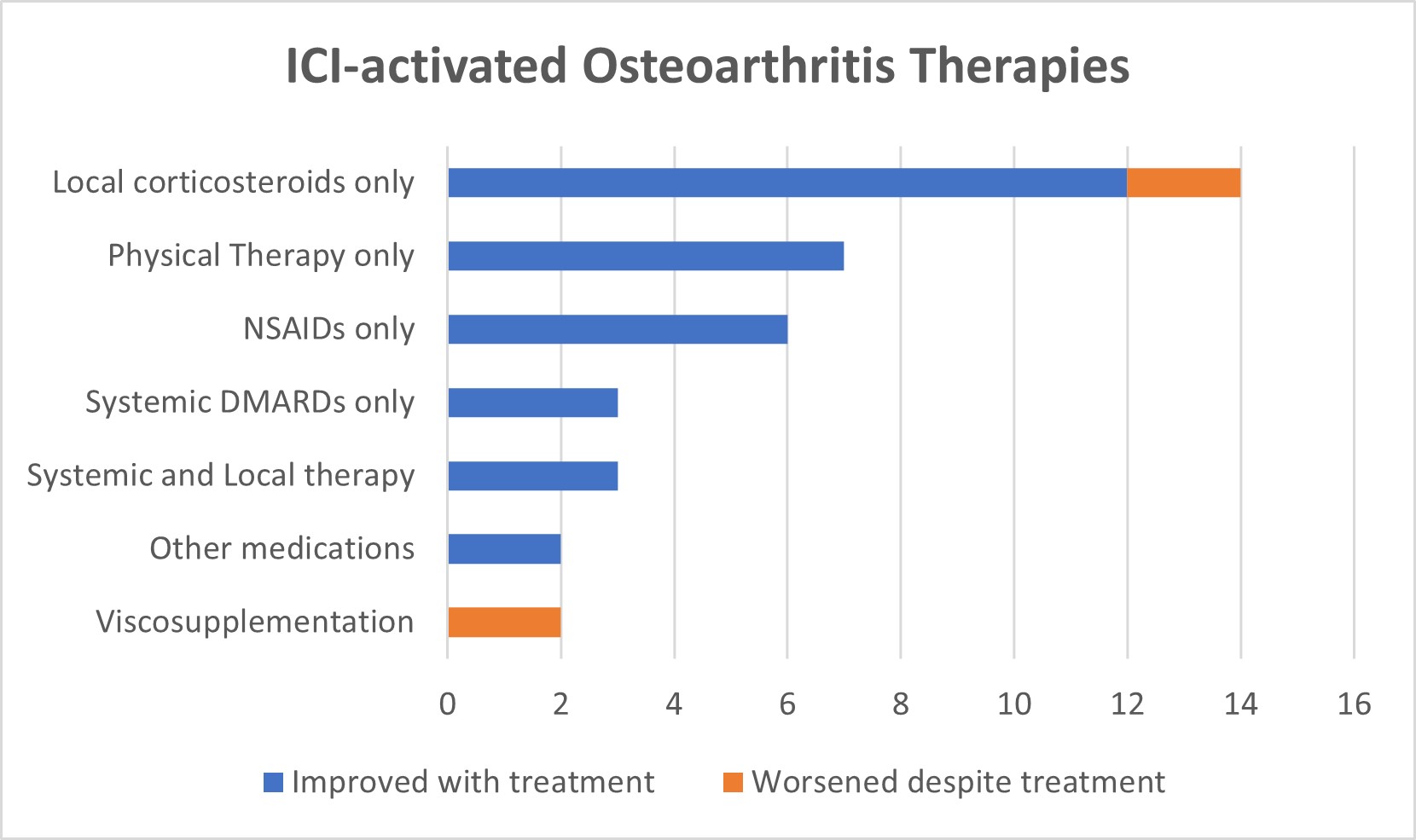 Figure 2: Local therapy was sufficient and successful for majority of the patients. Patients who failed their aOA therapy were all notably patients who had other immune-related adverse events. Systemic DMARDs used included prednisone and hydroxychloroquine. Other medications included acetaminophen and cyclobenzaprine. ICI: Immune-checkpoint inhibitor; NSAIDs: Non-steroidal anti-inflammatory drugs; DMARDs: Disease modifying anti-rheumatic drugs.
---
Disclosures: P. Reid, Co-inventor of a filed patent covering the use of low-dose tocilizumab in viral infections., 10; D. Liew, None; R. Akruwala, None; A. Bass, None; K. Chan, None.
To cite this abstract in AMA style:
Reid P, Liew D, Akruwala R, Bass A, Chan K. Elucidating Activated Osteoarthritis as an Emerging Immune Checkpoint Inhibitor Toxicity: A Descriptive Observational Study [abstract].
Arthritis Rheumatol.
2021; 73 (suppl 9). https://acrabstracts.org/abstract/elucidating-activated-osteoarthritis-as-an-emerging-immune-checkpoint-inhibitor-toxicity-a-descriptive-observational-study/. Accessed .
« Back to ACR Convergence 2021
ACR Meeting Abstracts - https://acrabstracts.org/abstract/elucidating-activated-osteoarthritis-as-an-emerging-immune-checkpoint-inhibitor-toxicity-a-descriptive-observational-study/