Session Information
Session Type: Abstract Session
Session Time: 2:30PM-2:45PM
Background/Purpose: The impact of social determinants of health in juvenile idiopathic arthritis (JIA) remains poorly understood. Racial disparities exist in JIA, including increased pain and joint damage among Black and Latinx children. Adverse childhood events (ACEs) have been associated with increased odds of childhood arthritis, suggesting an association with chronic stress exposure. However, studies on the impact of poverty and insurance status have yielded mixed results. Data suggests social risk may have a cumulative impact on health, with recent analyses using combined scoring systems to measure social determinants of health. Our aim was to calculate a cumulative social risk score (including income, race/ethnicity, education, and ACE data) and assess its association with arthritis in the National Survey of Children's Health (NSCH).
Methods: This is a cross-sectional analysis utilizing the 2017-2018 version of the NSCH, a federally administered survey focused on physical and emotional health of children 0-17 years of age in the US. Social risk score was generated, with a score of 1 given for each of the following domains: education (high school or less), income level (0-199% of Federal Poverty Level), insurance status (public or uninsured), and high ACE score (4). The cohort was dichotomized by the presence of currently reported arthritis and compared using descriptive statistics (Kruskal Wallis and Pearson's chi-squared or Fisher's exact tests, as appropriate). Univariate and multivariate logistic regression were used to measure the impact of social risk score on the odds of an arthritis diagnosis, controlling for age, sex, and race/ethnicity. An analogous method was used to investigate parent-reported severity of arthritis (moderate/severe versus mild) within the arthritis cohort.
Results: 146 children reported current arthritis, yielding a population estimate of 199,725 children using appropriate survey weights (Table 1). Families of children with arthritis reported lower income (40% vs 28%), lower education level (27% vs 15%), greater likelihood of having public insurance or being uninsured (40% vs 24%), and greater likelihood of having an ACE score ≥4 (16% vs 7%), as compared to children without arthritis (p-value < 0.001). In multivariate logistic regression, higher social risk score was predictive of an arthritis diagnosis (Table 2, p=0.009) with highest odds among those with a score of 3 (adjusted OR 3.93, p=0.002). Among the arthritis cohort, social risk score predicted increased parent-reported arthritis severity (Table 3), though this was not statistically significant (p=0.2).
Conclusion: In this nationally representative sample, children with arthritis were more likely to come from households with lower income and education level and were more likely to have public insurance or be uninsured, yielding higher social risk scores than their peers without arthritis. In adjusted analysis, social risk factors predicted increased odds of an arthritis diagnosis. There was a trend towards increased parent-reported severity of arthritis among children with more social risk, though this finding did not achieve statistical significance.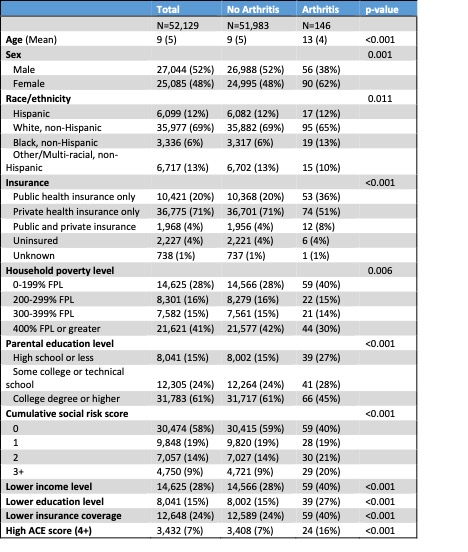 ---
Disclosures: W. Soulsby, None; E. Lawson, None; M. Pantell, None.
To cite this abstract in AMA style:
Soulsby W, Lawson E, Pantell M. Cumulative Social Disadvantage Predicts an Arthritis Diagnosis: A Cross-sectional Analysis of the National Survey of Children's Health (NSCH) [abstract].
Arthritis Rheumatol.
2021; 73 (suppl 10). https://acrabstracts.org/abstract/cumulative-social-disadvantage-predicts-an-arthritis-diagnosis-a-cross-sectional-analysis-of-the-national-survey-of-childrens-health-nsch/. Accessed December 6, 2021.
« Back to ACR Convergence 2021
ACR Meeting Abstracts - https://acrabstracts.org/abstract/cumulative-social-disadvantage-predicts-an-arthritis-diagnosis-a-cross-sectional-analysis-of-the-national-survey-of-childrens-health-nsch/