Session Information
Session Type: Patient Perspectives
Session Time: 4:15PM-4:30PM
Background/Purpose: At 19, I was mis-diagnosed with Lupus as it was a common condition in my family. My treatment at that time was mainly DMARDs, with little to no results. Approximately six years later, I was connected with my current rheumatologist who did a new panel of testing and accurately diagnosed me with rheumatoid arthritis (RA). I have participated in clinical trials and am currently well-controlled on biologic monotherapy.
Intervention: In 2020 during the COVID-19 pandemic, I was communicating with staff at the Global Healthy Living Foundation, CreakyJoints. During an exchange, I mentioned how a cooking show could be a fun idea to build a sense of community and to share cooking tips and tricks with other patients, and to introduce people to new recipes that are easy, healthy, and delicious. People with chronic disease often go through a trial-and-error process to figure out what foods help them feel good. In collaboration with the Global Healthy Living Foundation, CreakyKitchen was born in November 2020 as a way to come together as a community in a fun and stress-free environment to share strength and experience through cooking and nutrition. We send out email invitations, make announcements on social media using a graphic created to announce CreakyKitchen events (Figure 1), and then come together virtually as a community each month. I share a recipe while people cook and follow along from the comfort of their homes. We are joined by experts and guests in our community who share information about nutrition, along with tips for navigating the kitchen and cooking with arthritis (Table 1).
Maintenance: Our CreakyKitchen community has grown with each monthly streaming event, and now more than 100 people regularly attend in real-time. Being able to connect with members of my CreakyKitchen community has been a huge boost for my mental health. Also, I spend time each month researching healthier recipes to share, which has made an impact on my own meals at home, outside of the show. I have started re-thinking and changing my own go-to recipes and finding ways to alter them to keep the flavors as good as they were, but with a healthier twist. In doing so, I have already shed a few pounds, which is a great relief for my back, knees, and ankles.
Quality of Life: CreakyKitchen gives me a fun, interactive monthly event to look forward to, which has been especially important during the COVID-19 pandemic. I get to connect, share a few laughs and a great recipe (or two) with other people who are living with rheumatic conditions around the world. Plus I always learn something new about cooking and nutrition thanks to our CreakyKitchen guest co-hosts. I have been able to take information from their segments and apply it in everyday life. From kitchen hacks, to remembering to rest, to finally planning my own herb garden, these have all been great learning moments. Rest has been especially helpful in that I usually push myself to exhaustion and have a hard time getting back to baseline. The reminders to stay mindful of my symptoms and follow their cues has been helpful in better managing my RA.
Table 1: CreakyKitchen Events, 2020_2021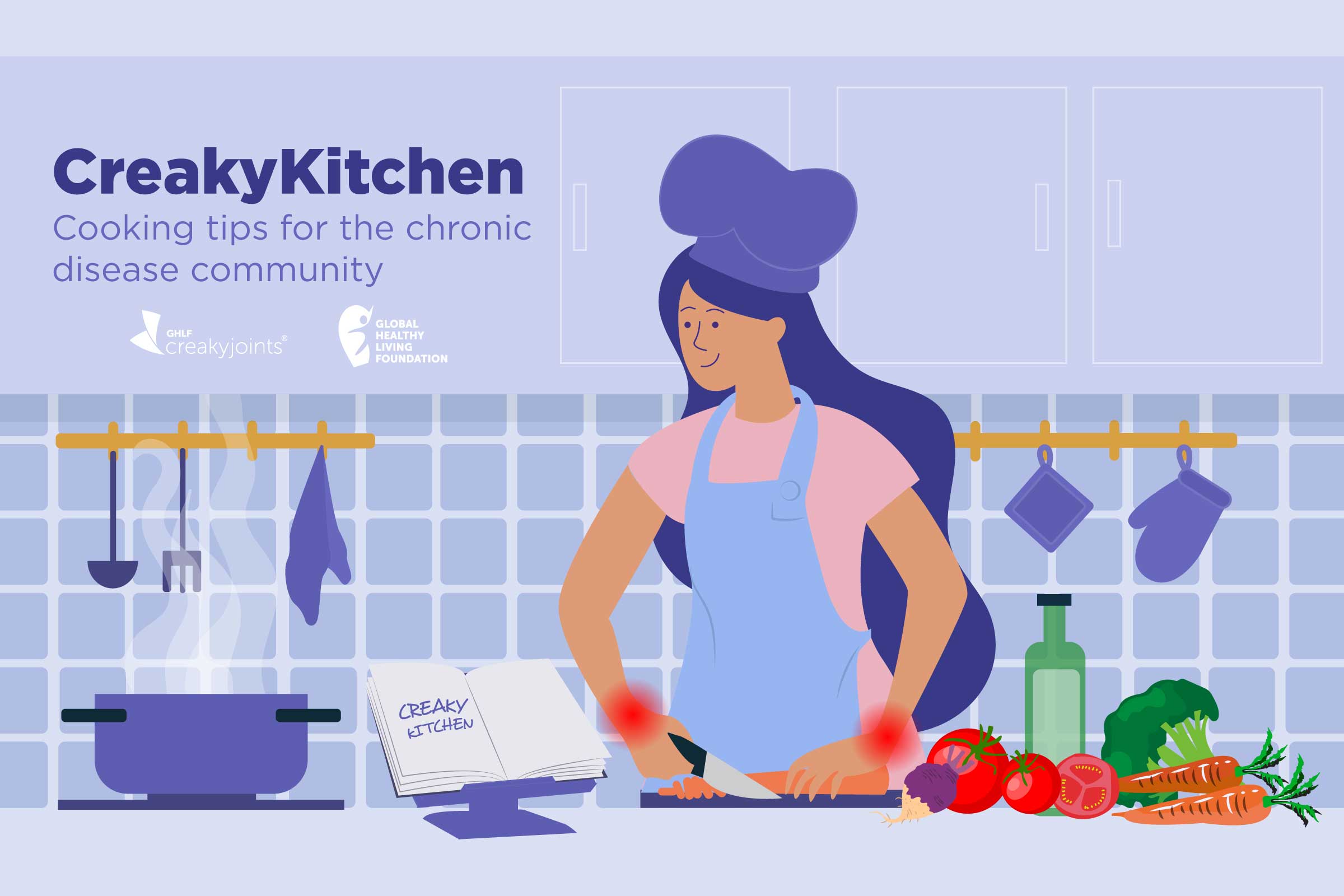 Figure 1: Graphic created to announce CreakyKitchen events via emails and on social media posts. This graphic depicts a woman cooking with arthritis in her wrists.
---
Disclosures: C. Marcial, None.
To cite this abstract in AMA style:
Marcial C. CreakyKitchen: How the Online Cooking Show I Started is Building Community and Encouraging Better Food Choices for Me and Others Living with Rheumatic and Chronic Disease [abstract].
Arthritis Rheumatol.
2021; 73 (suppl 9). https://acrabstracts.org/abstract/creakykitchen-how-the-online-cooking-show-i-started-is-building-community-and-encouraging-better-food-choices-for-me-and-others-living-with-rheumatic-and-chronic-disease/. Accessed January 27, 2023.
« Back to ACR Convergence 2021
ACR Meeting Abstracts - https://acrabstracts.org/abstract/creakykitchen-how-the-online-cooking-show-i-started-is-building-community-and-encouraging-better-food-choices-for-me-and-others-living-with-rheumatic-and-chronic-disease/