Session Information
Session Type: Poster Session A
Session Time: 8:30AM-10:30AM
Background/Purpose: Treat to target (T2T) is a strategy of adjusting treatment until a therapeutic target is reached. There is growing evidence supporting the use and efficacy of T2T in chronic rheumatic conditions. In 2018, an international task force that did not include parents or patients recommended T2T for juvenile idiopathic arthritis (JIA) treatment. After a successful pilot study, the Pediatric Rheumatology Care and Outcomes Improvement Network (PR-COIN), a collaborative learning health network of 21 pediatric rheumatology centers across the United States and Canada, has been working together in partnership with patients and families to implement a T2T strategy. For successful implementation in a standard and reliable way in clinical practice, agreement is needed on the following areas: key elements of both (1) target setting and (2) T2T strategy, (3) identifying barriers to implementation and (4) determining eligible patients. In response, a consensus conference was held amongst PR-COIN stakeholders centered around four questions related to the listed areas in order to understand community priorities, to include patient/parent representation, as well as to gain agreement on a statement of understanding regarding the PR-COIN approach.
Methods: PR-COIN stakeholders, including health care providers (n=16) and parents (n=4), were invited to form a voting panel. Using nominal group technique, two rounds of voting were held to address the above four areas to select the top 10 responses in rank order. Answers were recorded into an electronic polling software simultaneously by the pollsters and were viewable to the voting members. Each participant placed 7 total votes on answers they thought were of highest significance. Members were allowed to place multiple of their 7 votes on a single answer if desired. Once all votes were recorded, the pollsters revealed the top 10 items for the respective round.
Results: On October 22, 2020, a PR-COIN Consensus Conference was held. (1) Incorporation of patient goals ranked most important when setting a treatment target in both voting rounds. (2) Use of shared decision making (SDM), tracking measurable outcomes, and adjusting treatment to achieve goals were voted as top elements of T2T strategy. (3) Lack of incorporation of T2T into clinic workflow and provider participation in T2T strategy were identified as key barriers to T2T implementation. (4) Patients with JIA with poor prognostic factors and at risk for high disease burden were leading candidates for a T2T approach. Results of the second round of panel voting on the four questions are shown in Tables 1-3.
Conclusion: Thisconsensus conference identified the importance of incorporating patient goals as part of target setting and the influence of patient-stakeholder involvement in drafting treatment recommendations. The PR-COIN approach to T2T will be modified to address the above findings including solicitation of patient goals, optimizing SDM, and better workflow integration. Additional efforts will be required to optimally solicit patient goals and conduct longitudinal monitoring of progress.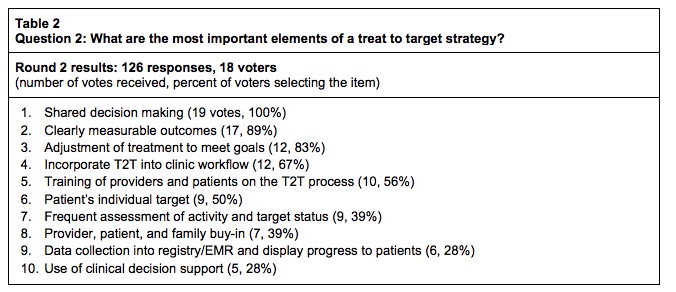 ---
Disclosures: T. El Tal, None; M. Ryan, None; B. Feldman, Pfizer, 12, DSMB member, AB2 Bio, 12, DSMB member; C. Bingham, None; J. Burnham, None; M. Batthish, Abbvie, 5, Novartis, 6, Mylan, 1, Sobi, 1; D. Bullock, Novartis, 6; K. Ferraro, None; M. Gilbert, None; B. Gottlieb, None; J. Harris, None; M. Hazen, None; R. Laxer, None; T. Lee, None; D. Lovell, Bristol Myers Squibb, 12, PI, Abatacept, Juvenile Idiopathic Arthritis, AstraZeneca Pharm, 2, Boehringer Ingleheim, 2, GSK, 2, Hoffman LaRoche, 2, Janssen, 12, Co-PI of overall studies of IV and sub-Q Golimumab in JIA, NIH / NIAMS, 12, R01 AR074098-01A1, NIH / NICHD, 12, NIH / R01 HD 089928-01A1, Novartis, 2, Pfizer, 3, Roche, 12, PI, Tociluzumab, Juvenile Idiopathic Arthritis, UBC, 2; M. Mannion, None; L. Noonan, None; E. Oberle, None; A. Paul, None; J. Taylor, None; J. Weiss, None; C. Yildirim-Toruner, None; E. Morgan, None.
To cite this abstract in AMA style:
El Tal T, Ryan M, Feldman B, Bingham C, Burnham J, Batthish M, Bullock D, Ferraro K, Gilbert M, Gottlieb B, Harris J, Hazen M, Laxer R, Lee T, Lovell D, Mannion M, Noonan L, Oberle E, Paul A, Taylor J, Weiss J, Yildirim-Toruner C, Morgan E. Consensus Approach to a Treat to Target Strategy in Juvenile Idiopathic Arthritis Care: Report from the 2020 Pediatric Rheumatology Care and Outcomes Improvement Network Consensus Conference [abstract].
Arthritis Rheumatol.
2021; 73 (suppl 9). https://acrabstracts.org/abstract/consensus-approach-to-a-treat-to-target-strategy-in-juvenile-idiopathic-arthritis-care-report-from-the-2020-pediatric-rheumatology-care-and-outcomes-improvement-network-consensus-conference/. Accessed January 28, 2023.
« Back to ACR Convergence 2021
ACR Meeting Abstracts - https://acrabstracts.org/abstract/consensus-approach-to-a-treat-to-target-strategy-in-juvenile-idiopathic-arthritis-care-report-from-the-2020-pediatric-rheumatology-care-and-outcomes-improvement-network-consensus-conference/