Session Information
Session Type: Poster Session B
Session Time: 9:00AM-11:00AM
Background/Purpose: With the successful treatment of HIV-1 infection with combination anti-retroviral treatment, immune-mediated diseases that were rarely encountered in HIV positive individuals in the pre-treatment era have emerged, including rheumatoid arthritis. The management of RA poses a particular challenge since the use of immunomodulatory medications could increase immunosuppression. The purpose of this study was to examine the clinical features and treatment outcomes of HIV-infected individuals with rheumatoid arthritis (RA) in a large outpatient HIV rheumatology clinic.
Methods: A retrospective chart review of patients with concomitant RA and HIV-1 were evaluated at the Harris County HIV Rheumatology Clinic from 1994-2020. All patients met the American College of Rheumatology criteria for RA and were seen by the same investigators (FMW, JDR). At baseline visit the following were collected: demographic data, disease features, laboratory data, medications, and follow up visit data. Antiretroviral medications were stratified into protease inhibitors, nucleoside reverse transcriptase inhibitors (NRTIs), non-nucleoside reverse transcriptase inhibitors (NNRTIs), and integrase inhibitors.
Results: From 1994-2020, we saw 27 patients with concomitant RA and HIV-1 infection from a total cohort of 1671 HIV-1 rheumatology patients (Table 1). The first case of RA noted in our clinic was 2003 with an average of 7.3 (±4.9) years of follow up. Mean age at presentation was 51.9 (±9.6) years, 14 were female and 13 patients male. Ethnically, the RA patients included three white, 14 black, and 10 Latino patients. Average BMI on presentation was 29.13 (±6.57) compared to 27.98(±8.25) on follow up. Average CD4 count at presentation was 629.3 (±432.2) cells/µL with five patients having a CD4< 200 cells/µL compared to 634.7 (±422.2) cells/µL at their most recent visit. Only one patient had a CD4< 200 at follow up. Four patients had a detectable viral load at presentation; however, at subsequent follow up only one of these still had a detectable viral load. Twelve patients were seropositive by either positive rheumatoid factor (RF) or anti-cyclic citrullinated peptides (anti-CCP). In regards to RA medications we have used methotrexate since 1994 (on non RA patients). Fourteen patients were on DMARDs, 10 on prednisone (at doses of < 10 mg/day) , 15 were taking NSAIDs and four were treated with TNF blockers (with no adverse effects). As far as antiretroviral medications are concerned, seven took protease inhibitors, 22 on NRTI, eight on NNRTI, and six integrase inhibitors. Two patients were on no HIV therapy and only one patient was on mono-drug therapy with the rest of the patients being on two or more anti-retroviral medications. With follow up, 18 patients had clinical remission on treatment, seven patients were treatment noncompliant, and two patients had no improvement on methotrexate.   
Conclusion: Patients treated for rheumatoid arthritis in the setting of HIV-1 with anti-rheumatic and antiretroviral medications had improvement in laboratory values in regard to CD4 and viral loads. Additionally, our cohort demonstrated a high prevalence of seronegative rheumatoid arthritis cases compared to what has been reported in the literature.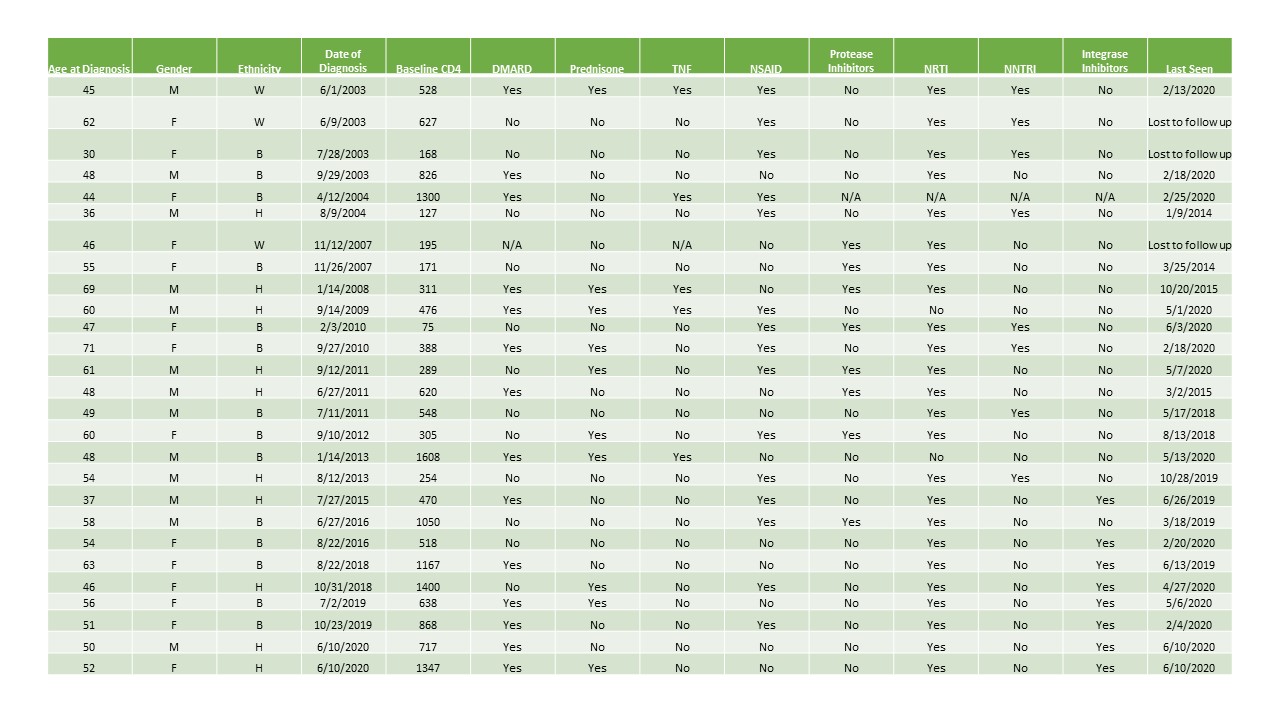 Features of Concomitant Rheumatoid Arthritis and HIV-1
---
Disclosure: B. Naovarat, None; F. Williams, None; J. Reveille, Eli Lilly, 2, UCB, 5, Janssen, 2.
To cite this abstract in AMA style:
Naovarat B, Williams F, Reveille J. Clinical and Treatment Features of Rheumatoid Arthritis in HIV-Infected Individuals Followed Longitudinally over Time [abstract].
Arthritis Rheumatol.
2020; 72 (suppl 10). https://acrabstracts.org/abstract/clinical-and-treatment-features-of-rheumatoid-arthritis-in-hiv-infected-individuals-followed-longitudinally-over-time/. Accessed January 19, 2022.
« Back to ACR Convergence 2020
ACR Meeting Abstracts - https://acrabstracts.org/abstract/clinical-and-treatment-features-of-rheumatoid-arthritis-in-hiv-infected-individuals-followed-longitudinally-over-time/