Session Information
Session Type: Poster Session D
Session Time: 9:00AM-11:00AM
Background/Purpose: Limitations of checkpoint inhibitor immunotherapy include induction of autoimmune syndromes and resistance of many cancers. Definition of additional molecular targets is required. CD6, expressed by most human T lymphocytes and a subset of natural killer (NK) cells, engages the ligands CD166/ALCAM and CD318. Interrupting CD6 interaction with its ligands prevents or reverses mouse models of rheumatoid arthritis, multiple sclerosis and uveitis, due to suppression by UMCD6 of differentiation of effector Th1 and Th17 cells. As CD6 ligands are broadly expressed on cancer cells and high expression of CD318 is associated with aggressive and metastatic cancer, we hypothesized that interruption of CD6/CD6 ligand interactions would enhance lymphocyte killing of cancer cells.
Methods: Flow cytometry was used to define expression of CD6 ligands on human breast, lung and prostate cancer cell lines. Soluble CD318 was measured by ELISA. To develop cell lines with nuclear red fluorescence for live imaging, cancer cells were transfected with an mKate2 2X nuclear localization fusion construct. Co-cultures of cancer cells with peripheral blood mononuclear cells (PBMC) or purified CD4+, CD8+ and NK cells were imaged in an IncuCyte® S3 Live Cell Analysis System every 30-60 minutes for 5 to 7 days. A caspase-sensitive green fluorescent dye detected dying cancer cells.  To monitor tumor growth by bioluminescent imaging in vivo, MDA-MB-231 breast cancer cells were transduced with a luciferase lentivirus reporter. SCID/beige mice  were injected sc with 5×106 luciferase-transfected breast cancer cells. Tumors were imaged by bioluminescence and at day 26 mice received 1.2×107 PBMCs iv. The next day mice received a single dose of UMCD6 or an IgG control antibody (400µg/mouse ip). Tumor growth was measured by bioluminescence, using a Xenogen IVIS 200 instrument.  Tumors were removed at day 36 and examined by fluorescent immunohistology.
Results: Most human cancer cell lines were strongly positive for both CD318 and CD166. CD318+ lines shed soluble CD318 at concentrations that were chemotactic for CD6+ lymphocytes. UMCD6 strikingly augmented killing of breast, lung or prostate cancer cells in co-cultures with human lymphocytes, through direct effects on both CD8+ T cells and NK cells, increasing cancer cell death and lowering cancer cell survival more robustly than checkpoint inhibitors that interrupt PD-1/PD-L1. UMCD6 also augmented in vivo killing by PBMC of a human breast cancer line xeno-transplanted into immunodeficient mice. A single injection of 0.4 mg per mouse one day after infusion of PBMC led to near disappearance of tumors in mice that received UMCD6 but not control IgG.  Histology showed extensive infiltration and activation of T lymphocytes and NK cells, with the NK cells over-represented in the tumor-infiltrating lymphocytes
Conclusion: The combined capabilities of UMCD6 to control autoimmunity through effects on CD4+ lymphocyte differentiation, while enhancing killing of cancer cells through distinct effects on CD8+ and NK cells, open a potential new approach to cancer immunotherapy that would suppress rather than instigate autoimmunity.
The anti-CD6 monoclonal antibody UMCD6 induces lymphocytes to kill cancer cells.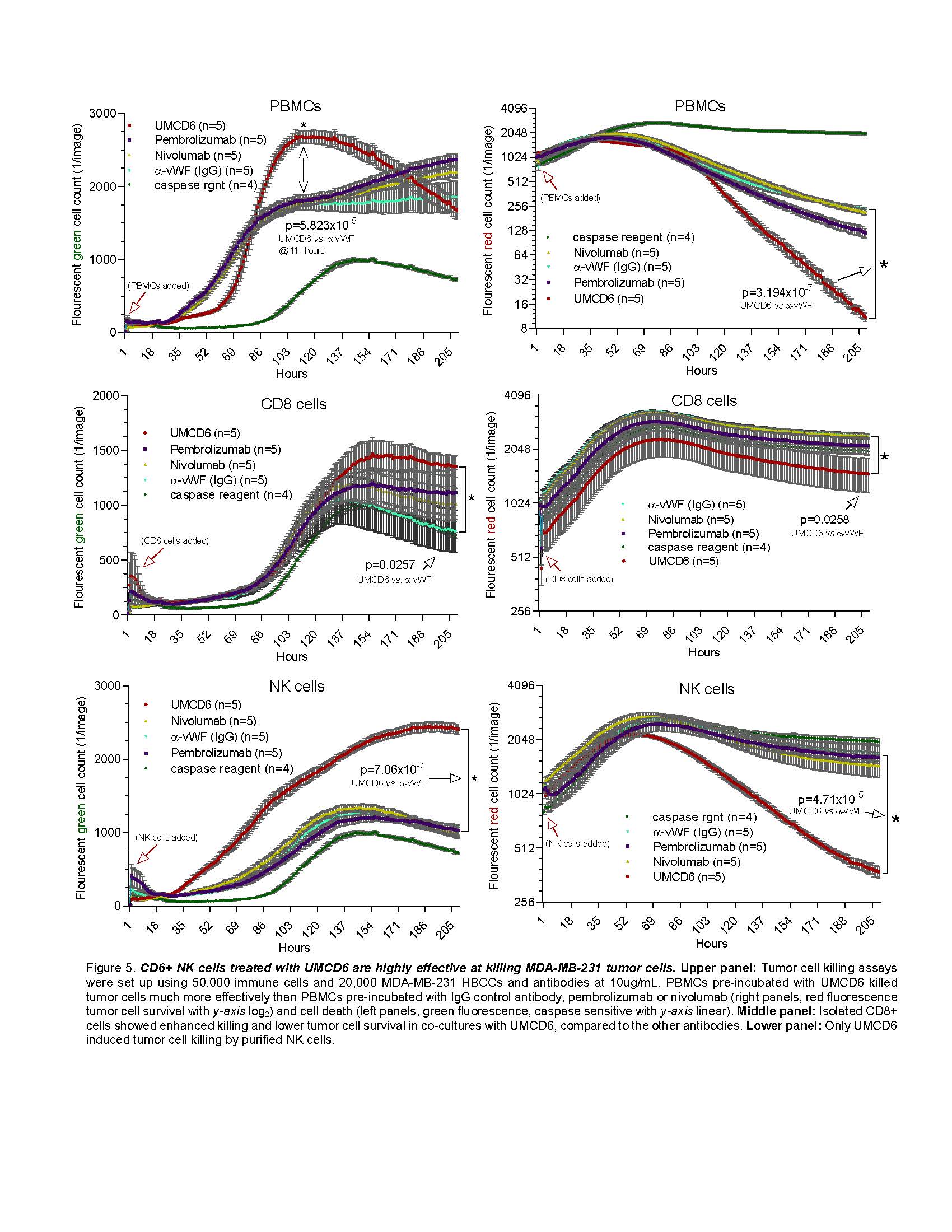 UMCD6 directly activates cytotoxic lymphocytes and is more potent than conventional checkpoint inhibitors.
UMCD6 induces lymphocyte-mediated cancer regression in vivo.
---
Disclosure: J. Ruth, None; M. Gurrea Rubio, None; K. Athukorala, None; S. Rasmussen, None; W. Daniel, None; P. Randon, None; M. Amin, None; P. Campbell, None; P. Tsou, None; Y. Mao-Draayer, None; Q. Wu, None; M. Lind, None; R. Gedert, None; T. Lanigan, None; V. Keshamouni, None; N. Singer, None; F. Lin, Takeda, 5; D. Fox, None.
To cite this abstract in AMA style:
Ruth J, Gurrea Rubio M, Athukorala K, Rasmussen S, Daniel W, Randon P, Amin M, Campbell P, Tsou P, Mao-Draayer Y, Wu Q, Lind M, Gedert R, Lanigan T, Keshamouni V, Singer N, Lin F, Fox D. CD6 Is a Target for Cancer Immunotherapy [abstract].
Arthritis Rheumatol.
2020; 72 (suppl 10). https://acrabstracts.org/abstract/cd6-is-a-target-for-cancer-immunotherapy/. Accessed January 23, 2022.
« Back to ACR Convergence 2020
ACR Meeting Abstracts - https://acrabstracts.org/abstract/cd6-is-a-target-for-cancer-immunotherapy/