Session Information
Session Type: Poster Session B
Session Time: 8:30AM-10:30AM
Background/Purpose: Previous studies investigating the course of spinal structural progression in patients with ankylosing spondylitis (AS) using the modified Stoke Ankylosing Spondylitis Spine Score (mSASSS) have shown highly variable rates of mSASSS progression among individuals. Furthermore, a substantial radiographic progression has been noted both in young patients at an early stage of disease as well as in elderly patients at an advanced stage, indicating a within-individual variation in the progression of long-term structural damage in the spine. Thus, exploring the extent to which spinal radiographic damage worsens according to age can be helpful in providing insights into the understanding of the natural course of structural disease progression. The aim of this study was to estimate the course of spinal radiographic progression for specific age range categories using a longitudinal dataset in a real-life setting.
Methods: In total, 4016 radiographic intervals were obtained from 1125 AS patients with consecutive spinal radiographs available at a single hospital. The included radiographic intervals were categorized into five groups based on the age at each radiograph: age < 20 (n=122); 20–29 (n=1124); 30–39 (n=690); 40–49 (n=794); and ≥50 years (n=286). Radiographic progression rate was defined as the mSASSS change per year. Age-stratified mSASSS change per year was estimated using the generalized estimating equations (GEE) for longitudinal data after adjusting for predictors of radiographic progression. A subgroup analysis was performed to estimate the course of radiographic progression, stratified for identified risk factors.
Results: The mean (SD) follow-up duration was 8.4 (2.9) years and the mean number of radiographs was 4.6 (1.2) per patient. The mean radiographic progression rate of the overall intervals was 0.8 (1.9). In the GEE multivariable analysis, smoking, peripheral joint involvement, eye involvement, log-transformed C-reactive protein (CRP) values at each radiograph, and preexisting syndesmohyte were significant and independent factors for predicting structural damage progression.
GEE-estimated radiographic progression was highest at age group 30–39 (estimated mean mSASSS change per year was 1.148), followed by 40–49 (1.003), 20–29 (0.868), ≥50 (0.779), and < 20 (0.643) . However, radiographic damage scores rapidly increased among younger age groups with risk factors. The estimated mean mSASSS change per year for the age group 20–29 was 1.244 with elevated CRP levels and 2.505 with preexisting syndesmophytes, respectively.
Conclusion: In AS, spinal structural damage with age progresses in an increasing trend in which periods of relatively rapid increase and slow increase may alternate, and it seems to progress the most in the 30s. However, patients with risk factors show a rapid progression from under the 30s.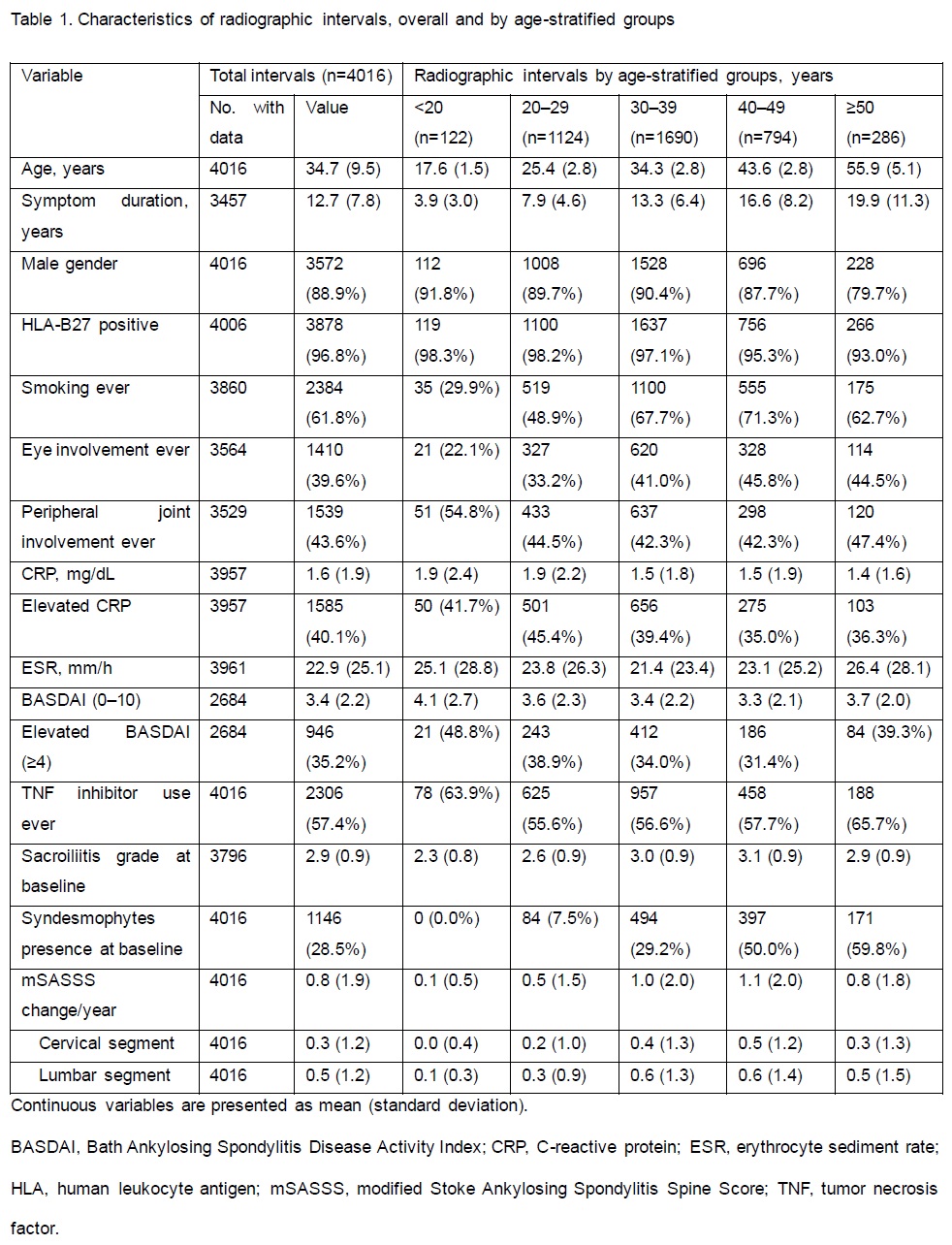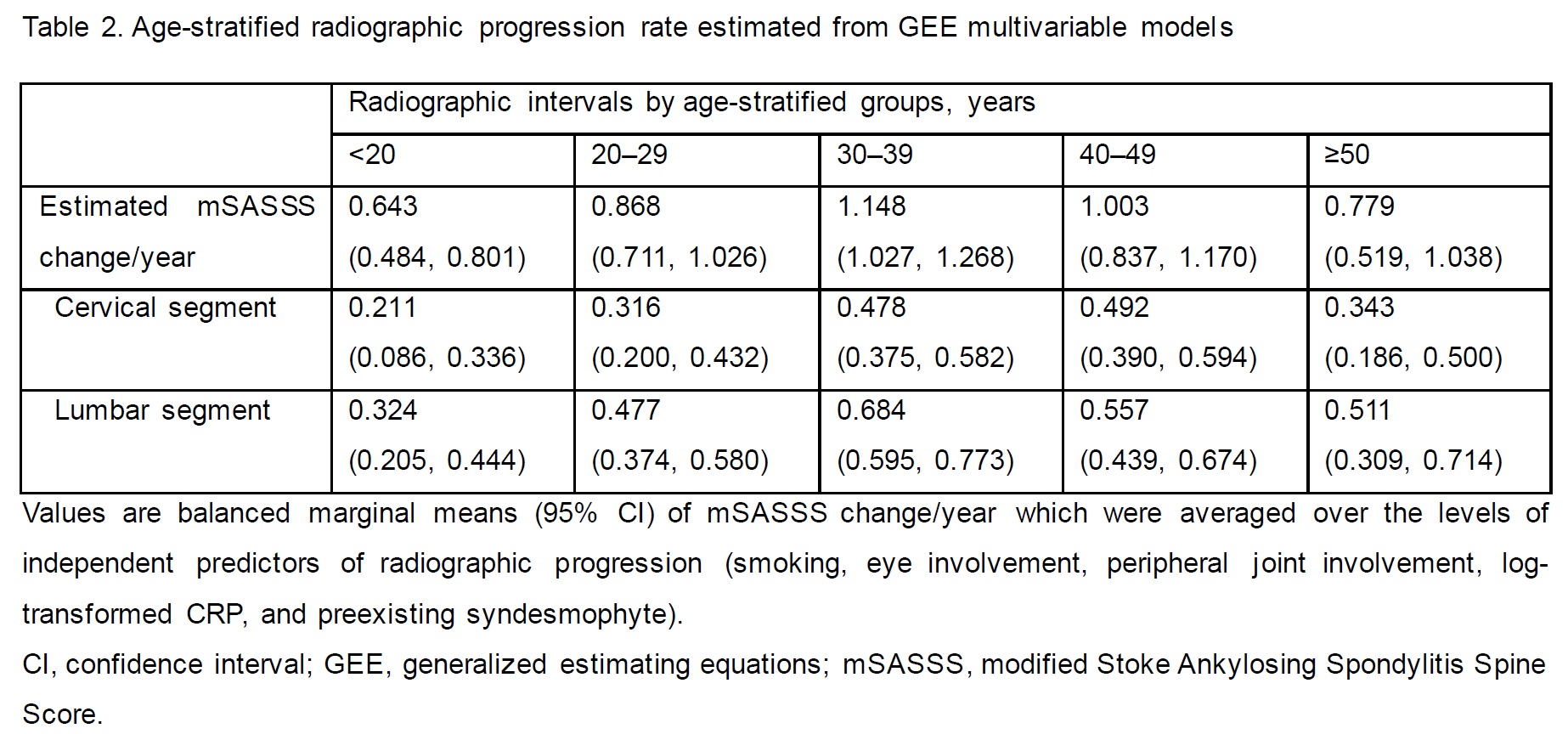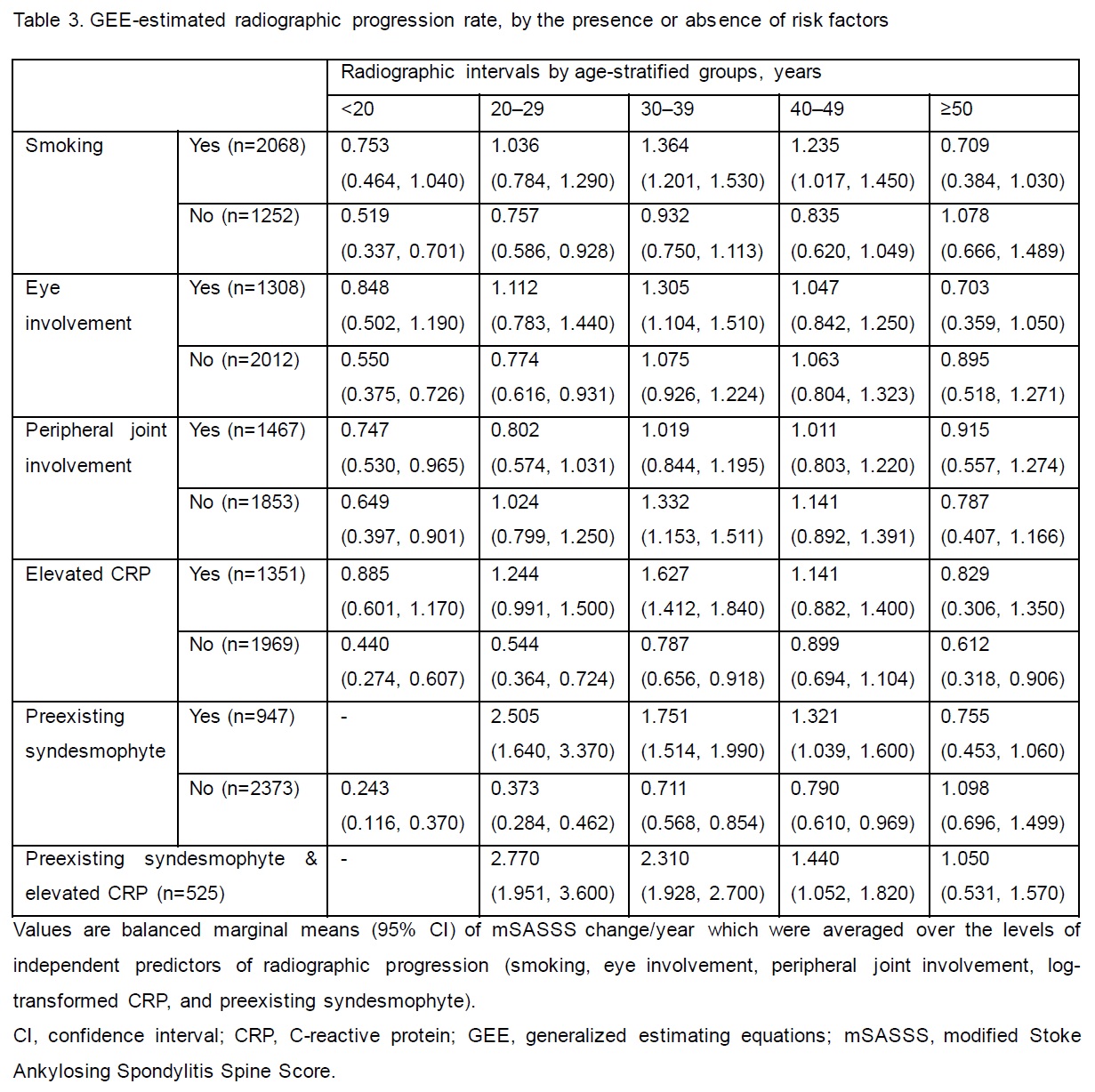 ---
Disclosures: T. Lee, None; B. Koo, None; B. Nam, None; S. Lee, None; K. Joo, None; T. Kim, AbbVie, 6, Celltrion, 6, Kirin, 6, Lilly, 6, Novartis, 6.
To cite this abstract in AMA style:
Lee T, Koo B, Nam B, Lee S, Joo K, Kim T. Age-Stratified Trend of Spinal Radiographic Damage Progression in Patients with Ankylosing Spondylitis [abstract].
Arthritis Rheumatol.
2021; 73 (suppl 9). https://acrabstracts.org/abstract/age-stratified-trend-of-spinal-radiographic-damage-progression-in-patients-with-ankylosing-spondylitis/. Accessed June 2, 2023.
« Back to ACR Convergence 2021
ACR Meeting Abstracts - https://acrabstracts.org/abstract/age-stratified-trend-of-spinal-radiographic-damage-progression-in-patients-with-ankylosing-spondylitis/