Session Information
Session Type: Abstract Session
Session Time: 2:00PM-3:30PM
Background/Purpose: The United States faces a critical shortage of rheumatology providers. This shortage is especially dire in rural areas, such as Navajo Nation, where primary care providers (PCPs) are often in the position of managing their patients' rheumatologic conditions with little or no specialist support. Rheumatology training programs for front-line PCPs are an important and under-utilized strategy to help address the workforce crisis. In 2021, the Rheumatology Access Expansion (RAE) Initiative launched the Rheumatoid Arthritis (RA) ECHO, a remote 12-week training program to teach Navajo Area PCPs about the diagnosis and management of RA. We successfully offered the RA ECHO curriculum three times on Navajo Nation from 2021-2022. For our fourth cohort (spring 2023), we greatly expanded our target audience, inviting healthcare workers serving American Indian communities all across the country. Here, we present data from the first four cohorts of the RA ECHO, including the impact of the program on PCPs' knowledge, confidence, and clinical behaviors related to the diagnosis and management of RA.
Methods: Between September 2021 and April 2023, we offered the RA ECHO Curriculum four times ("cohorts 1-4"). PCPs completed surveys before and after the course, including a RA medical knowledge test, as well as questions about their self-reported confidence in RA diagnosis and management on a Likert scale (1 = not at all confident, to 5 = extremely confident). Beginning with cohort 3, we also included questions about participants' self-reported changes in clinical behaviors related to RA (for example, the frequency with which they perform a screening joint exam for tenderness and synovitis, or check hepatitis serologies prior to starting immunosuppression). Pooling data across the cohorts, we used paired t-tests to assess mean changes in PCPs' knowledge and confidence scores post-intervention.
Results: In total, 93 healthcare providers participated in the RA ECHO. Participants in cohorts 1-3 were all from Navajo Nation, while participants in cohort 4 came from 15 different states (Figure 1). Across all cohorts, paired pre- and post-intervention scores were available for a total of 32 and 34 PCPs for the knowledge and confidence surveys, respectively. Statistically significant improvements were observed in participants' knowledge (test scores increased by 26%, 95% CI: 19%-33%) and confidence (1.08 points on the Likert scale, 95% CI: 0.75-1.41) (Figure 2). Additionally, 79% of respondents reported performing desirable clinical behaviors related to RA diagnosis and management "more frequently" or "much more frequently" after completing the course (Figure 3).
Conclusion: Since 2021, the RAE Initiative has successfully trained 4 cohorts of PCPs through the RA ECHO Curriculum, and we've expanded the reach of the program far beyond Navajo Nation. Participants improved their medical knowledge, confidence, and self-reported frequency of desirable clinical behaviors related to the diagnosis and management of RA. Future research will focus on the impact of the RA ECHO on patient outcomes. The RA ECHO can serve as a scalable model for the development of similar programs in other communities with limited access to rheumatology providers.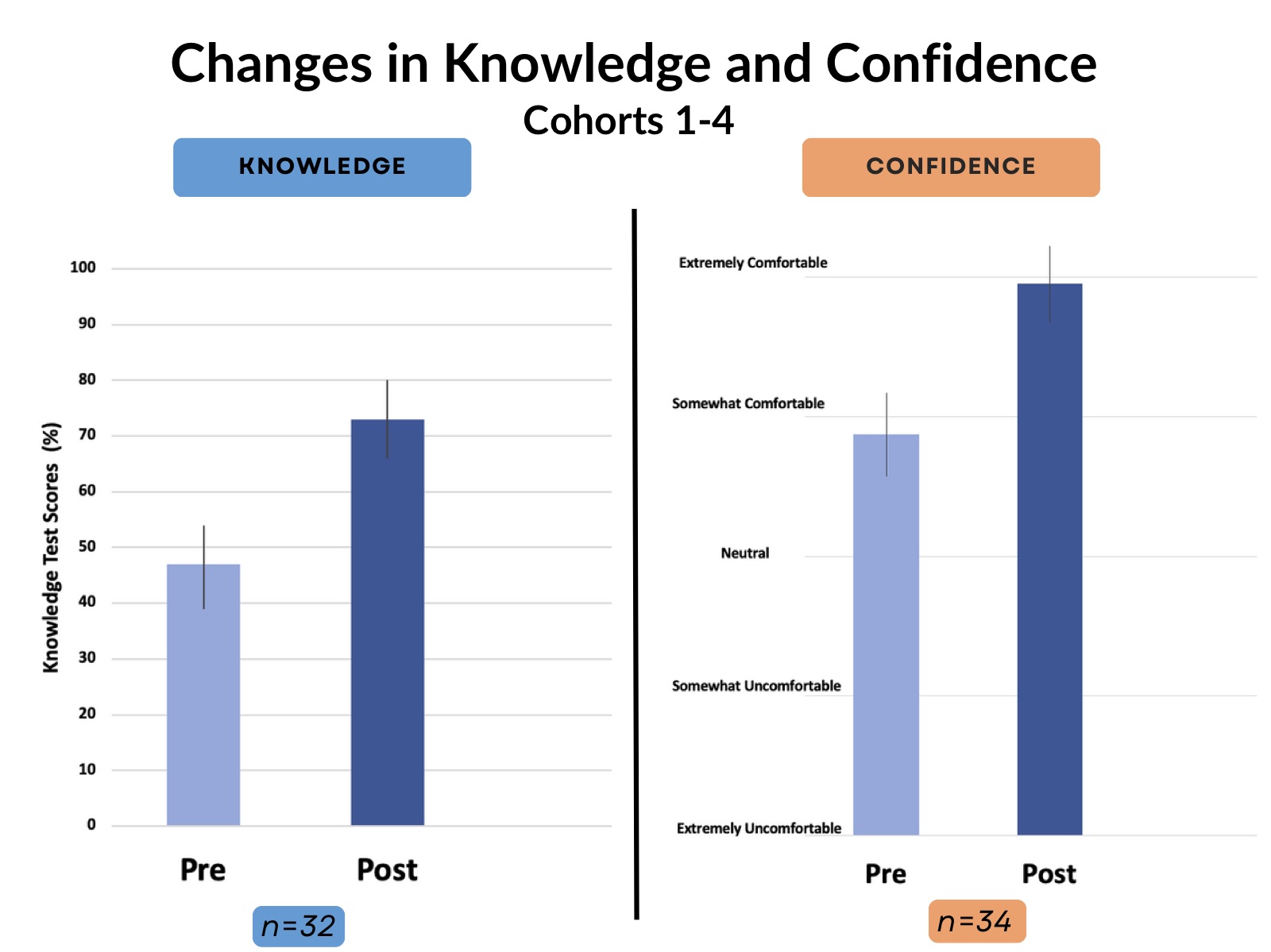 ---
Disclosures: J. Mandal: None; Z. Izadi: Bristol-Myers Squibb(BMS), 3; T. Carroway: None; G. Grant: None; M. Margaretten: None; J. Yazdany: Astra Zeneca, 2, 5, Aurinia, 5, Gilead, 5, Pfizer, 2.
To cite this abstract in AMA style:
Mandal J, Izadi Z, Carroway T, Grant G, Margaretten M, Yazdany J. Addressing Native American Health Disparities in Rheumatoid Arthritis by Training Primary Care Providers: Expanding the Reach of the RAE Initiative [abstract].
Arthritis Rheumatol.
2023; 75 (suppl 9). https://acrabstracts.org/abstract/addressing-native-american-health-disparities-in-rheumatoid-arthritis-by-training-primary-care-providers-expanding-the-reach-of-the-rae-initiative/. Accessed .
« Back to ACR Convergence 2023
ACR Meeting Abstracts - https://acrabstracts.org/abstract/addressing-native-american-health-disparities-in-rheumatoid-arthritis-by-training-primary-care-providers-expanding-the-reach-of-the-rae-initiative/