Session Information
Session Type: Abstract Session
Session Time: 2:15PM-2:30PM
Background/Purpose: Radiographic hip osteoarthritis (rHOA) is traditionally defined on hip or pelvic radiographs, using subjective methods such as Kellgren-Lawrence scoring. Associations between subjective rHOA measures and clinical outcomes such as hip pain are inconsistent. Applying digital analytical tools to high-resolution dual-energy X-ray absorptiometry (DXA) scans, we aimed to (1) develop a novel semi-automated classifier for rHOA, (2) apply this to available hip DXAs from UK Biobank (UKB), and (3) evaluate face validity of the classifier based on prevalence data and relationships with hip pain, hospital diagnosed OA, and risk of total hip replacement (THR).
Methods: Osteophyte area was manually measured (in mm2) at the lateral acetabulum, superior-lateral and inferior-medial femoral head on left hip DXAs obtained from individuals in UKB (Figure 1). Osteophyte area thresholds were defined and subsequently applied to categorise each osteophyte into grades 0-3. Minimum joint space width (mJSW) was automatically measured (in mm) over the superior joint space using outline points placed by a machine learning based approach. Thresholds of mJSW were used to categorise individuals into joint space narrowing (JSN) grades 0-3. Osteophyte and JSN grades were summated for each individual to give a rHOA score of 0-12. Hips were then categorised into rHOA grades 0-4 based on rHOA score. Logistic regression was used to examine associations between rHOA grade and hip pain derived from a questionnaire, and hospital diagnosed OA and THR from electronic health record national linkage (HES). Our adjusted model included age, sex, height and weight as covariates.
Results: 40,340 individuals were included in the study [mean age 63.7 (range 44-82), 19294/21046 male/female]. 32758 (81.2%) had rHOA grade 0, 4565 (11.3%) grade 1, 2317 (5.7%) grade 2, 543 (1.3%) grade 3, 157 (0.4%) grade 4 (Figure 2), with all features of rHOA being more common in males than females. rHOA grades ≥2 were associated with all three clinical outcomes in both unadjusted and adjusted models, a clear dose-response relationship was seen with each increase in grade showing a large rise in odds ratio (Figure 3).
Conclusion: Having developed a semi-automated classifier for rHOA on hip DXA scans, we successfully applied this to over 40,000 individuals from UKB, yielding expected findings for OA prevalence including higher rates in males compared with females. The validity of our classifier was further supported by the strong and progressive relationships observed between rHOA and hip pain, and risks of hospital diagnosed hip OA and THR. We conclude that hip DXA scans provide a promising means of objectively defining rHOA, with potential application in the clinic and as a research tool.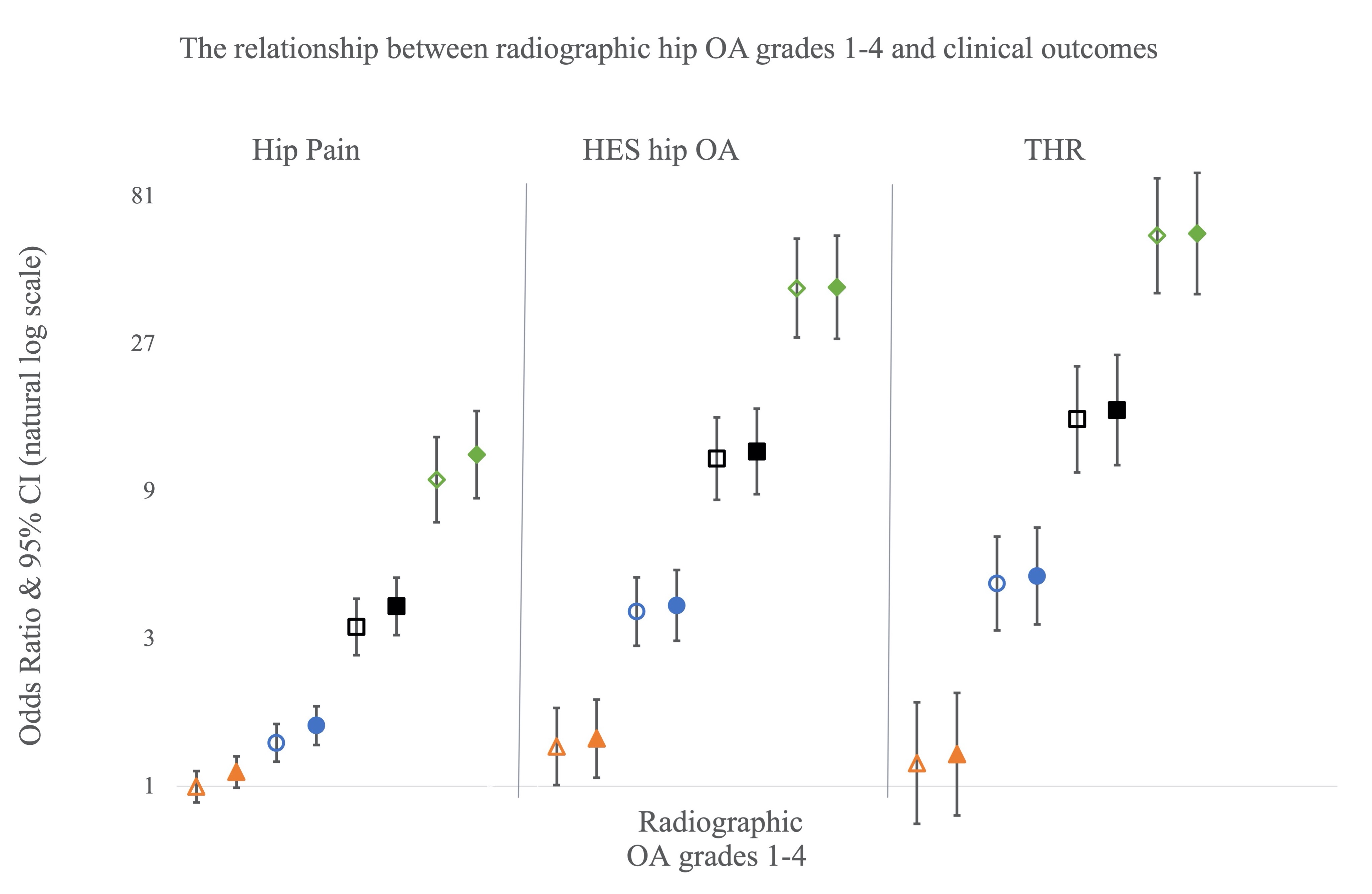 ---
Disclosures: B. Faber, None; R. Ebsim, None; F. Saunders, None; M. Frysz, None; C. Lindner, None; J. Gregory, None; R. Aspden, None; N. Harvey, UCB, 2, 6, Kyowa Kirin, 2, 6, Internis Pharma, 2, 6; G. Davey Smith, None; T. Cootes, None; J. Tobias, None.
To cite this abstract in AMA style:
Faber B, Ebsim R, Saunders F, Frysz M, Lindner C, Gregory J, Aspden R, Harvey N, Davey Smith G, Cootes T, Tobias J. A Novel Semi-automated Classifier of Radiographic Hip Osteoarthritis on DXA Scans Is Strongly Predictive of Pain, Clinical Diagnosis and Joint Replacement: Findings from 40,000 Participants in UK Biobank [abstract].
Arthritis Rheumatol.
2021; 73 (suppl 9). https://acrabstracts.org/abstract/a-novel-semi-automated-classifier-of-radiographic-hip-osteoarthritis-on-dxa-scans-is-strongly-predictive-of-pain-clinical-diagnosis-and-joint-replacement-findings-from-40000-participants-in-uk-biob/. Accessed December 2, 2022.
« Back to ACR Convergence 2021
ACR Meeting Abstracts - https://acrabstracts.org/abstract/a-novel-semi-automated-classifier-of-radiographic-hip-osteoarthritis-on-dxa-scans-is-strongly-predictive-of-pain-clinical-diagnosis-and-joint-replacement-findings-from-40000-participants-in-uk-biob/