Session Information
Session Type: Poster Session D
Session Time: 1:00PM-3:00PM
Background/Purpose: NLRP3-associated autoinflammatoy disease (NLRP3-AID) and NLRP12-AID are rare autosomal dominant diseases. FACS1(familial cold autoinflammatory syndrome type 1), a subset of NLRP3-AID, is thought to be phenotypically similar to FCAS2(NLRP2-AID). NLRP3 and NLRP12 are members of the NOD-like receptors(NLRs) and their gene mutations contribute to these diseases. This study aimed to compare the clinical, molecular, and therapeutic data of patients.
Methods: A monocentric and retrospective comparative study of adult patients with NLRP3-AID and NLRP12-AID between 2016 and April 2022 was conducted. These patients were cared in our Center of Autoinflammatory Disease. Systemic autoimmune diseases were excluded after extensive workups. All patients had genetic testing for periodic fever syndrome 6-gene panel (MEFV, TNFRSF1A, NLRP3, MVK, NLRP12 and NOD2). A diagnosis of each SAID was made based on the clinical characteristic phenotype and specific genotype. The study was approved by the Institutional Research Board of Stony Brook University.
Results: A total of 23 adult patients with SAIDs were included. All patients were Caucasian with 96% females, the mean age was 42±13 years at diagnosis and disease duration was 14±13 years at diagnosis suggesting a prolonged diagnostic delay due to lack of recognition. Most patients had recurrent fever, rash, arthralgia/leg swelling, gastrointestinal and sicca-like symptoms/eyelid swelling (Table 1). Other symptoms included myalgia, oral ulcers, chest pain/pleuritic/pericarditis, asthma, and hearing loss. All patients carry NOD2 and other gene variants combinations, including NOD2/MEFV variants in 10 with poor response to colchicine mostly, NOD2/ NLRP12 in 6, NOD2/TNFRSF1A in 4 and NOD2/NLRP3 in 3(Table 2). Most variants are of low penetrance and are known to contribute to SAIDs. Due to the overlapping clinical phenotypes between SAIDs and the carriage of multiple variants, accurate diagnosis is challenging. By close phenotype and genotype correlations, 11/23(48%) of patients were diagnosed with Yao Syndrome(YAOS, OMIM 617321), 2/23(9%) with atypical Familial Mediterranean Fever (FMF), and the remaining were suspected of having mixed diagnoses of two or more SAIDs such as YAOS, FMF, NLRP3-AID, NLRP12-AID, and TNF receptor associated periodic syndrome. Since all these genes encode NLRs except TNFRSF1A, and NOD2 was the denominator in our cohort, we propose to classify those patients having mixed NLR-associated autoinflammatory disease. Nearly half of our patients were treated with biologics, canakinumab mostly, suggesting that these patients would have more frequent disease flares. This may be supported by the literature data that multiple combined variants of small effect are known to cause equal to or even greater effects than a pathogenic variant of high penetrance.
Conclusion: Our study involves the largest cohort of adult patients with NLRP3-and NLRP12-AID. The comparitive study has shown phenotypic similarities largely and significant diffferences in certain aspects between these two diseases. We provide our experience in the diagnosis, classification and management for these NLR-associated autoinflammatory diseases.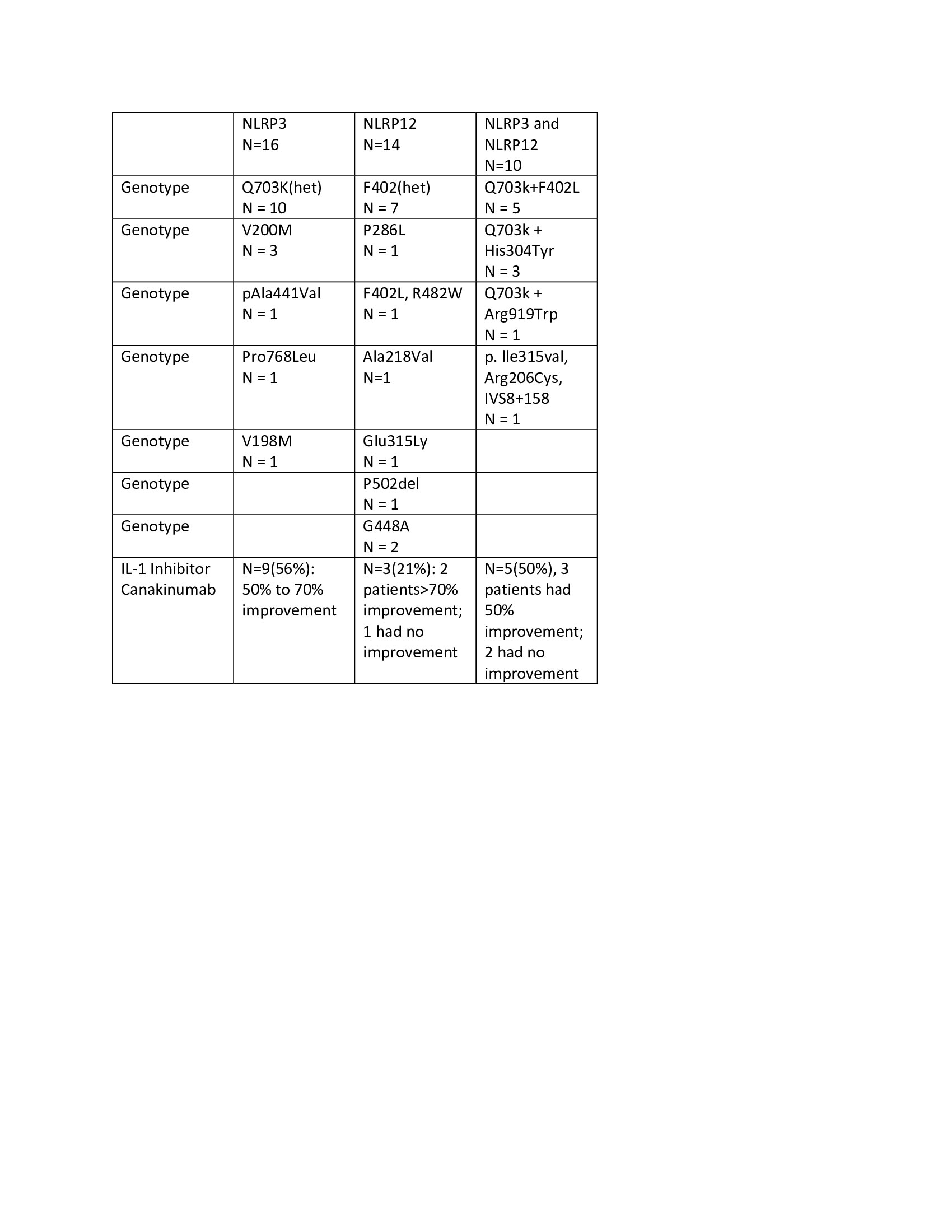 ---
Disclosures: M. Yun, None; B. Navetta-Modrov, None; H. Nomani, None; J. Yang, None; Q. Yao, None.
To cite this abstract in AMA style:
Yun M, Navetta-Modrov B, Nomani H, Yang J, Yao Q. A Comparitive Study of NLRP3- and NLRP12-autoinflammatory Disease [abstract].
Arthritis Rheumatol.
2022; 74 (suppl 9). https://acrabstracts.org/abstract/a-comparitive-study-of-nlrp3-and-nlrp12-autoinflammatory-disease/. Accessed December 1, 2022.
« Back to ACR Convergence 2022
ACR Meeting Abstracts - https://acrabstracts.org/abstract/a-comparitive-study-of-nlrp3-and-nlrp12-autoinflammatory-disease/