Session Information
Session Type: Poster Session A
Session Time: 8:30AM-10:30AM
Background/Purpose: AxSpA is associated with substantial negative consequences regarding work status and career prospects. The aim is to identify factors associated with barriers to job access among European axSpA patients.
Methods: Data from 2,846 unselected patients participating in EMAS, an online survey (2017-2018) across 13 European countries, were analyzed. Difficulties in finding a job was assessed by the following item: "Do you think it is or it would be difficult for you to find a job because of your Spondylitis/Spondyloarthritis? (Yes/No)". Differences in sociodemographic factors, patient-reported outcomes [BASDAI (0-10), spinal stiffness (3-12), functional limitation (0-54), and mental health status using the 12-item General Health Questionnaire (0-12)], employment, lifestyle habits, and comorbidities were assessed through Mann-Whitney and χ2 tests. Univariable and multivariable binary logistic regression were used to identify variables possibly explaining difficulties/perceived difficulties finding a job due to axSpA.
Results: Among the 1,823 patients who responded to difficulties/perceived difficulties in finding a job due to axSpA, mean age was 41.4±10.7 years, 62.6% female, 50.7% had a university degree, and 65.6% were married. 56.8% were employed, 8.4% unemployed, and 28.2% on sick leave. 1,357 (74.4%) reported they had or would have difficulties finding a job. Compared to those without difficulties, patients with difficulties were typically separated/divorced (11.4% vs 5.2%, p=0.001), less university educated (45.2% vs 66.5%, p< 0.001), and overweight/obese (50.6% vs 44.8%, p=0.034). Those with difficulties had increased restrictions when driving (37.0% vs 13.3%), or when using public transportation (40.2% vs 10.9%), had previously changed jobs because of axSpA (35.7% vs 21.7%), required adaptions to their car (26.3% vs 17.2%) or shoes (60.1% vs 40.6%), had longer diagnostic delay (7.7 vs 5.8 years), higher disease activity (BASDAI 6.0 vs 4.4), poorer mental health through GHQ-12 (6.0 vs 3.1), greater functional limitation (22.8 vs 9.2), and spinal stiffness (8.2 vs 6.4), as well as higher rates of anxiety (38.8% vs 18.8%), depression (35.2% vs 15.6%), and sleep disorders (47.0% vs 26.6%, all p< 0.001). In the logistic regression analysis, the qualitative factors associated with difficulties finding a job were restrictions using public transportation (OR=2.22), use of customized shoes (OR=1.58), not having university education (OR=0.53) and having had previously changed jobs due to barriers created by axSpA (OR=1.44). The quantitative factors associated were disease activity (OR=1.18), spinal stiffness (OR=1.13), poorer mental health (OR=1.09), and functional limitation (OR=1.04).
Conclusion: Three out of four axSpA patients had, or perceived they would have, difficulties in finding a job. Poor physical and mental health, together with the need for mobility adaptations, lower educational level, having changed job due to axSpA were factors associated with difficulties/perceived difficulties in finding a job. Early diagnosis, effective treatment and greater advocacy in the workplace are needed to enable axSpA patients to search for and remain in employment.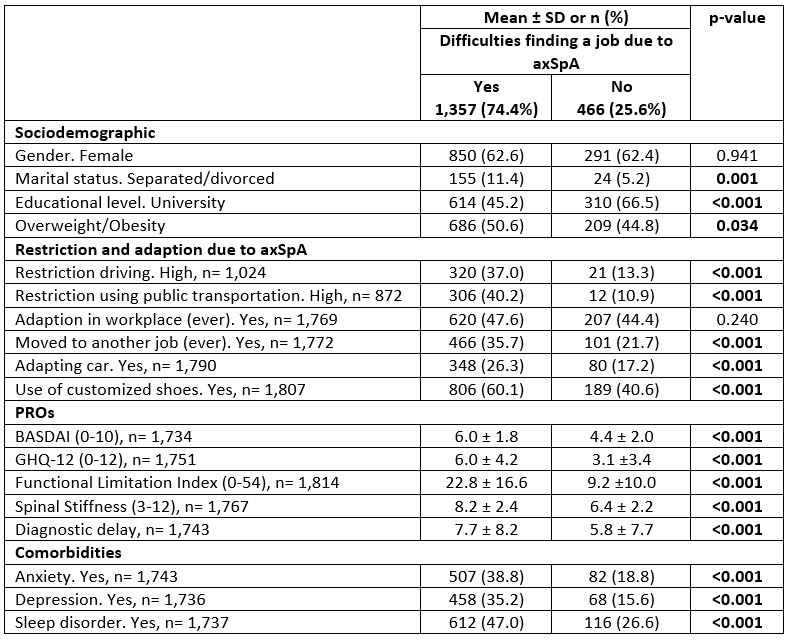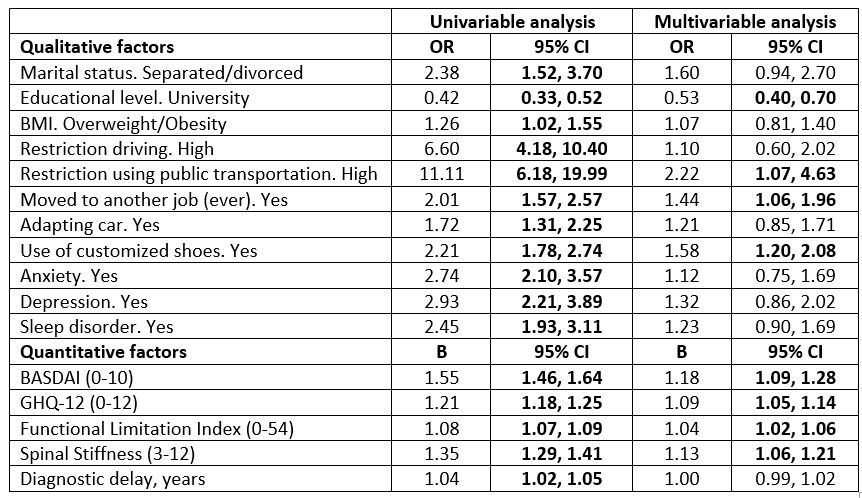 ---
Disclosures: M. Garrido-Cumbrera, None; V. Navarro-Compán, Abbvie, 5, Lilly, 5, Novartis, 5, Pfizer, 5, UCB, 5, Janssen, 5; C. Bundy, Abbvie, 2, Celgene, 2, Janssen, 2, Lilly, 2, Novartis, 2, Pfizer, 2; S. Makri, None; L. Christen, Novartis, 3; J. Correa-Fernández, None; S. Sanz-Gomez, None; R. Mahapatra, None; C. Delgado-Domínguez, None; D. Poddubnyy, AbbVie, 2, 5, 6, Eli Lilly and Company, 2, 5, 6, MSD, 2, 5, 6, Novartis, 2, 5, 6, Pfizer, 2, 5, 6, UCB, 2, 6, BMS, 2, 6, Roche, 2, 6.
To cite this abstract in AMA style:
Garrido-Cumbrera M, Navarro-Compán V, Bundy C, Makri S, Christen L, Correa-Fernández J, Sanz-Gomez S, Mahapatra R, Delgado-Domínguez C, Poddubnyy D. Why Is It so Difficult for AxSpA Patients to Find a Job? Results from the European Map of Axial Spondyloarthritis (EMAS) [abstract].
Arthritis Rheumatol.
2021; 73 (suppl 9). https://acrabstracts.org/abstract/why-is-it-so-difficult-for-axspa-patients-to-find-a-job-results-from-the-european-map-of-axial-spondyloarthritis-emas/. Accessed June 2, 2023.
« Back to ACR Convergence 2021
ACR Meeting Abstracts - https://acrabstracts.org/abstract/why-is-it-so-difficult-for-axspa-patients-to-find-a-job-results-from-the-european-map-of-axial-spondyloarthritis-emas/