Session Information
Session Type: Poster Session A
Session Time: 9:00AM-11:00AM
Background/Purpose: The childhood inflammatory disorder systemic juvenile idiopathic arthritis (SJIA) has historically had several names, including Still's disease and systemic juvenile rheumatoid arthritis. While its current name reflects its classification as a subtype of JIA, SJIA is genetically and pathogenically distinct from the other subtypes of JIA. To complicate things further, SJIA and adult onset Still's disease (AOSD) may be the same disorder with different ages of onset. Scant data exists regarding how the name "SJIA" is perceived by patients and families as well as its implications for the patient experience.
Methods: A qualitative study of self-reported online survey of patients with SJIA was developed by the non-profit organizations, the Autoinflammatory Alliance, KAISZ/VAISZ, and SJIA Foundation in English and translated to Dutch. Respondents were recruited by convenience sampling through online social media posts. Respondents were asked if they considered that SJIA adequately described their disease, followed by an open-ended question on what they thought about the name, "Systemic Juvenile Idiopathic Arthritis".
Results: Between 2017 and 2019, there were 72 responses, 54 from parents of children with SJIA and 18 from adults with SJIA. Thirty six (51%) answered that they did not think the name adequately represented the disease, including 61% of adults with SJIA. Responses were grouped into several themes. The most frequent responses were that the name confuses the condition with more common types of arthritis. Several noted this minimizes the disorder as "just sore joints." Hindrance to appropriate treatment was also noted due to lack of insurance coverage because they had to try and fail treatments for other forms of arthritis. Similarly, many noted that the name does not reflect the most common clinical features of their own disease- "(its) difficult emotionally to have people not understand why this disease is so dangerous and life altering because … Arthritis is only a piece of it". Adult patients with SJIA noted that the name implies it only affects children when they have had life-long symptoms. Finally, several noted the name was too long and complicated to explain to people: "We understand it because we live it, but to say it and explain it is difficult for others to understand".
Several themes also reflected what patients would like to see in a disease name, including: 1) something  that is easier to explain to lay people, 2) greater reflection of autoinflammatory disease, rather than a form of JIA, and 3) that there is a  wide variety of clinical features, which might benefit from subtypes.
Conclusion: Over half of the SJIA patients and caregivers do not agree with the name. They highlighted many areas where the disease name can negatively impact the perception of their disease. The study is limited by being a convenience sample of parents engaged in social media and may not be representative of the general population of patients with SJIA. However, these responses regarding the limitations of the name and how it could be improved will serve as the basis for a larger and more structured survey, including patients with AOSD, to provide patient and family input on the future classification of SJIA.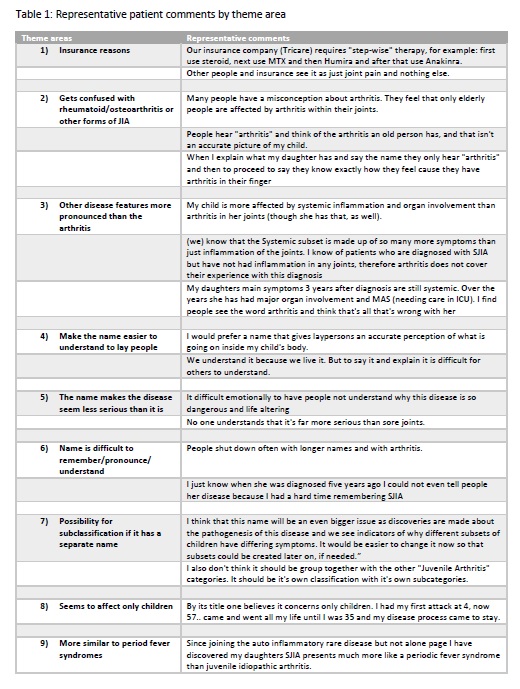 ---
Disclosure: M. Correia Marques, This work was supported by a Fred Lovejoy Resident Research and Education Award., 2; R. Sinha, None; K. Durrant, None; S. Lapidus, None; N. Tennermann, None; S. Angevare, None; L. Bush, None; K. Cupp, None; J. Hausmann, Novartis, 5; D. Maher, None; S. Newton, None; M. Ombrello, None; P. Reardon, None; R. Trachtman, None; F. Dedeoglu, Novartis, 1; G. Schulert, Novartis, 5, Sobi, 5.
To cite this abstract in AMA style:
Correia Marques M, Sinha R, Durrant K, Lapidus S, Tennermann N, Angevare S, Bush L, Cupp K, Hausmann J, Maher D, Newton S, Ombrello M, Reardon P, Trachtman R, Dedeoglu F, Schulert G. What's in a Name? Patient and Family Perspectives on the Naming of Systemic Juvenile Idiopathic Arthritis [abstract].
Arthritis Rheumatol.
2020; 72 (suppl 10). https://acrabstracts.org/abstract/whats-in-a-name-patient-and-family-perspectives-on-the-naming-of-systemic-juvenile-idiopathic-arthritis/. Accessed January 23, 2022.
« Back to ACR Convergence 2020
ACR Meeting Abstracts - https://acrabstracts.org/abstract/whats-in-a-name-patient-and-family-perspectives-on-the-naming-of-systemic-juvenile-idiopathic-arthritis/