Session Information
Session Type: Poster Session B
Session Time: 8:30AM-10:30AM
Background/Purpose: Fibrosis is characterized by collagen deposition, fibro/myofibroblast accumulation, and extracellular matrix remodeling and can lead to disfiguring skin changes. In cutaneous lupus, scar formation after discoid lesion eruption may evolve from enhanced fibrotic phenotypes. Thus, understanding how fibrosis evolves in discoid lupus lesions is important to prevent morbidity and low quality of life for patients with cutaneous lupus. Recent work from our laboratory has shown that epidermal-directed overexpression of murine Vgll3 causes severe lupus-like skin lesions reminiscent of discoid lupus erythematosus (DLE), as well as systemic autoimmune disease with end-organ damage. Given the apparent fibrotic nature of the skin lesions in transgenic (TG) Vgll3 mice, we wanted to determine whether Vgll3 induced fibrosis.
Methods: 2-3 month old male and female transgenic (TG) mice overexpressing Vgll3 in the epidermis under the K5 promoter were compared to male and female TG wild type (WT) C57Bl/6 mice (n= 3-5 per group). Fibrotic biomarkers of human DLE and scleroderma were compared via immunohistochemistry. In addition, we used single-cell RNA-sequencing (scRNA-seq) via 10x platform and bulk RNA-seq of lesional and nonlesional skin to investigate the transcriptomes of the potential cellular fibrotic players such as fibroblasts (FBs) and myofibroblasts (MYOFBs). ScRNA-seq data were analyzed using Seurat. Several subclusters of FBs, MYOFBs, and T cells were identified and fibrotic markers for each FBs subcluster were analyzed. Gene expression of fibrosis-associated genes in FBs/MYOFBs from lesional and nonlesional skin in K5-Vgll3 mice as well as WT were identified.
Results: Epidermal Vgll3 overexpression resulted in development of not only cutaneous inflammation but also severe fibrosis, as evidenced by trichrome staining. Immunohistochemistry identified increased infiltration of granulocytes/monocytes accompanied by significant expression of fibrotic biomarkers (Acta2, Col1, Tgfb1, Ctgf) and pro-fibrotic cytokines (Il4 and Il13) in TG mice. These same markers were also seen in human DLE and scleroderma lesions compared to healthy human skin. Overall, lesional Vgll3 TG skin exhibited higher expression of Col1a1 and Col1a2. ScRNA-seq of Vgll3 TG lesional skin vs. WT skin demonstrated that the increased expression of these collagen genes was localized to fibroblast and myofibroblast populations. (Fig. 1). Four FBs subclusters were identified across all samples, and a unique FB subcluster (cluster 3, Fig. 2) in Vgll3 TG mice was noted that uniquely exhibited higher expression of Col1a1 and Col1a2 compared to WT mice.
Conclusion: The detection of high expression of Ctgf and Tgfb1 as well as Col1 mRNA and protein in the skin of TG mice suggests that skin-directed overexpression of Vgll3 may impact fibrosis development. The changes in Vgll3 TG mice are reflected in human scleroderma and DLE lesional samples, suggesting that pathways and inflammatory responses regulated by Vgll3 may contribute to fibrosis. Further studies will elucidate the specific mechanisms that may be targetable in this pathway to better treat and prevent fibrosis in autoimmune disease patients.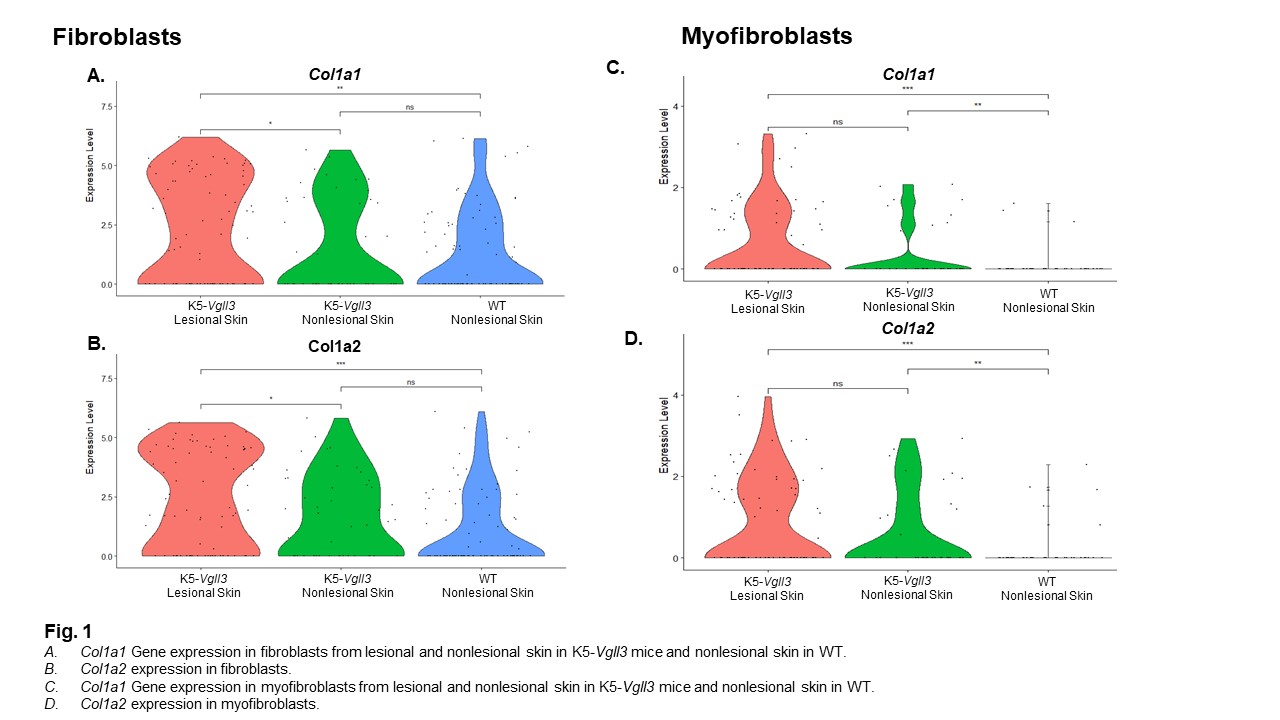 ---
Disclosures: M. Gharaee-Kermani, None; A. Billi, None; M. Hildebrandt, None; J. Martens, None; R. Wasikowski, None; J. Kahlenberg, astra zeneca, 1, 2, ventus therapeutics, 1, Bristol Myers Squibb, 1, 5, Janssen, 5, q32 bio, 5, GlaxoSmithKlein, 1, Eli Lilly, 1; J. Gudjonsson, Almirall, 5, Eli Lilly, 5, BMS, 5.
To cite this abstract in AMA style:
Gharaee-Kermani M, Billi A, Hildebrandt M, Martens J, Wasikowski R, Kahlenberg J, Gudjonsson J. Vgll3-transgenic Autoimmune Mice Display Features of Cutaneous Fibrosis [abstract].
Arthritis Rheumatol.
2021; 73 (suppl 9). https://acrabstracts.org/abstract/vgll3-transgenic-autoimmune-mice-display-features-of-cutaneous-fibrosis/. Accessed May 29, 2023.
« Back to ACR Convergence 2021
ACR Meeting Abstracts - https://acrabstracts.org/abstract/vgll3-transgenic-autoimmune-mice-display-features-of-cutaneous-fibrosis/