Session Information
Session Type: Poster Session A
Session Time: 8:30AM-10:30AM
Background/Purpose: Osteoarthritis (OA) is a prevalent degenerative joint disease and a major cause of pain and disability worldwide. Inflammation of the synovium and surrounding tissues likely contributes to the symptoms and structural progression of OA. The heterogenous nature has posed challenges to the development of disease modifying therapies likely due to different pathogenic mechanisms underlying distinct subtypes of OA. Efforts to subtype the disease have been limited, and integrative approaches are lacking. Here, we applied unsupervised clustering analysis of histology and ultrasound data to identify clinically-relevant knee OA subtypes in patients undergoing total knee arthroplasty (TKA).
Methods: We prospectively enrolled 160 patients (age 45-75) with end-stage knee OA scheduled for TKA. We collected clinical data, patient-reported data and ultrasounds (43 features, recorded using B-Mode and doppler and evaluated by two radiologists) preoperatively. 21 histologic features were scored by two trained pathologists on hematoxylin and eosin (H&E)-stained synovial biopsies. Histology and ultrasound features with > 5% of variance (n=17) from 157 subjects (with <65% missing data) were used for analyses. Min-max scaling was applied, and unsupervised clustering using Euclidean distance and agglomerative hierarchical clustering was conducted. Wilcoxon Rank Sum tests (continuous variables) and Chi squared tests (categorical variables) were performed for statistical comparisons between clusters.
Results: Hierarchical clustering of 12 synovial histology features and 5 ultrasound features revealed 5 OA subtypes (Figure 1A, B). These subtypes were defined by the differences in features between subjects and were named accordingly: a High Inflammatory Subtype (N=12) with high levels of inflammatory cell infiltrates including plasma cells and lymphocytes, a Moderate Inflammatory Subtype (N=12) with moderate levels of the same synovial features, a Detritic and Synovial Giant Cell Infiltration Subtype (N=21), a Minimal Pathology Subtype (N=28) with presence of Baker's cyst on ultrasound and low levels of synovial inflammation histologic features, and a Heterogeneous Subtype (N=84) with little to no findings of inflammation or differences in ultrasound features (Figure 2A-F). Both the high and moderate inflammatory subtypes were associated with increased BMI (p=0.048), African American (AA) race (p=0.015), increased levels of ESR (p=0.043) and HS-CRP (p=0.023). The high inflammatory subtype was associated with patient reported major trauma to the affected joint (p=0.025) (Table 1).
Conclusion: Clustering analysis of synovial histology and ultrasound scoring features identified 5 OA patient subtypes. Two subtypes were associated with AA race, increased BMI, and synovial inflammation, which suggests that demographical factors may play a role in the mechanisms underlying knee OA and warrants further investigation. Our findings suggest that the clinical features and patient reported outcomes represent predictive variables with the potential to be built into algorithms that could be used in the future to guide targeted personalized treatment of these OA subtypes.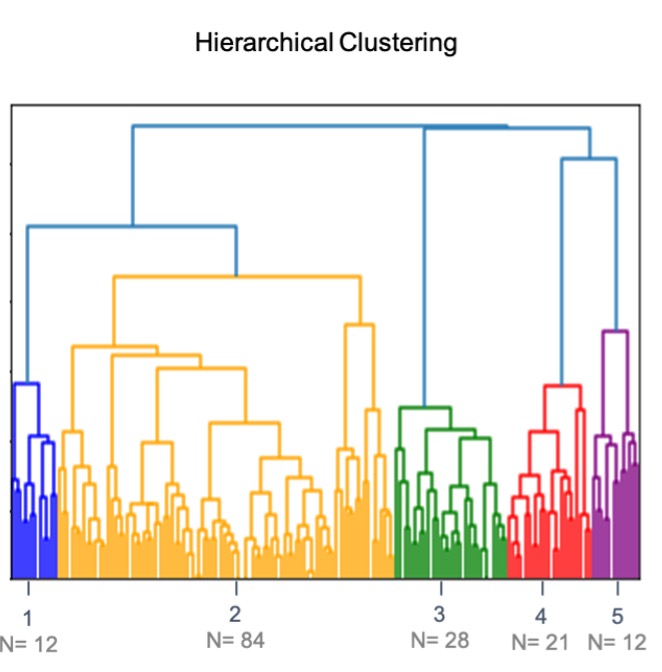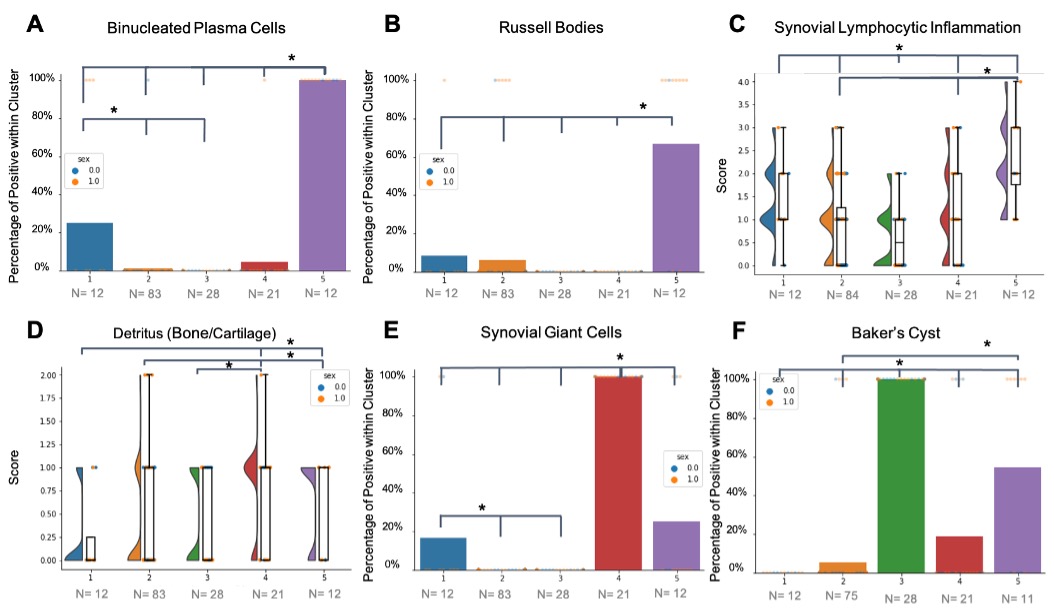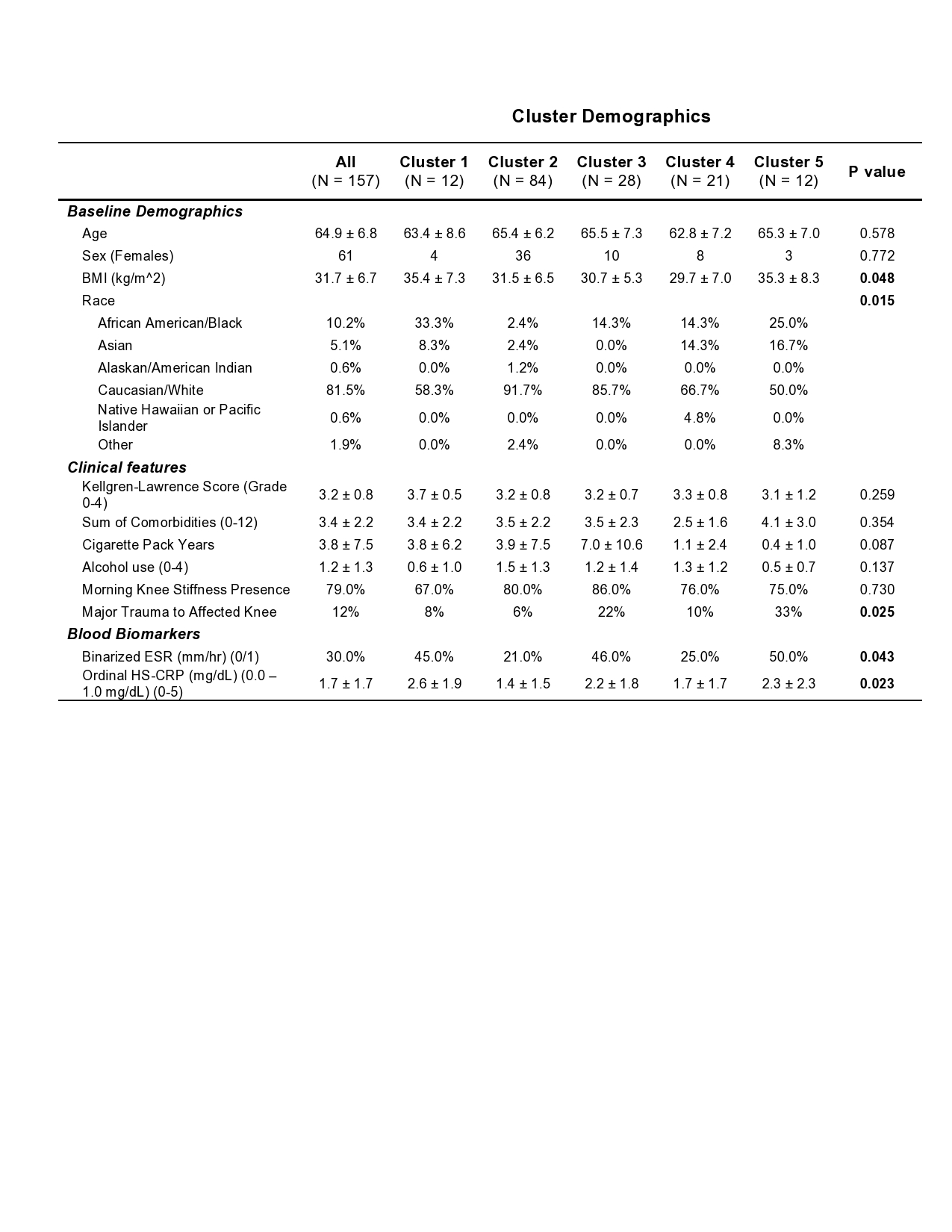 ---
Disclosures: M. Konnaris, None; R. Bell, None; T. Pannellini, None; E. DiCarlo, None; J. Gibbons, None; O. Nwawka, GE Healthcare, 2, 5; S. Lee, None; P. Sculco, DePuy, 2, 6, EOS Imaging, 2, 6, Intellijoint Surgical, 2, 5, 6, 11, Lima Corporate, 2, Parvizi Surgical, 11, Zimmer, 2; M. Parks, Zimmer Biomet, 2; M. Figgie, HS2, 11, Lima, 2, 10, mekanika, 11, Wishbone, 2, 10, 11; L. Donlin, Karius, Inc., 5, Stryker, 2, 6; D. Orange, None; T. Sculco, American Journal of Orthopedics, 4, Exactech, Inc, 10, J. Robert Gladden Society, 4, Lima Orthopedic, 2, Orthopaedic Research and Educaiton Foundation, 4; W. Robinson, None; S. Goodman, UCB, 1, NOvartis, 5; M. Otero, Regeneron Pharmaceuticals, Inc., 2, Tissue Genesis, Inc., 5; B. Mehta, Novartis, 1, 6.
To cite this abstract in AMA style:
Konnaris M, Bell R, Pannellini T, DiCarlo E, Gibbons J, Nwawka O, Lee S, Sculco P, Parks M, Figgie M, Donlin L, Orange D, Sculco T, Robinson W, Goodman S, Otero M, Mehta B. Unsupervised Clustering of Histology and Ultrasound Scores Identifies Osteoarthritis Subtypes [abstract].
Arthritis Rheumatol.
2021; 73 (suppl 9). https://acrabstracts.org/abstract/unsupervised-clustering-of-histology-and-ultrasound-scores-identifies-osteoarthritis-subtypes/. Accessed June 1, 2023.
« Back to ACR Convergence 2021
ACR Meeting Abstracts - https://acrabstracts.org/abstract/unsupervised-clustering-of-histology-and-ultrasound-scores-identifies-osteoarthritis-subtypes/