Session Information
Session Type: Poster Session (Tuesday)
Session Time: 9:00AM-11:00AM
Background/Purpose: Systemic lupus erythematosus (SLE) poses complex diagnostic and management challenges, which may differ depending on whether SLE was diagnosed in childhood (cSLE) or in adulthood. We used qualitative methods to explore these issues with participants with childhood and adult-onset SLE to identify modifiable influences and coping strategies that could be leveraged to reduce areas of vulnerability and improve care.
Methods: Participants were recruited from two large academic medical centers, one with a Lupus Registry of individuals >18 years old with >4 1997 ACR classification criteria for SLE, and the other with a pediatric centralized data repository of cSLE patients. Three focus groups were held to explore potential vulnerabilities in SLE diagnosis and care including psychosocial aspects, medication use, the doctor-patient relationship, and the transition from pediatric to adult care. Focus groups were led by a trained moderator using a guide developed a priori, and were recorded and transcribed verbatim. A pediatric and adult rheumatologist reviewed transcripts and agreed upon preliminary concepts for coding. Codes were clustered into themes and transcripts were re-reviewed. A five-person study team adjudicated discrepant themes and chose key quotes. Qualitative software (Dedoose) was used for coding and thematic analysis of deidentified transcripts.
Results: Thirteen adults, 6 (46%) with cSLE, participated in three focus groups. The mean age was 35 (range 18-66); 5 participants identified as White, 5 Black, 2 Asian and 1 Hispanic. Themes were categorized into two domains: (1) challenges with SLE diagnosis and management and (2) patient coping strategies and modifiable factors of the SLE experience (Table). Participants identified five primary challenges: diagnostic odyssey, public versus private face of SLE ((discrepancy between the way one feels and the way one appears to others), SLE-related stresses, medication adherence, and transitioning from pediatric to adult care. Participants also offered specific strategies to address challenges, such as reducing stress and increasing sleep, and recognized modifiable factors in managing SLE and transitioning from pediatric to adult care including social support, open communication about SLE, and strong patient-provider relationships (Figure). Several participants with cSLE highlighted positive lessons learned through their experiences with SLE as part of their coping strategies, including empathy, resilience, and self-care skills.
Conclusion: Patients with childhood and adult-onset SLE identified common challenges, modifying influences and coping strategies based on their personal experiences. A strong patient-provider relationship emerged as a key modifiable factor improving the patient experience of living with SLE. Participants highlighted the importance of the human connection and trust in their medical team. The focus on optimism and empathy derived from their experience with SLE was unique to several patients with cSLE. Leveraging factors that have improved the participants' experiences living with SLE may be used in future studies to address vulnerabilities in care.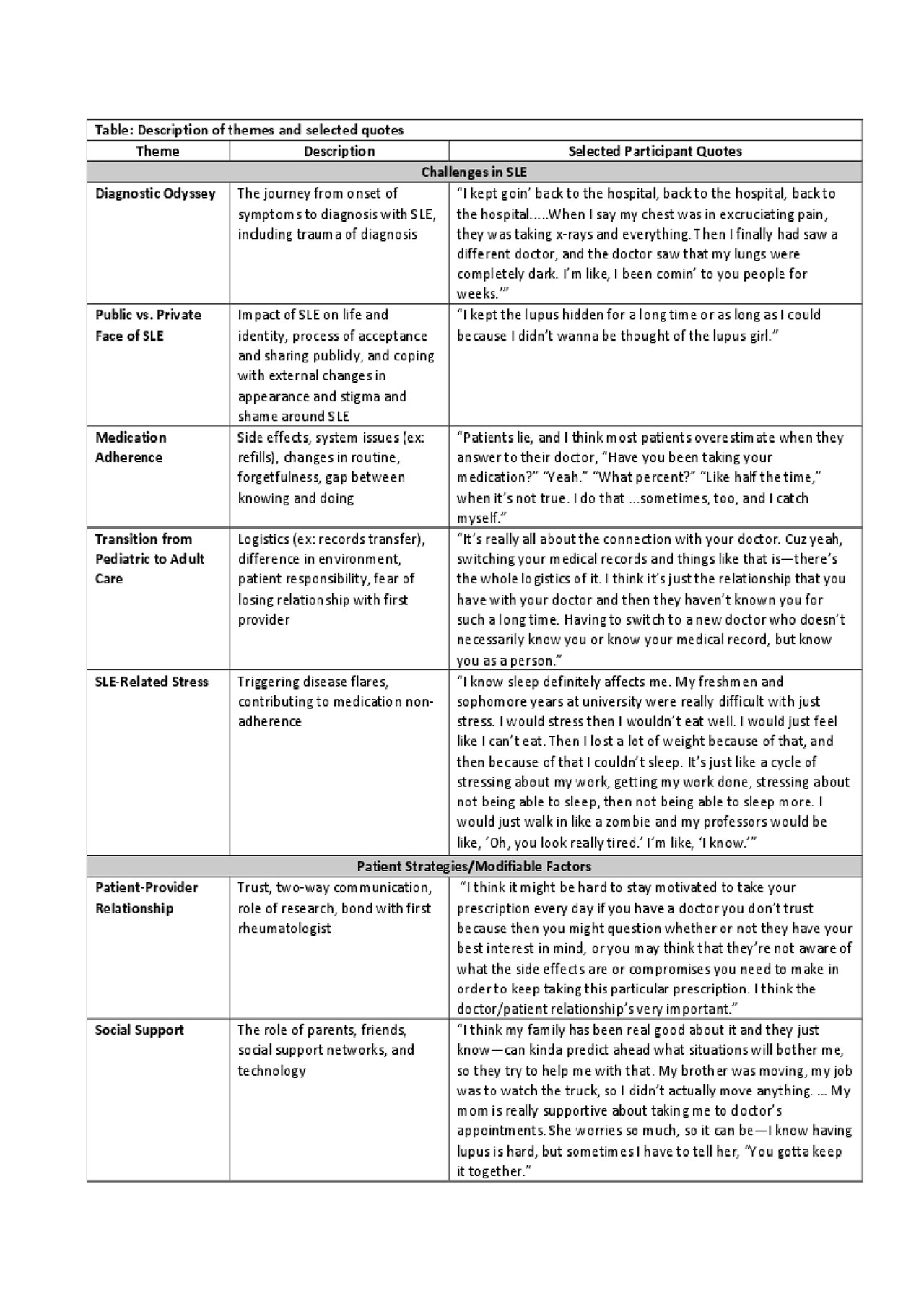 Table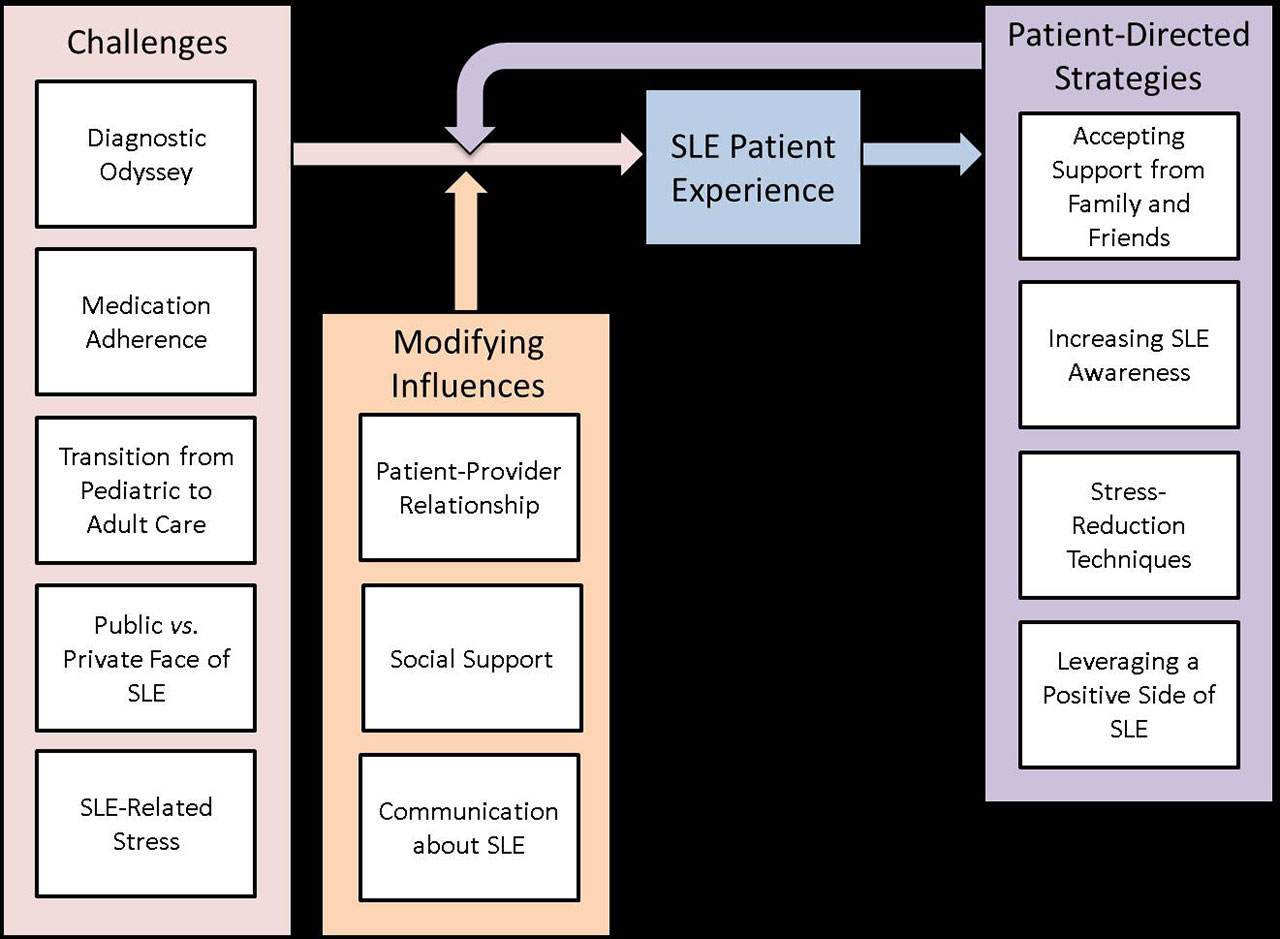 ---
Disclosure: S. Case, Foundation Medicine, 3, 4; C. Sinnette, None; C. Phillip, None; C. Grosgogeat, None; K. Costenbader, None; C. Leatherwood, None; C. Feldman, None; M. Son, None.
To cite this abstract in AMA style:
Case S, Sinnette C, Phillip C, Grosgogeat C, Costenbader K, Leatherwood C, Feldman C, Son M. Understanding Vulnerabilities in Diagnosis and Care of Childhood and Adult-Onset Lupus: A Qualitative Study [abstract].
Arthritis Rheumatol.
2019; 71 (suppl 10). https://acrabstracts.org/abstract/understanding-vulnerabilities-in-diagnosis-and-care-of-childhood-and-adult-onset-lupus-a-qualitative-study/. Accessed November 25, 2020.
« Back to 2019 ACR/ARP Annual Meeting
ACR Meeting Abstracts - https://acrabstracts.org/abstract/understanding-vulnerabilities-in-diagnosis-and-care-of-childhood-and-adult-onset-lupus-a-qualitative-study/