Session Information
Session Type: Abstract Submissions (ACR)
Background/Purpose:
Fibroblast-like synoviocytes (FLS) cross-talk with macrophages (Mf) during the course of rheumatoid arthritis (RA). Our group has shown that TNFa, primarily Mf-derived within synovium, induces chromatin modifications and a sustained inflammatory program in FLS. Here we test the hypothesis that chronic TNFa modifies the chromatin landscape in FLS, amplifying responses to subsequent inflammatory stimuli.
Methods:
FLS obtained from synovial tissues of patients with RA were chronically exposed to TNFa, then stimulated with interferons (IFNb or IFNg) and were assayed for gene expression by qPCR. NFkB signaling and chromatin modifications were evaluated using western blotting and ChIP assay.
Results:
Chronic exposure (72h) of FLS to TNFa leads to super-induction of CXCL10, CXCL11 and CXCL9 upon subsequent stimulation with IFNb or IFNg (Figure 1A). Notably, these genes reside proximally within the same locus on chromosome 4. These chemokines have been linked to RA pathogenesis and a monoclonal antibody against CXCL10 has shown promising results in a clinical trial. The expression of other classic IFN-target genes upon IFN stimulation is not affected by pre-exposure to TNF (Figure 1B and data not shown), suggesting that the effect of TNF on the IFN-inducible transcriptional program in FLS is gene-specific. After 72h of TNF stimulation, FLS were washed to remove TNF and treated with infliximab (IFX) for 24h to neutralize any residual TNF in the system and then stimulated with IFN. Despite the abrogation of TNF signaling for 24h, the super-induction of CXCL10, CXCL11 and CXCL9 was retained (Figure 1C), suggesting that TNF has a sustained impact on FLS. In addition, it was observed that chronic TNF stimulation (72h) induces histone depletion, hyperacetylation of residual histones and induction of the active histone mark H3K27Ac at the CXCL10 promoter (Figure 2A). Exposure of FLS to TNFa for 72h also induced nuclear localization and binding of p65 at the CXCL10 promoter (Figure 2B) as well as expression of transcription factors STAT1, IRF1 and IRF7 (Figure 2C).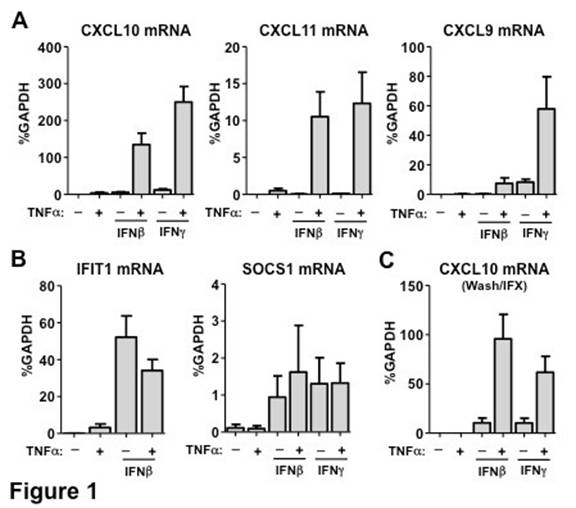 Conclusion:
Chronic exposure of FLS to TNFa induces sustained chromatin activation at the CXCL10 locus, allowing its super-induction upon subsequent IFN stimulation. Since this locus contains binding sites for TNFa-induced p65, STAT1 and IRFs, we will further investigate the potential implication of these transcription factors on the observed activation of chromatin in FLS.               
---
Disclosure:
A. Lee,
None;
L. B. Ivashkiv,
None;
G. D. Kalliolias,
None.
« Back to 2013 ACR/ARHP Annual Meeting
ACR Meeting Abstracts - https://acrabstracts.org/abstract/tumor-necrosis-factor-alpha-modifies-chromatin-landscape-and-amplifies-inflammatory-responses-to-subsequent-stimuli-in-synovial-fibroblasts/