Session Information
Session Type: ACR Poster Session B
Session Time: 9:00AM-11:00AM
Background/Purpose: Mucosal-associated invariant T (MAIT) cells are innate T cells that are restricted by MHC-related molecule-1 (MR1) and express a semi-invariant TCRa chain: Va7.2-Ja33 in humans and Va19-Ja33 in mice. Previously, we have demonstrated that MAIT cells played a protective role against experimental autoimmune encephalomyelitis, an animal model of human multiple sclerosis. We have found that MAIT cells are activated in patients with systemic lupus erythematosus (SLE) and that the activation state of MAIT cells correlated with SLE disease activity index (SLEDAI) score. Therefore, we conducted this study to clarify functions of MAIT cells in a lupus model by using FcgRIIB-/- Yaa mice.
Methods: FcgRIIB-/- Yaa mice were crossed to MR1 deficient mice lacking MAIT cells, and disease progression was compared between MR1-/- FcgRIIB-/- Yaa and FcgRIIB-/- Yaa mice. Serum anti-dsDNA antibody levels were measured by anti-dsDNA– ELISA Kit (Libis) and urinary microalbumin were evaluated by SIEMENS DCA 2000. At the time of sacrifice, the severity of nephritis and dermatitis were assessed by histologically. Haematoxylin-eosin staining of skin sections were graded on a scale of 1 to 3 for acanthosis; 1 to 2 for hyperkeratosis, interface liquefaction, inflammation, dermal cellularity, presence of dilated vessels with hemorrhage; 0 to 1 for ulcer or erosion. For statistical analysis, all data were analyzed using GraphPad Prism (GraphPad), and differences between the groups were assessed using the Mann-Whitney U test. The significance level was set at p < 0.05. Associations between 2 variables were analyzed using Spearman correlation.
Results: MR1-/- FcgRIIB-/- Yaa mice showed exacerbated inflammation in the skin lesions. There was a high degree of inflammatory cells infiltration into the skin and a significant worsening of dermatitis score in MR1-/- FcgRIIB-/- Yaa mice compared to FcgRIIB-/- Yaa mice. There were no differences in serum levels of anti-dsDNA antibody, proteinuria, and kidney histopathology.
Conclusion: The present study demonstrates that dermatitis was exacerbated in MR1-/- FcgRIIB-/- Yaa mice, indicating that MAIT cells may have a suppressive effect on skin inflammation. Because MAIT cells have recently been found in human skin, MAIT cells may be useful therapeutic targets for the treatment of lupus dermatitis.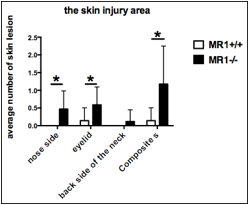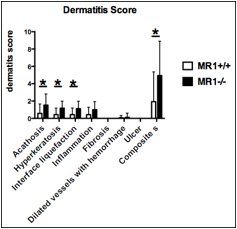 ---
Disclosure: G. Murayama, None; A. Chiba, None; H. Amano, None; K. Yamaji, None; N. Tamura, None; S. Miyake, ASUBIO PHARMA CO., LTD, 2,TAIHO PHARMACEUTICAL CO., LTD., 5.
To cite this abstract in AMA style:
Murayama G, Chiba A, Amano H, Yamaji K, Tamura N, Miyake S. The Role of Mucosal-Associated Invariant T (MAIT) Cells in Lupus Dermatitis [abstract].
Arthritis Rheumatol.
2016; 68 (suppl 10). https://acrabstracts.org/abstract/the-role-of-mucosal-associated-invariant-t-mait-cells-in-lupus-dermatitis/. Accessed October 26, 2021.
« Back to 2016 ACR/ARHP Annual Meeting
ACR Meeting Abstracts - https://acrabstracts.org/abstract/the-role-of-mucosal-associated-invariant-t-mait-cells-in-lupus-dermatitis/