Session Information
Session Type: Poster Session A
Session Time: 9:00AM-11:00AM
Background/Purpose: Estimating the incidence of lupus nephritis (LN) is important to understand disease burden, particularly since patients with LN have a higher morbidity and mortality than other patients with systemic lupus erythematosus (SLE). Population-based studies that investigate the incidence of LN are lacking, and changes over time remain uncertain. We aimed to estimate the incidence of LN and its secular trends in a well-defined geographic region between 1976 and 2018.
Methods: All patients who had an SLE related diagnostic codes or the following laboratory measures: anti-nuclear antibodies, anti-double stranded DNA, anti-Sm, anti-cardiolipin, anti-beta 2 glycoprotein 1antibodies, complement, coombs and lupus anticoagulant were identified using a population-based research infrastructure. Medical records were thoroughly reviewed from 1976-2018. LN was defined as patients who had either 1) biopsy proven LN in the presence of a positive ANA or ds-DNA antibody, or 2) meeting one of the following SLE criteria: ACR97, SLICC or ACR/EULAR 2019 and developing proteinuria (500 mg in 24hrs urine collection or protein/creatinine ratio > 0.5) that did not have a better explanation. Patients with diabetes or other causes of proteinuria were excluded.
Incident cases were defined as a patient who had been a resident of our geographic region for at least one year prior to meeting the case definition for LN. The incidence date was the earliest date that the patient fulfilled either case definition. LN class data was obtained from biopsy reports. Age- and sex- specific incidence rates were adjusted to the 2010 US white population. The 95% Confidence intervals for incidence rates were calculated by assuming the data follows a Poisson distribution.
Results: We identified 48 incident cases between the years 1976 and 2018. As detailed in Table 1, the mean age was 38.6 years (SD15.5), 79% were female and 21% male. The racial distribution was 6% Black, 23% Asian, 68% Caucasian while 8% were Hispanic. There was a decrease in the proportion of Caucasians over the decades.
The overall LN incidence was 0.9 (95%CI: 0.6, 1.1) per 100,000 (Table 2). The incidence rate in females was 1.3 (95%CI: 0.9, 1.7) while in males was 0.4 (95%CI: 0.2, 0.7) per 100,000. Age- and sex- specific incidence peaked at 30-39 years for females and 40-49 for males with rates of 2.3 and 0.9 per 100,000 respectively.
The incidence of LN doubled from 0.6 (95%CI: 0.1, 1.2) in 1976-1988 period to 1.2 (95%CI: 0.7, 1.8) in 2009-2018 period per 100,000 (Table 2).>
For patients who had a biopsy, the LN class distribution was 6% class II, 25% class III, 47% class IV and 22% class V.
Conclusion: Our report provides a population-based estimate on the incidence of LN in the United States previously unavailable. Furthermore, our data shows that the incidence of LN has doubled in the last four decades. Future studies are needed to explain whether these changes are due to increases in racial and ethnic diversity, better detection or environmental influences.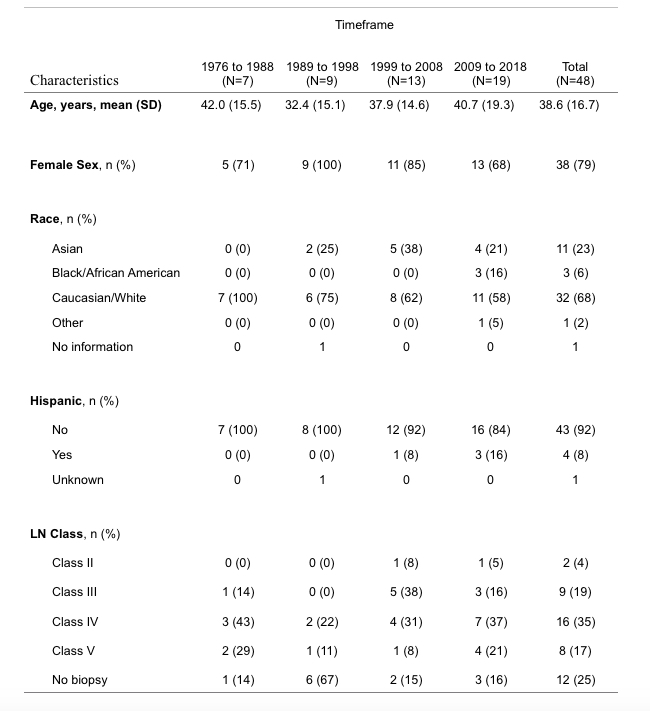 Table 1. Demographics and Clinical Characteristics of Incident Lupus Nephritis cohort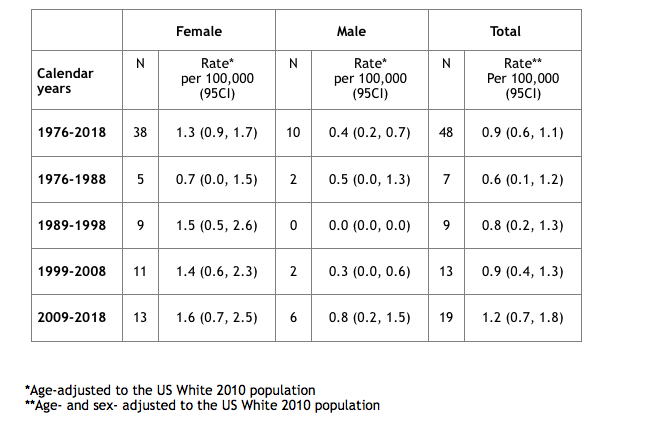 Table 2. Incidence rates of lupus nephritis from 1976 -2018 and by decade.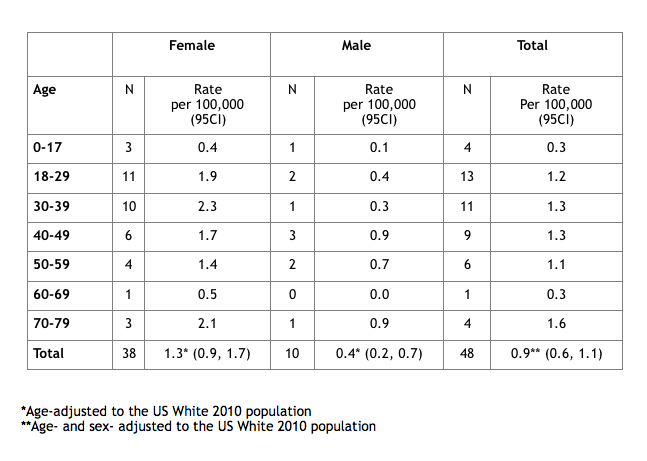 Table 3. Age- and sex-specific incidence rates of Lupus Nephritis
---
Disclosure: M. Hocaoglu, None; S. Osei-Onomah, None; J. Dabit, None; R. Giblon, None; T. O'Byrne, None; F. Fervenza, None; C. Crowson, Myriad Genetics, 1, Pfizer, 1; A. Duarte-Garcia, None.
To cite this abstract in AMA style:
Hocaoglu M, Osei-Onomah S, Dabit J, Giblon R, O'Byrne T, Fervenza F, Crowson C, Duarte-Garcia A. The Rising Incidence of Lupus Nephritis: A Population-Based Study of Four Decades [abstract].
Arthritis Rheumatol.
2020; 72 (suppl 10). https://acrabstracts.org/abstract/the-rising-incidence-of-lupus-nephritis-a-population-based-study-of-four-decades/. Accessed November 26, 2022.
« Back to ACR Convergence 2020
ACR Meeting Abstracts - https://acrabstracts.org/abstract/the-rising-incidence-of-lupus-nephritis-a-population-based-study-of-four-decades/