Session Information
Session Type: Abstract Submissions (ACR)
Background/Purpose: Studies of older adults suggest an association between plantar pressure measures of foot pronation and medial tibiofemoral (med TF) cartilage damage, while studies of younger adults suggest an association with lateral patellofemoral (lat PF) pain. These were cross-sectional studies, however. We assessed the longitudinal relationship of foot pronation in walking with 2-year risk of incident med TF and lat PF cartilage damage in at-risk older adults.
Methods: The Multicenter Osteoarthritis Study (MOST) includes adults aged 50-79 years that have or are at risk of knee OA. At the 60 month exam, plantar pressure was assessed using an EmedX to quantify Center of Pressure Excursion Index (CPEI) during 5 trials of self-paced walking (14-day retest ICC > 0.82). Smaller CPEI values indicate increased pronation. From 1.0 T MRIs obtained at 60 and 84 months readers scored one knee per subject for cartilage damage in each sub-region comprising the med TF and lat PF compartments using WORMS grades (weighted kappa > 0.63). Among sub-regions with WORMS < 2 at 60 months, incident cases had WORMS ≥ 2 at 84 months. With the highest quintile (least pronated feet) as a reference, separate logistic regression models estimated relative odds of incident med TF and lat PF damage in each case-based CPEI quintile while adjusting for age, BMI, sex, and using GEE to account for non-independent sub-regions of a compartment.
Results: 1123 participants (mean age 66.8 ± 7.5 yrs, BMI 29.7 ± 4.8 kg/m2, 62.4% female) contributed one knee each (mean CPEI 19.8 ± 6.6) to the analysis of med TF damage, while 904 participants with similar characteristics contributed to the analysis of lat PF damage. Only 3.6% and 2.6% of sub-regions had incident med TF and lat PF damage, respectively. Although relative odds of lat PF damage were increased (OR = 2.04; 95% CI: 0.72, 5.82) among the most pronated feet (CPEI 13.7 to -7.7), pronation was not strongly associated with odds of med TF damage (see table). With few incident cases contributing, no findings achieved statistical significance (p > 0.05).
Conclusion: In the first longitudinal data on foot pronation and risk of knee cartilage damage, we cannot confirm cross-sectional findings of an association between excessive pronation and med TF disease. Yet, this data does suggest a possible association between extreme foot pronation and elevated risk of lat PF damage. Studies with higher incidence rates are needed to confirm this.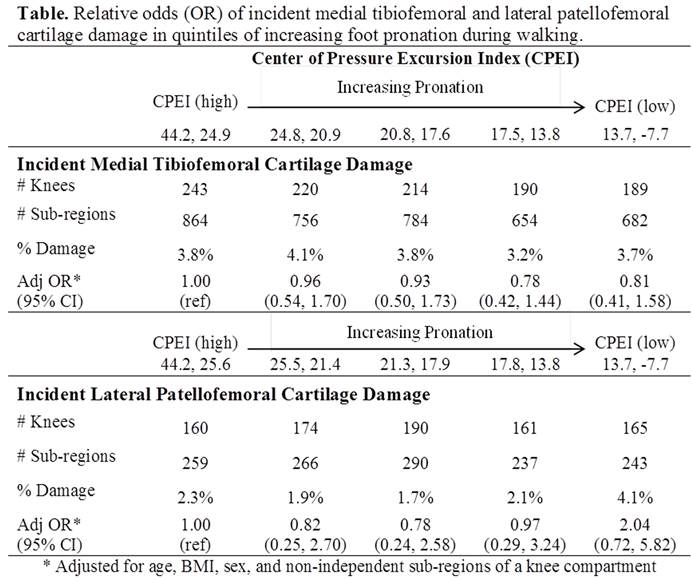 ---
Disclosure:
K. D. Gross,
None;
H. J. Hillstrom,
JAK Tool,
5;
Y. Zhang,
None;
E. K. Quinn,
None;
M. C. Nevitt,
None;
N. A. Segal,
None;
C. E. Lewis,
None;
D. T. Felson,
None.
« Back to 2013 ACR/ARHP Annual Meeting
ACR Meeting Abstracts - https://acrabstracts.org/abstract/the-relationship-of-foot-pronation-during-walking-to-risk-of-incident-medial-tibiofemoral-and-lateral-patellofemoral-cartilage-damage-the-multicenter-osteoarthritis-study/