Session Information
Session Type: Poster Session B
Session Time: 8:30AM-10:30AM
Background/Purpose: SB5, an adalimumab (ADL) biosimilar, received EU marketing authorisation in August 2017, based on the totality of evidence from pre-clinical and clinical Phase I and III studies that demonstrated bioequivalence and comparable efficacy, safety and immunogenicity to reference ADL. There are few published data on longer-term follow-up of the transition from reference ADL to SB5 outside the controlled, randomised, clinical trial setting and in different disease cohorts. When complete, this umbrella study aims to evaluate candidate predictors of persistence on SB5 in EU patients across multiple indications.
Methods: This ongoing non-interventional study enrolled 1000 subjects with rheumatoid arthritis (RA), axial spondyloarthritis (axSpA) or psoriatic arthritis (PsA), ulcerative colitis or Crohn's disease who initiated SB5 as part of routine clinical practice following a minimum of 16 weeks' treatment with reference ADL, at clinics in Belgium, Germany, Ireland, Italy, Spain and the UK. Data are captured from clinic records retrospectively for the 24 weeks prior to transition, and prospectively and/or retrospectively for 48 weeks following transition. This interim analysis provides insight into baseline characteristics, disease activity scores and dose regimen up to 48 weeks post-initiation of SB5 in subjects with RA, axSpA or PsA enrolled at 35 specialist sites and followed up to the data extract date of 3rd May 2021.
Results: This interim analysis includes 510 patients: 205 with RA, 169 with PsA and 136 with axSpA. Baseline clinical characteristics are outlined in Table 1 and changes in dosing regimens and disease activity scores in Table 2.
The majority of patients were in remission or had stable disease at transition, with no meaningful difference seen in disease score by Week 48 post-transition. Almost three quarters of patients in each cohort were transitioned to the same dose regimen of SB5 as received for reference ADL prior to transition, and the great majority of patients continued the same SB5 regimen to Week 48.
Most patients were well educated about handling and self-administration of SB5.
Nine serious adverse events were reported: 5 in the PsA cohort (myocardial infarct [2], breast carcinoma [1], COVID-19 [1], gastrostomy [1]); 4 in the RA cohort (herpes zoster [1], pneumonia [2], facial numbness [1]). Herpes zoster and one case of pneumonia were considered to be causally related to study treatment.
Conclusion: This interim analysis has shown that effectiveness is maintained at 48 weeks after switching from reference to biosimilar ADL SB5 in a large, contemporary cohort of EU patients with established RA, axSpA or PsA. No new safety signals were observed.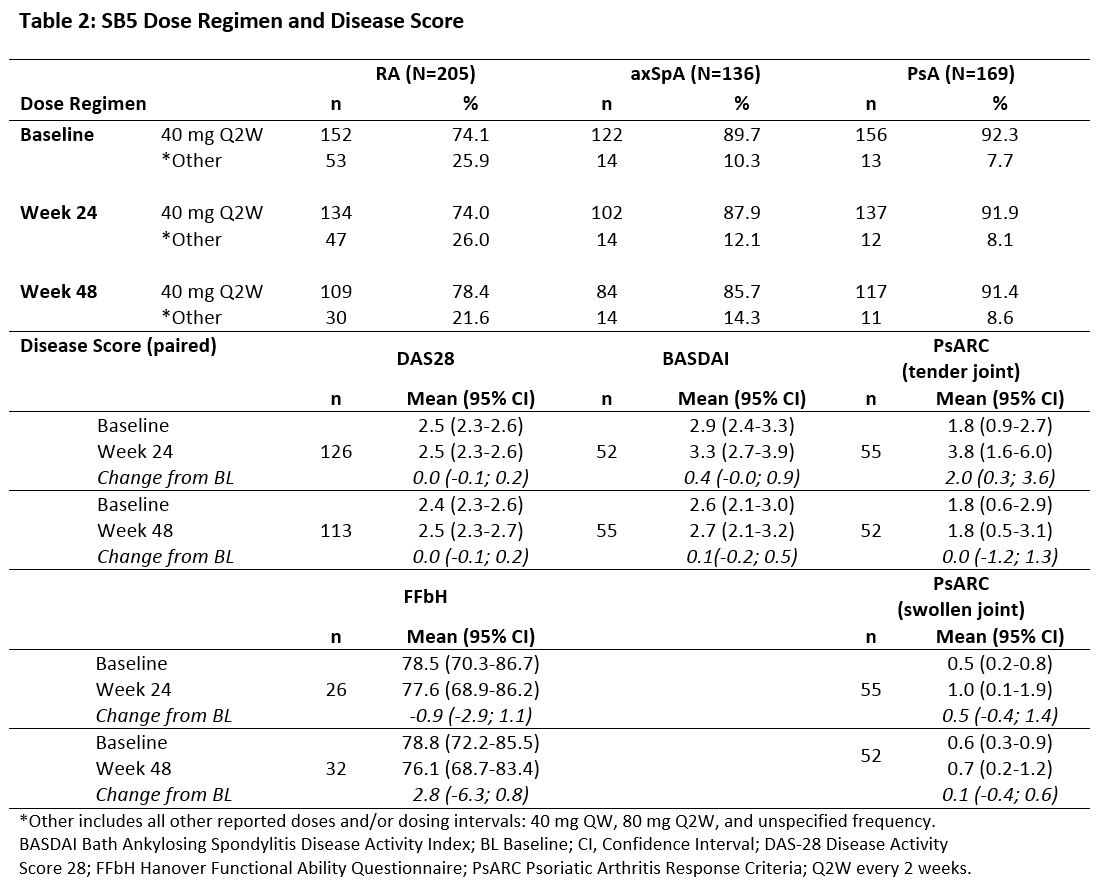 ---
Disclosures: U. Müller-Ladner, Biogen, 6; K. Gaffney, AbbVie, 2, 5, 6, Celgene, 2, 5, 6, Lilly, 2, 5, 6, Pfizer, 2, 5, 6, Gilead, 2, 5, 6, MSD, 2, 5, 6, Novartis, 2, 5, 6, USD, 2, 5, 6; D. Jadon, Biogen, 2, 5, 6, Eli Lilly, 2, 5, 6, MSD, 2, 5, 6, Pfizer, 2, 5, 6, UCB, 2, 5, 6, Celgene, 2, 5, 6, Novartis, 5, 6, Janssen, 5, 6, AbbVie, 5, 6, Sandoz, 5, 6, Gilead, 2, 6, Roche, 6, Oxford University Press, 7; U. Freudensprung, Biogen International GmbH, 3, 11; J. Addison, Biogen Idec, 3, 11.
To cite this abstract in AMA style:
Müller-Ladner U, Gaffney K, Jadon D, Freudensprung U, Addison J. The PROPER Study: Results of the First 48-week Interim Analysis of a Pan-EU Real-world Study of SB5 Biosimilar Following Transition from Reference Adalimumab in Patients with Rheumatoid Arthritis, Axial Spondyloarthritis or Psoriatic Arthritis [abstract].
Arthritis Rheumatol.
2021; 73 (suppl 9). https://acrabstracts.org/abstract/the-proper-study-results-of-the-first-48-week-interim-analysis-of-a-pan-eu-real-world-study-of-sb5-biosimilar-following-transition-from-reference-adalimumab-in-patients-with-rheumatoid-arthritis-axi/. Accessed January 30, 2023.
« Back to ACR Convergence 2021
ACR Meeting Abstracts - https://acrabstracts.org/abstract/the-proper-study-results-of-the-first-48-week-interim-analysis-of-a-pan-eu-real-world-study-of-sb5-biosimilar-following-transition-from-reference-adalimumab-in-patients-with-rheumatoid-arthritis-axi/