Session Information
Session Type: Abstract Session
Session Time: 2:15PM-2:30PM
Background/Purpose: The COVID-19 pandemic has disrupted healthcare delivery and education of physicians, including rheumatology trainees. Our objective was to assess the impact of the COVID-19 pandemic on rheumatology trainee health, well-being, and features of burnout.
Methods: A voluntary, anonymous, web-based survey was administered in English, Spanish, or French from 8/19/20 to 10/5/20. Adult and pediatric rheumatology trainees worldwide who were in training in 2020 were invited to participate via social media and email. Using multiple choice questions and Likert scales, we assessed the impact of COVID-19 on trainee well-being.
Results: The 302 rheumatology trainees who responded were from 33 countries, 116 (38%) from the United States (US); rest of the world (ROW) data includes trainees from Europe (87), Asia (50), South America (21), Canada (12), Australia (8), and Africa (4). The regional distribution of the US trainees is shown in Table 1. The majority of both US and ROW respondents were adult rheumatology trainees (74% and 89%, respectively).
Globally, 30 respondents (10%) reported having health condition(s) putting them at perceived high risk for severe COVID-19; 41 trainees (14%) reported having COVID-19 (Table 2). Seventy-five trainees (25%) reported a negative impact of work changes on their physical health, while 68% (204) reported an increase in stress levels and 50% (151) reported feeling burned out (Figure 1). Less than 20% (52, 17%) reported feeling more callous towards others, a feature of burnout. Compared to US trainees, trainees in ROW more frequently reported that the pandemic negatively impacted their physical health (10% of US vs 34% of ROW trainees, p < 0.05). No significant differences were observed between US trainees and ROW in burnout, stress, or feeling more callous towards others.
Trainees globally reported their perceptions of their programs and rheumatology as positive: 66% (198) reported feeling supported by their training program, 72% (212) felt positive about their career choice, and 65% (190) felt positive about the response of the rheumatology community.
Conclusion: We previously reported several negative impacts of the COVID-19 pandemic on rheumatology education and clinical training. The pandemic has also negatively affected rheumatology trainees' physical health, stress levels, and burnout, which should be recognized when supporting trainees post-pandemic. A higher proportion of ROW trainees reported a negative impact of the pandemic on their physical health compared to US trainees, perhaps due to COVID hotspot areas or differences in redeployment requirements. Our survey demonstrates that a large number of trainees feel burned out (52%), compared to 28% of trainees reported feeling burned out in a survey performed before the pandemic1. Reassuringly, the majority feel supported by their training program and their perceptions of their choice of career remain positive.
References
1. McGoldrick, J., Molina-Ochoa, D., Schvvab, P., Edwards, S. & Barton, J. An Evaluation of Burnout Among US Rheumatology Fellows: A National Survey. in ARTHRITIS & RHEUMATOLOGY vol. 71 (WILEY 111 RIVER ST, HOBOKEN 07030-5774, NJ USA, 2019).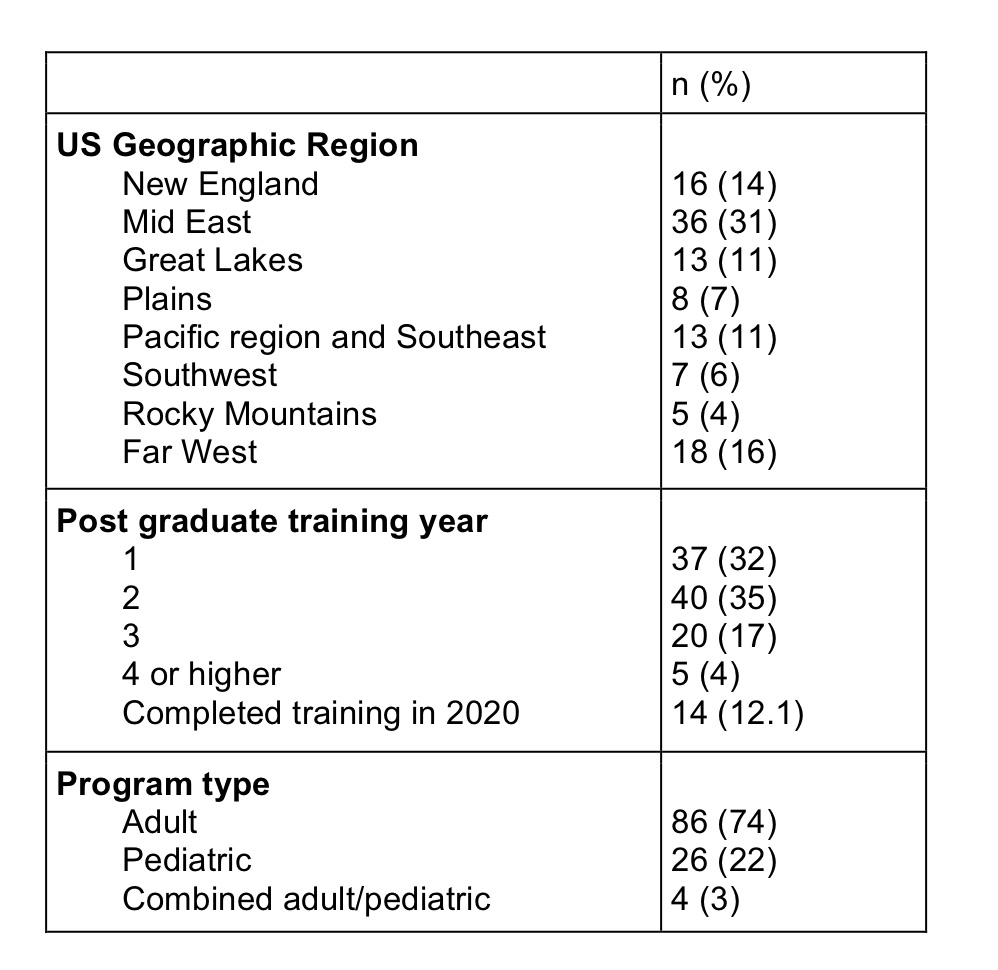 ---
Disclosures: K. Young, None; S. Yeoh, None; M. Putman, None; S. Sattui, None; R. Conway, Janssen, 6, Sanofi, 6, Roche, 6, Abbvie, 6; E. Graef, CVS Health Corporation, 8; A. Killian, None; M. Konig, None; J. Sparks, Bristol-Myers Squibb, 2, Gilead, 2, Inova Diagnostics, 2, Optum, 2, Pfizer, 2; M. Ugarte-Gil, Pfizer, 5, Janssen, 5; L. Upton, None; F. Berenbaum, None; S. Bhana, Amgen, 1, Novartis, 1, Horizon, 1, Pfizer, 1, AbbVie, 1; J. Hausmann, Novartis, 2, Biogen, 2, Pfizer, 2; P. Machado, Abbvie, 6, BMS, 6, Celgene, 6, Eli Lilly, 2, Janssen, 2, MSD, 6, Galapagos, 6, Novartis, 2, 6, Pfizer, 6, Roche, 6, UCB, 2, 6, Orphazyme, 5, 6; P. Robinson, Abbvie, 1, Novartis, 1, 5, 6, Atom Biosciences, 1, Janssen, 5, 6, Eli Lilly, 1, 2, 6, Gilead, 6, UCB Pharma, 1, 5, 6, Pfizer, 1, 5, 6, Roche, 6; E. Sirotich, None; P. Sufka, Wiley Publishing, 6; J. Yazdany, Astra Zeneca, 2, 5, Pfizer, 2, 6, Gilead, 5, BMS Foundation, 5; J. Liew, Pfizer, 5; R. Grainger, Pfizer New Zealand, 6, 12, support to travel to conference, Jansenn Autralia, 6, 12, travel to symposia, AbbVie New Zealand, 6, Cornerstones, 6, novartis, 1; Z. Wallace, Bristol-Myers Squibb, 5, Principia/Sanofi, 5, Viela Bio, 2, MedPace, 2; A. Jayatilleke, None.
To cite this abstract in AMA style:
Young K, Yeoh S, Putman M, Sattui S, Conway R, Graef E, Killian A, Konig M, Sparks J, Ugarte-Gil M, Upton L, Berenbaum F, Bhana S, Hausmann J, Machado P, Robinson P, Sirotich E, Sufka P, Yazdany J, Liew J, Grainger R, Wallace Z, Jayatilleke A. The Impact of COVID-19 on Rheumatology Trainee Health and Wellbeing: Results from the COVID-19 Global Rheumatology Alliance Trainee Survey [abstract].
Arthritis Rheumatol.
2021; 73 (suppl 9). https://acrabstracts.org/abstract/the-impact-of-covid-19-on-rheumatology-trainee-health-and-wellbeing-results-from-the-covid-19-global-rheumatology-alliance-trainee-survey/. Accessed May 29, 2023.
« Back to ACR Convergence 2021
ACR Meeting Abstracts - https://acrabstracts.org/abstract/the-impact-of-covid-19-on-rheumatology-trainee-health-and-wellbeing-results-from-the-covid-19-global-rheumatology-alliance-trainee-survey/