Session Information
Session Type: Abstract Submissions (ACR)
Background/Purpose: , Methods: , Results: and Conclusion:
Background: Scleroderma or systemic sclerosis (SSc) is characterized by the fibrosis of skin and visceral organs. Salvianolic acid B (SAB) is an important water-soluble ingredient extracted from Danshen, a kind of Chinese medicinal herbs. Clinical data showed there were good curative effects and low side-effects on SSc with a compound prescription of traditional Chinese medicine including Danshen. Furthermore, SAB has been proved its efficacy in treating chronic liver fibrosis. Our aim is to examine whether SAB can attenuate fibrosis in the activated fibroblasts from SSc patients and fibrotic mouse models.
Methods: For in vitro studies, dermal fibroblasts trains were cultured from skin biopsies of SSc patients which constitutively over-expressed collagen genes. Cell growth was measured with the xCELLigence system to evaluate the effects of SAB on fibroblasts. Real-time quantitative RT-PCR was used to examine the transcript levels of collagen. The levels of Smad3 and p-Smad3 were assayed by Western blot. For in vivo studies, C57BL/6 female mice of 6-8 weeks (n = 5 for each treatment) were injected with bleomycin through tracheal cutting to induce pulmonary fibrosis. SAB was feed daily for 10 or 24 days from the third day before bleomycin (BLM) instillation for the Group of Prevention Study (P) or the Group of Prevention &Treatment Study (P&T), respectively. The total cell counts in BALF (broncho alveolar lavage fluid) were used to evaluate the inflammatory status. HE and Masson's trichrome stains, gene expression analysis and Sircol assay were used to assess the effects of drug treatments on inflammatory and fibrotic changes. Immunohistochemistry was also performed to examine the ¦Á-SMA positive cells.
Results£ºFor in vitro studies, SAB suppressed fibroblasts proliferation and decreased the synthesis of collagen mRNA in SSc dermal fibroblasts efficiently. Additionally, SAB attenuated TGF-b1-induced Smad3 phosphorylation in normal dermal fibroblasts. In the mouse model of pulmonary fibrosis, SAB significantly reduced the total cell counts in BALF in the P group, indicating the amelioration of inflammation. Furthermore, SAB potently reduced the number of myofibroblasts, the mRNA level of collagen and the collagen content in both the P group and P&T group. HE stain of mouse lung tissues further showed a significant disruption of the alveolar units and infiltration of inflammatory cells in the lungs induced by BLM, while SAB treatment improved the disruption of the alveoli with less infiltrating inflammatory cells in the P group [Figure 1].
Conclusion: SAB inhibited fibroblasts proliferation and collagen gene expression in a Smad3 dependent signaling pathway. Administration of SAB could reduce inflammation and fibrosis in mouse lungs induced by BLM. Therefore, SAB is a promising candidate for the treatment of SSc.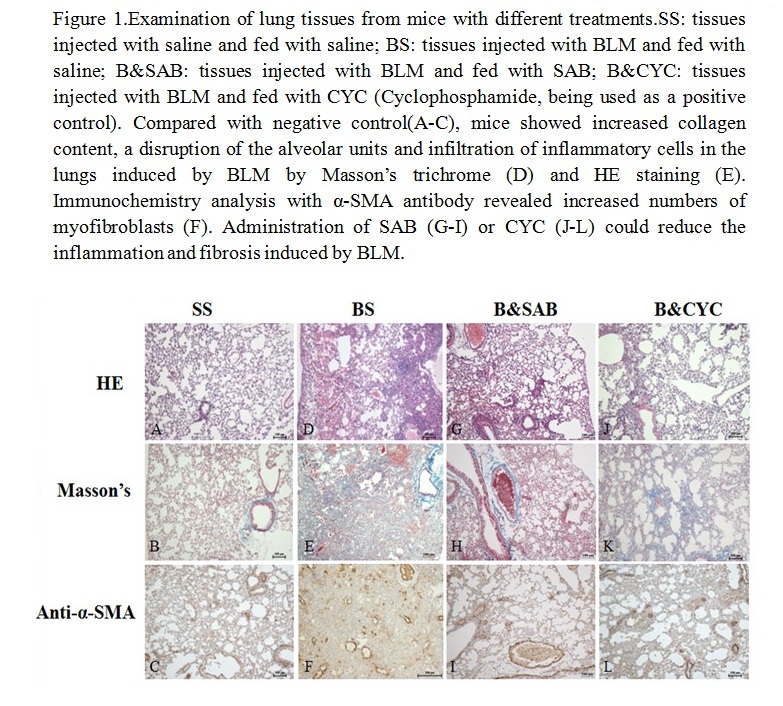 ---
Disclosure:
Q. Liu,
None;
W. Wu,
None;
W. Tu,
None;
H. Chu,
None;
Y. Ma,
None;
H. Zou,
None;
X. Zhou,
None;
J. C. Wang,
None.
« Back to 2012 ACR/ARHP Annual Meeting
ACR Meeting Abstracts - https://acrabstracts.org/abstract/the-effects-of-salvianolic-acid-b-in-fibrotic-models-in-vivo-and-in-vitro/